Airline Vacations : Tips for Traveling with Kids
Category : Travel Tips, Sub Title : Keeping Your Cool While Traveling with Kids, Posted on : April 05, 2023, Posted By : Diksha Dhawan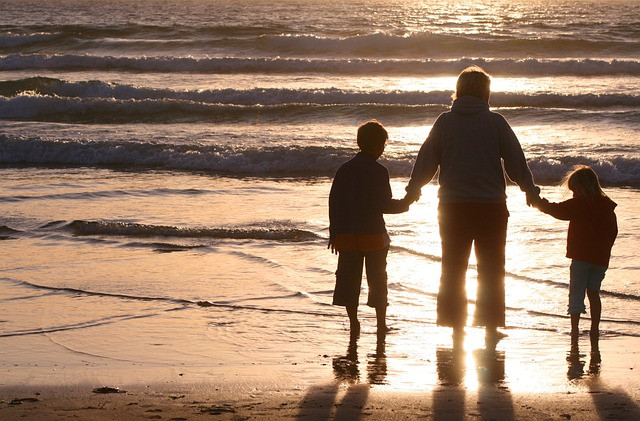 Although it can be a lovely experience, traveling with children can be difficult. There are many factors to consider when organizing a family holiday, whether you're taking the car, the plane, or the train. Traveling with kids takes a lot of planning and patience, from packing to navigating strange places. Fortunately, with the right tips and strategies, you can make your next family vacation stress-free and enjoyable.
The Importance of Timing
When traveling with children, minimizing disruptions to their routines poses more of a challenge than planning the practicalities. Try traveling when your kids are sleeping to keep them as much as possible on their regular schedule. Getting up early enough to get dressed and to the airport in time for a 7 a.m. flight might sound appealing so that you have plenty of time to appreciate your destination when you arrive, but it probably isn't worth it. Neither is coming at 11 p.m.
When they undoubtedly have stored energy ready to be released, bringing comfort from home is another method to reduce disruptions. For example, if they're accustomed to sleeping with a sound generator at home, taking it with them when they travel—whether at a hotel or someone else's house—can help them get a good night's sleep despite being away from their usual environment. Bringing their favorite toy, pillow, or comforter is another option.
Bring a variety of snacks.
Bring a range of snacks when you travel with kids; it's one of the most crucial pieces of advice. Long car rides can make kids hungry and cranky, so keeping various healthy snacks on hand can keep them satiated and happy. Packing refreshments like fruit, nuts, granola bars, crackers, and string cheese is brilliant. As a reward for good behavior or to make the trip more fun for kids, it's also a good idea to pack a few treats or unique snacks. Just make sure to verify any food-related travel or airline restrictions before packing. But be cautious not to consume too much sugar, or you might regret it.
We adore packing individual servings of various munchies in a tiny tackle box. Each child receives their snack box, and you won't continually be asked for more, making you feel less like a human vending machine.
Avoid Boredom
Traveling with kids can be challenging, but one way to make the journey enjoyable for everyone is to avoid boredom. Boredom can lead to restlessness, fussiness, and even tantrums, so keeping kids engaged and entertained during the trip is essential.
Create games or tasks to keep them occupied to prevent boredom and help pass the time. I Spy, car Trip Bingo, and the License Plate game are all excellent options for car trips. With a pen and tiny notebook, playing games like Tic Tac Toe, Hangman, and Connect the Dots on a plane's seatback tray is simple. Any method of transportation would benefit from activity books with mazes, word searches, and crossword puzzles. Fill Ziploc bags or a small, wearable backpack with coloring books, stickers, and other tasks they can complete independently.
Consult your Pediatrician
It's crucial to speak with your pediatrician before traveling with children. Depending on where you're going and your child's medical history, your pediatrician can counsel you on any shots, medications, or safety measures that might be required. They can also give you a letter outlining any pertinent medical data you need to bring on your journeys, such as a list of your allergies or any ongoing health issues. Your pediatrician can also guide keeping your kid safe and healthy while traveling, including suggestions on eating and drinking safely and avoiding common travel illnesses. Speaking with your pediatrician before your journey ensures you are well-prepared and have everything you need to keep your child healthy and happy while on vacation.
You should also speak with a pediatrician about immunizations if traveling abroad because extra shots beyond the ones advised in the United States may be necessary. Sometimes, your doctor might suggest getting vaccinated sooner than the recommended schedule.
Maintain Your Flexibility
Being adaptable while traveling with children is one of the most crucial pieces of advice. Unexpected delays, cancellations, or changes in plans can quickly transform a stress-free vacation into a nightmare when traveling. However, you can reduce stress and ensure everyone has a good time on your journey by being adaptable and making changes as they happen. In the event of unforeseen delays or cancellations, having a fallback plan, such as a list of alternative local eateries or sites, is a good idea. Staying flexible can help you avoid stress and frustration and make your family vacation more enjoyable. Remember, spending quality time with your family and creating lasting memories is essential, so avoid letting unexpected hiccups ruin your trip. Instead, embrace the adventure and make the most of every moment.
Navigate Your Destination
Getting around in your new location is essential for traveling with children. PningPlanning family-friendly activities and attractions is crucial before traveling to your site is vital. Consider using public transportation or walking to understand the local way of life and experience your destination. To assist you in navigating unfamiliar areas, you might also consider joining a guided trip or hiring a local guide. It's crucial to schedule rest periods and breaks into your itinerary when traveling with children. Everyone will remain motivated and interested the entire day thanks to this.
Last, look into kid-friendly attractions and activities, like visiting museums, zoos, and theme parks, and be ready to alter your plans if required based on your child's interests and requirements. You can give your entire family an unforgettable vacation by carefully and thoughtfully navigating your location.
Choose an airline with kid-friendly
Nothing is more desirable to a family-friendly airline than content, joyful children. As a result, many top airlines have a variety of kid-friendly perks to give their youngest passengers, including a selection of their preferred TV shows and movies and kid-friendly headphones and snacks. For instance, United Airlines, a favorite of the Parents editor for traveling with young children, introduced a new activity kit in 2021 that was created to keep kids happy and secure while flying (see image). The kid-friendly kits, offered on all United mainline flights, include a kid-sized mask, a trip diary activity book with crayons, an airline kit made of origami paper, and a sanitizing wipe. Family lounges or airports with play areas for kids during layovers would be excellent extras to search for.