5 Tips for Finding the Cheapest Vacations
Category : Travel Tips, Sub Title : , Posted on : March 14, 2023, Posted By : Admin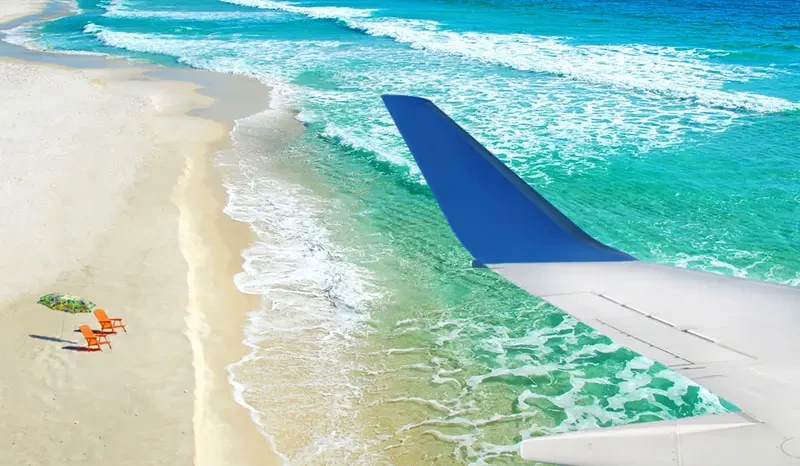 Traveling doesn't have to be expensive. With some planning and smart choices, you can find great deals and enjoy a memorable vacation without breaking the bank. In this guide, we'll share some tips for finding the cheapest vacation options and traveling on a budget.
Book in advance
Booking your flights and accommodation well in advance can save you a lot of money. Airlines and hotels often offer early-bird discounts to travelers who book ahead of time, so don't wait until the last minute to make your reservations. Plus, by booking early, you'll have more options to choose from, ensuring you get the best deals.
Best deals and discounts: By booking in advance, you can take advantage of early bird

deals, promotional offers, and discounts that are not available closer to your departure date.

Guaranteed availability: Booking in advance ensures that you have a guaranteed spot,

especially during peak season or popular events.

More choices: Booking in advance gives you a wider range of options for flights,

accommodations, and activities.

Time-saving: Pre-booking saves time by avoiding last-minute planning and

scrambling to find availability.


Research off-season destinations
Choosing a destination during off-peak travel periods can save you a significant amount of money. Many popular tourist destinations offer cheaper prices during the low season, as there are fewer crowds and less demand for hotels and other services.Do some research and consider traveling during the shoulder season to enjoy the best
of both worlds: good weather and lower prices.
Cost-effective travel: Traveling in off-season can save money on flights,

accommodations, and activities. Some destinations even offer discounts during

their off-season.

Avoiding crowds: Crowds can be overwhelming and lead to longer lines and

waits. Traveling in off-season allows for a quieter travel experience and fewer

tourists.

Enjoying authentic experiences Off-season travel allows for a more authentic

travel experience as locals are less likely to be overwhelmed by tourists. It

provides an opportunity to interact with locals and learn more about the

destination's culture.

Exploring hidden gems some tourist spots may not be promoted in peak seasons,

and off-season travel allows for the discovery of hidden gems.
Determine your budget
Before you start planning your trip, it's essential to determine your budget. Knowing how much you can afford to spend will help you narrow down your options and ensure you don't overspend. Take some time to create a realistic budget, including the cost of transportation, accommodation, food, activities, and any other expenses you'll incur on your trip.
List Your Expenses: this section will provide tips on how to list expenses and why it's

important to track them.

Determine Your Discretionary Spending: This section will discuss discretionary

spending and provide tips on how to determine it.

Set Your Financial Goals: learn how to set financial goals and why they should be a

part of their budget.

Review and Adjust Your Budget: This section will provide tips on how to review and

adjust a budget, as well as the importance of doing so regularly.
Consider alternative accommodations
Hotels can be expensive, especially in popular tourist destinations. Consider staying in alternative accommodations such as hostels, homestays, vacation rentals, or camping sites. These options are often more affordable and can give you a unique travel experience.
Vacation rentals: These are private homes or apartments that are rented out to

travelers. They offer more space and privacy than hotels, and can often be more cost-

effective for families or groups.

Hostels: These are budget-friendly accommodations that offer dorm-style rooms or

private rooms. They're a great option for solo travelers or those on a tight budget, as

they offer a social atmosphere and often have shared facilities like kitchens and

common areas.

Camping: For nature lovers, camping is a great alternative to traditional lodging. You

can camp in a tent or RV, and enjoy the great outdoors while still having access to

basic amenities like bathrooms and showers.

House-sitting: This is a unique option that involves taking care of someone else's

home while they're away.
Be flexible with your travel dates

Being flexible with your travel dates can save you a significant amount of money. Flights and hotels are often cheaper on weekdays and during off-peak travel periods. If possible, avoid traveling during peak seasons, such as holidays or school breaks, when prices are highest.
Research the Best Time to Travel: One of the first steps in being flexible with your

travel dates is researching the best time to travel. Consider the season, weather, and

holidays when planning your trip. By doing so, you can avoid peak travel times and

take advantage of discounted rates.

Check for Deals and Discounts: Many airlines and hotels offer deals and discounts for

off-peak travel periods. Be sure to check their websites regularly and sign up for

newsletters to stay updated on special offers.

Use Flexible Date Search Tools Flexible date search tools, such as Google Flights or

Kayak, can help you find the best travel deals. These tools allow you to search for

flights based on flexible dates and provide a range of options for your trip.

Consider Alternative Destinations Being open to alternative destinations can also help

you save money on travel. Instead of going to popular tourist destinations, consider

less popular destinations or smaller cities. These places may offer unique experiences

and be less expensive.