Everything you need to know about Volaris airlines
Category : News, Sub Title : , Posted on : January 01, 2021, Posted By : Admin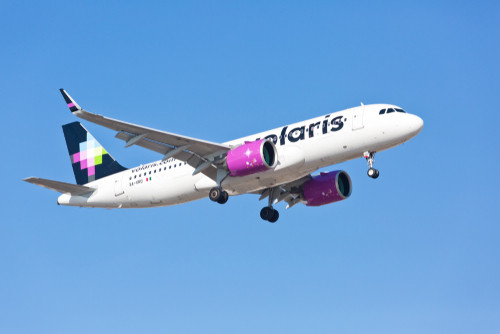 Volaris Airlines sailed the Mexican skies for the first time in March 2006 with a maiden flight from Toluca to Tijuana, and in little more than a decade, it has become the second-largest airline in that country. The airline took off with five routes and currently has about 140 between regional connections and destinations in the United States, Costa Rica, Guatemala, and Puerto Rico. The airline that boasts of offering cheap flights has also grown its fleet of planes from four to 57, the "youngest" in the Mexican market with an average of 4.6 years each.
How to Fly Volaris Airlines
Online / Smartphone: The airline promotes web, mobile, and tablet registration as the easiest, cheapest, and fastest way to obtain a boarding ticket if you do not check luggage. With your reservation code, you can register for regional flights up to 72 hours in advance and one hour before the flight, for international routes you have between 24 hours and one hour before takeoff. Volaris has a Smartphone application in which it offers its passengers exclusive notifications, discounts, and promotions.
Book a Volaris flight ticket
Are you planning your next vacation and looking for a Volaris flight ticket? Thanks to the search engine of our travel agency, you will be able to find a cheap flight with the airline Volaris to a multitude of destinations! You just have to indicate your place of departure as well as the destination of your stay, then in a few seconds, you will have several offers of round-trip or one-way flights for this route. In this list of results, you will find all the Volaris flights available for this route with varying schedules to meet all your needs.
Tips for Traveling on Volaris
Luggage
The Volaris rates include two small handpieces that do not exceed 25x40x40cm / 10x15x15". An additional charge will be made for a piece of the medium cabin that does not exceed 10kg / 22lbs or dimensions 40x33x57cm / 15x13x22". Checked baggage rates include a piece of up to 158cm / 62" and a weight of 25kg / 55lbs, each passenger can check-in up to four bags of the same dimensions for an additional charge per piece. Charges for oversize and weight apply.
Seating
Volaris makes no secret that it has reduced the space between the seats to carry more passengers and lower costs. But the airline offers more comfort and convenience with additional fees that allow you to choose seats in the first rows and extra space in the emergency exits on Airbus A321 jets flights. Passengers have the option of selecting regular spaces or in the back of the plane when checking in via the web for free up to 72 hours in advance of the flight. The airline does not recommend arriving at the airport to make the selection, as it will be subject to availability.
Food
The airline offers a variety of food and beverages to its customers including mineral water, fruit juice, cold tea, soft drinks, and hot drinks such as coffee and tea as a cold drink. They also offer alcoholic beverages to adults through ID verification.
Modification of a Volaris ticket
Passengers whose Volaris flight has not been canceled, but who wish to postpone their trip, can usually do so, with most companies like Volaris offering either postponement or reimbursement of flights, often in the form of a credit note. Closure of borders at the entrance to the Schengen Area and the European Union, suspension of flights, quarantine, or compulsory confinement worldwide.
Cancellation of a Volaris flight ticket
Volaris passengers whose flight has been canceled benefit from a full refund of their Volaris ticket: the refund procedure is indicated in the e-mail received from the Volaris Airline Cancellation. Normally airlines like Volaris cannot impose a voucher refund if the flight has been canceled. In general, airlines like Volaris do this automatically to respond as quickly as possible to complaints in this exceptional situation. When the crisis is over and Volaris call centers and travel agencies are less overwhelmed, do not hesitate to claim reimbursement from the Volaris airline. Unless the regulations have changed within a few weeks, given the exceptional situation.