Oman Air Flight Reservations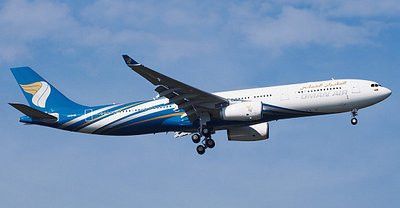 IATA : WY
ICAO : OMA
CallSign : OMAN AIR
Founded : 1993
Key people : Mohammed Ali Al Barwani (Chairman), Abdul Aziz Al Raisi (CEO)
Country : Oman
Office Address : PO Box 58, Muscat International Airport
City : Muscat
Zip Code : 0011
Phone number : 00 968 24 531111
Official Website :

http://www.omanair.com/

Covid :

Covid 19 Updates
Oman Air Information
Oman Air was founded in 1993 and is Oman's national carrier. Moreover, this Airline has won two significant awards at World Travel Awards in the Middle East, Middle East's leading airline Business Class and Middle East's Leading Airline – Economy Class categories. In addition, at the Skytrax World Airline Awards 2015, Oman Air was awarded the 'Best Airline Staff Service in the Middle East.' Furthermore, the Airline has codeshare agreements with several airlines. For instance, Royal Jordanian, Ethiopian Airlines, Turkish Airlines, KLM, Emirates, Garuda Indonesia, Sri Lankan Airlines, Malaysia Airlines, and more.
Why Book a Flight with Oman Air
Here are some reasons why you should consider booking a flight with Oman Air:
Comfortable Travel Experience: Oman Air offers a comfortable travel experience for passengers, with spacious seats, ample legroom, and in-flight entertainment. Passengers can choose from various seating options, including First, Business, and Economy Classes.

High-Quality Service: Oman Air is committed to providing high-quality service to its passengers. The Airline has won several awards for its service, including the "Best Business Class Seat" award from Skytrax. In addition, passengers can expect attentive and friendly service from the Airline's staff.

Extensive Route Network: Oman Air has an extensive route network that spans the Middle East, Asia, Africa, Europe, and North America. Passengers can choose from over 50 destinations in more than 25 countries.

In-Flight Dining: Oman Air offers passengers a selection of delicious in-flight dining options. The Airline's menus feature a range of international and local dishes, with options for special dietary requirements.

Frequent Flyer Program: Oman Air has a regular flyer program called Sindbad, which allows passengers to earn miles and redeem them for flight upgrades, free flights, and other rewards.
Oman Air Hub and Destinations
Hub Airports
Muscat International Airport
Destinations
Abu Dhabi, UAE
Bangkok, Thailand
Cairo, Egypt
Delhi, India
Dubai, UAE
Frankfurt, Germany
Guangzhou, China
Islamabad, Pakistan
Istanbul, Turkey
Jeddah, Saudi Arabia
Karachi, Pakistan
Kuala Lumpur, Malaysia
London, UK
Manila, Philippines
Mumbai, India
Munich, Germany
Nairobi, Kenya
Paris, France
Riyadh, Saudi Arabia
Zanzibar, Tanzania
NOTE- Apart from this, there are more destinations as well.
Cabin Classes
https://www.omanair.com/gbl/en/economy-class
This Airline offers Economy Class, Business Class, and First Class onboard.
First Class
Passengers can experience the best service and a la carte dining on board. Moreover, passengers can experience priority service and access lounges at the airport before and after the flight. In addition to this, passengers can enjoy a wide range of menus. Furthermore, they can enjoy the privilege of SkyPriority at the airport; this includes priority check-in, boarding gates, and security lines. In addition, passengers can savor dedicated and exclusive food choices with modern and traditional Arabic dishes. This will also surely enhance their flying experience.
Furthermore, maximum efforts are put in on board to make the journey comfortable. For example, the seats can recline 180 degrees to a lie-flat seat position; they also have a massage function in them to help them relax and enjoy traveling. Lastly, passengers will feel similar to traveling in an exclusive private jet with Oman Air's first class mini-suite, 23-inch video monitor, dedicated luggage space, luxurious lounge area, etc.
Business Class
Oman Air's Business class is award-winning, and passengers can expect luxury when they enter the airport. For instance, priority services at the airport and on the aircraft are available. Moreover, once on the flight, the warm and friendly staff welcomes passengers with a drink. They can also enjoy the 17-inch personal monitor to entertain themselves. In addition to this, an in-flight menu is available, which may differ depending on the travel route and aircraft type.
Furthermore, the seats are very comfortable and come with generous legroom. They also recline 180 degrees, have electronically controlled backrests and leg rests, and install USB ports. Lastly, passengers have a cocktail table separately available, and a unisex Amouage kit is made available for a comfortable journey.
Economy Class
Economy Cabin gives passengers the best value on Oman Air; it is a very modern cabin and the most basic cabin class available. It also comes with satisfying and comfortable service for the passenger. Moreover, the passengers can enjoy various meals on board; the destination influences the flavors. In addition to this, different beverages to choose from are available to the passengers. Furthermore, passengers can enjoy movies, games, and TV shows on the ARIA entertainment system. They also have access to amenity kits on the flight to enhance their experience. Lastly, the seats are very comfortable and have good legroom.
Booking Your Oman Air Reservation
Choosing Your Dates
Choose your trip dates as the first step in making a reservation with Oman Air. Remember that the peak travel period runs from mid-December to mid-April, and costs may rise.
Selecting Your Flights
After you've decided on your travel dates, it's time to book your flights. Oman Air provides various travel choices, including nonstop flights from several Oman Air cities to international and domestic destinations.
Choosing Your Seat
You can select your seat when making your reservation with Oman Air. Make sure to choose your preferred seat when booking your Oman Air flight if you have one, such as an aisle or window seat.
How to access Oman Air Manage Booking
Oman Air offers an easy-to-use Manage Booking service that allows you to make changes to your booking quickly and conveniently. For example, you can modify your flight details, such as your seat selection, meal preference, and flight schedule, through the Manage Booking section on the Airline's website or mobile app.

Flight Status
In "Manage my booking," passengers can go through the option of "Flight Status, where the passenger can check their flight status. Apart from the flight status, passengers can also update themselves on delays and cancellations.
Change or Cancel a Flight
Here are some methods that passengers can use to change or cancel their Oman Air flight:
Customer Service Center:
Passengers can call the Oman Air customer service center to request a change or cancellation.
Website:
Passengers can change or cancel their flight online through the Oman Air website.
In-person:
Passengers can visit an Oman Air ticket office or airport counter to request a change or cancellation.
Select Seats
Passengers on Lufthansa Airlines can pick their favorite seats during the booking process or through the Airline's Manage Booking service. Passengers can select their seats depending on personal taste and comfort, such as a window seat, an aisle seat, or a seat with more legroom.
Upgrade Your Seat
Passengers on Oman Air can upgrade their seats to a higher class of service, such as Business or First Class, for increased comfort and luxury throughout their journey.
Add Special Requests
Oman Air realizes that specific customers may have particular demands during their journey, such as dietary restrictions or medical concerns. Therefore, special requests can be added during the booking process or through the Airline's Manage Booking service.
Add Baggage
If you need to bring more baggage than your allowed baggage allowance, you can do so by paying an excess baggage fee. The fees vary depending on your destination and the extra luggage you must bring.
Tips for Using Oman Air Manage Booking
If you are planning to use Oman Air to manage booking, here are some tips to keep in mind:
1. Check the Deadline for Making Changes
Oman Air has a deadline for making changes to your itinerary. Be sure to check this deadline before attempting to make any changes to your booking.
2. Keep Your Confirmation Number Handy
You will need your confirmation number to access Oman Air managed booking. So keep this number handy in case you need to make any changes.
3. Check Your Flight Status Regularly
Even if you have already checked your flight status through Oman Air, and managed to book, be sure to check it regularly, as flight schedules can change at any time.
In-Flight Entertainment and Wifi
Passengers can enjoy Arabic and International media and up-to-date TV shows, music, and games.
TV
Watch your favorite cooking shows as well as side-splitting comedies on board. In addition, you can choose from addictive series as well as entertaining kid's shows.
Movies
Movies with some of the best Hollywood, Bollywood, Arabic, and international films are updated monthly. This month, find award-winning movies as well as family-friendly hits.
In-Flight Food
First Class passengers on Oman Air can savor dedicated flavor and taste of Arabic, Omani, and International cuisine. Moreover, an a la carte menu is available during the flight so passengers can eat whatever they want. Business Class passengers can also experience various cultural tastes on the a la carte menu. Business and First-class passengers can enjoy beverages, fine wines, champagne, etc. Furthermore, Economy Class passengers are given a wide range of delicious dishes depending on their travel region. Lastly, Oman Air also offers special meals to passengers that cater to special dietary requirements of passengers. For more information, please visit,https://www.omanair.com/de/de/inflight-meals
Frequent Flyer Program
Oman Air's frequent flyer program is called 'Sindbad.'
Sindbad
Oman Air offers a frequent flyer program called Sindbad to reward regular passengers with the Airline. Sindbad membership earns you Sindbad miles in the air and on the ground. The more Sindbad miles you make, the more you spend them. You can pay your Sindbad miles for free flights, flight upgrades, exciting raffles, promotions, and more.
Furthermore, three memberships that have varying and exclusive benefits are available, and they are as follows :
Blue
Silver
Gold
Customer Reviews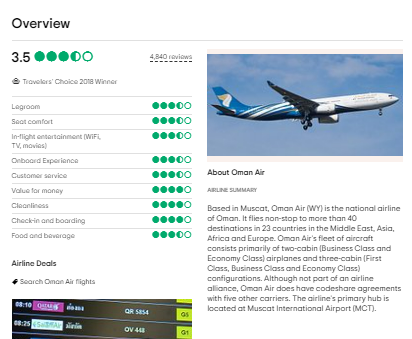 Customer Service
https://www.omanair.com/gbl/en/contact-us
Phone Number
201 205 2115
Email account
Oman Air Popular Flight Routes
Oman Air Route Map
route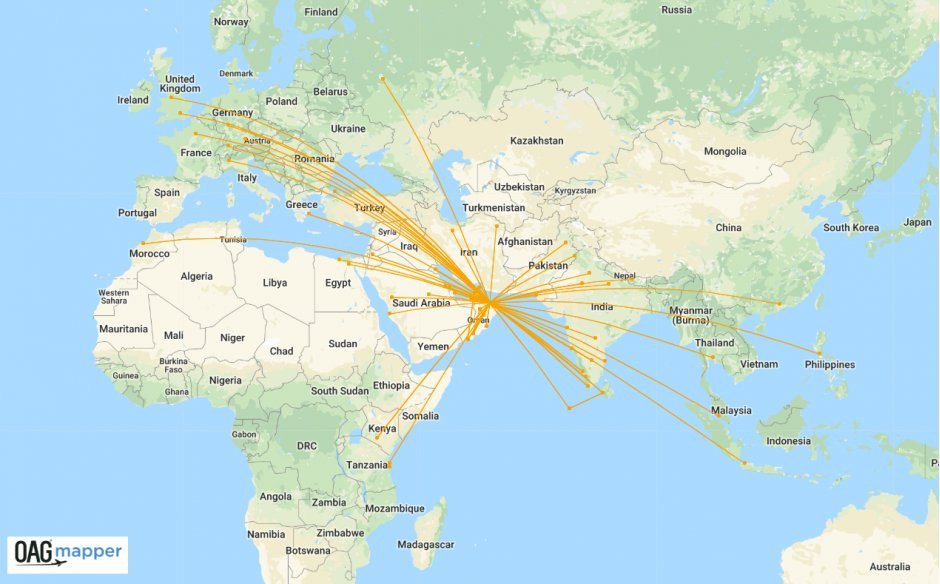 What this artical helpful ?
Oman Air FAQ's
The airline operates flights to domestic and international destinations. In addition to this, over 50 destinations that the airline travels to are across 27 countries.
Oman Air has its hub airport as Muscat International Airport (MCT) in Muscat.
Yes, you can book Oman Air tickets online through the official website.