Book Oman Air Flight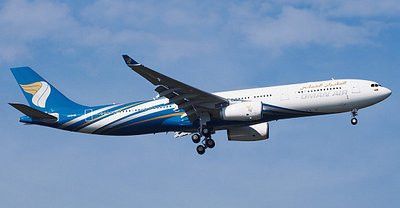 IATA : WY
ICAO : OMA
CallSign : OMAN AIR
Founded : 1993
Key people : Mohammed Ali Al Barwani (Chairman), Abdul Aziz Al Raisi (CEO)
Country : Oman
Office Address : PO Box 58, Muscat International Airport
City : Muscat
Zip Code : 0011
Phone number : 00 968 24 531111
Official Website :

http://www.omanair.com/

Covid :

Covid 19 Updates
Oman Air Overview
Oman Air was founded in 1993 and it is Oman's national carrier. Moreover, this airline has won two major awards at World Travel Awards Middle East they were – 'Middle East's leading airline Business class' and ' Middle East's Leading Airline – Economy Class' categories. In addition to this, at the Skytrax World Airline Awards 2015 Oman Air was awarded the 'Best Airline Staff service in the Middle East'. Furthermore, the airline has codeshare agreements with a number of airlines. For instance, Royal Jordanian, Ethiopian Airlines, Turkish Airlines, KLM, Emirates, Garuda Indonesia, SriLankan Airlines, Malaysia Airlines and more. Lastly, the airline's fleet consists of over 50 active aircrafts that includes Boeing, Airbus and Embraer.
Oman Air Hub and Destinations
Oman Air has its hub airport as Muscat International Airport (MCT) in Muscat. Moreover, the airline operates flights to domestic and international destinations. In addition to this, over 50 destinations that the airline travels to are across 27 countries. Furthermore, some destinations that the airline operates flights to include Manama, Paris, Frankfort, Goa, Delhi, Jakarta, Mila, Kochi, Lahore, Doha, Abu Dhabi, London, Istanbul, Colombo, Khasab, and many more.
Oman Air Travel Class
This airline offers Economy class, Business Class and First Class on-board.
First Class
Passengers can experience the best service and the best a la carte dining on board. Moreover, passengers can experience priority service and access lounges at the airport before and after the flight. In addition to this, passengers can enjoy a wide range menu with They can enjoy the privilege of SkyPriority at the airport, this includes priority check in, boarding gates and security lines. In addition to this, passengers can savor dedicated and exclusive food choices that include modern and traditional Arabic dishes. This will also surely enhance their flying experience. Furthermore, on board there are maximum efforts put in to make the journey comfortable. The seats can recline 180 degrees to lie-flat seat position, they also have a massage function in them to help them relax and enjoy traveling. Lastly, passengers will feel similar to travelling in an exclusive private jet with Oman Air's first class mini-suite, 23-inch video monitor, dedicated luggage space, luxurious lounge area, etc.
Business Class
Oman Air's Business class is award winning and passengers can expect luxury from the moment they step into the airport. For instance, priority services not only at the airport but also on the aircraft are available. Moreover, once on the flight passengers are welcomed with a drink of their choice by the warm and friendly staff. They can also enjoy the 17inch personal monitor to entertain themselves. In addition to this, an in-flight menu is available which may differ depending on the travel route and aircraft type. Furthermore, the seats are very comfortable and come with generous legroom. They also recline back 180 degrees, have electronically controlled backrests and legrests, USB ports are installed. Lastly, passengers have cocktail table separately available and a unisex Amouage kit is made available for a comfortable journey.
Economy Class
Economy cabin gives passengers the best value on Oman Air, it is a very modern cabin and the most basic cabin class available. It also comes with satisfying and comfortable service for the passenger. Moreover, the passengers can enjoy a range of meals on board, the flavours are influenced by the destination being travelled to. In addition to this, different beverages to choose from are available to the passengers. Furthermore, passengers can choose to entertain themselves with a wide range of movies, games and TV shows available on the ARIA entertainment system. They also have access to amenity kits on the flight to enhance their experience. Lastly, the seats are very comfortable and have good legroom.
In-Flight Entertainment
Oman Air provides passengers with an inflight magazine called Wings of Oman, this magazine contains articles relating to healthcare, tourism, lifestyle, travel and entertainment. Furthermore, passengers have access to ARIA entertainment system which contains a wide selection of latest movies, adios, games, etc. In addition to this, passengers can stay connected to the world below as they fly through Wi-Fi service on-board. Amazing packages are also available on board to meet specific needs of the passengers starting from just 4 USD. Furthermore, refer to the table below for details of Wi-fi packages offered-
| | | | | |
| --- | --- | --- | --- | --- |
| Available Packages | 30-minute Wi-Fi pass | One-hour Wi-Fi pass | 3-hourWi-Fi pass | Full flight Wi-Fi pass |
| | | | | |
| Prices | 4.00 USD | 11.90 USD | 24.9 USD | 39.9 USD |
| Durations | 30 minutes | 1 hour | 3 hours | Full Flight |
| MB Limits | 5 MBs | 10 MBs | 40 MBs | 150 MBs |
| Description | Enjoy social media messaging apps for 30 minutes with 5 MB data allowance | Get online and enjoy internet access for 1 hour, with a 10MB data allowance. | Stay online for 3 hours – for the price of 2 hours –with a 40MB data allowance. | Forget the timer. Connect for the whole flight, with a 150MB data allowance. |
In-Flight Food
First Class passengers on Oman air can savour dedicated flavour and taste of Arabic, Omani, and International cuisine. Moreover, an a la carte menu is available during the flight so that passengers can eat whatever they want at their convenience. Business Class passengers can also experience a wide range of cultural tastes available on the a la carte menu. Both Business class and First class passengers can enjoy beverages, fine wines, champagne, etc. Furthermore, Economy Class passengers are given a wide range of delicious dishes depending on the region they are traveling to. Lastly, Oman Air also offers special meals to passengers that cater to special dietary requirements of passengers. In addition, passengers need to order special meals at least 24 hours before the flight and the list of meals available for pre-order is as follows-
Baby Meal
Children's Meal
Fruit Platter Meal
Raw Vegetable Meal
Bland Meal
Hindu Meal (Vegetarian)
Diabetic Meal
Low Fat Meal
Gluten Intolerant Meal
Low Calorie Meal
Vegan Meal
Low Sodium Meal
Vegetarian Oriental Meal
Low Lactose Meal
Vegetarian (Lacto-Ovo) Meal
Moselm Meal
Jain Meal (Vegetarian)
Vegetarian Raw Meal
Frequent Flyer Program
Sinbad is the frequent flyer program of Oman Air, which aims to award loyal passengers. Moreover, passengers can benefit on air as well as on ground. So as passengers fly with Oman Air, they get the chance to earn miles and then spend them according to their preference. For instance, passengers can redeem miles for exciting raffles, flight upgrades, promotions, free flights and many more. Also membership levels are based on the number of miles or qualifying flights a passenger has made. In addition to this, passengers have the chance of earning miles by flying with Etihad Airways. Furthermore, three memberships that have varying and exclusive benefits are available and they are as follows :
Oman Air Popular Flight Routes
Oman Air Route Map
route
What this artical helpful ?
Oman Air FAQ's
The airline operates flights to domestic and international destinations. In addition to this, over 50 destinations that the airline travels to are across 27 countries.
Oman Air has its hub airport as Muscat International Airport (MCT) in Muscat.
Yes, you can book Oman Air tickets online through the official website.