Book SriLankan Airlines Flight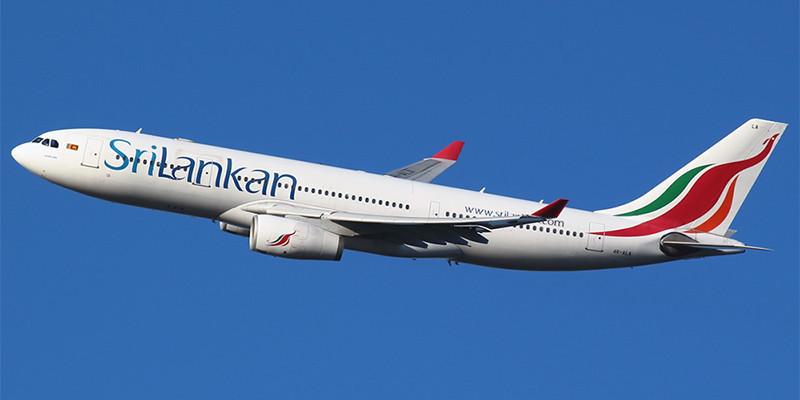 IATA : UL
ICAO : ALK
CallSign : SRILANKAN
Founded : 1979
Key people : Ashok Pathirage (Chairman), Vipula Gunatilleka (CEO)
Country : Sri Lanka
Office Address : SriLankan Airlines Ltd., Airline Centre, Bandaranaike International Airport,
City : Katunayake
Zip Code : 11420
Phone number : +94117 77 1979
Official Website :

https://www.srilankan.com/en_uk/in

Covid :

Covid 19 Updates
SriLankan Airlines Overview
SriLankan Airlines is a flag carrier of Sri Lanka. It was founded in 1979 and since then it has worked up a very solid reputation as an airline. Moreover, the airline is very popular due to its service, comfort, punctuality, safety and reliability. Furthermore, the airline received an award in 2015 by APEX Passenger Choice Awards for "superior achievement in passenger experience" which really supports its public reputation. In addition to this, it also received the Future travel award in 2015 for "Best in the Region". Lastly, the airline has codeshare agreements with s few airlines. For instance Air India, Etihad Airways, Qantas, Japan Airlines, Air Berlin, Oman Air, Alitalia, Malaysia Airlines, Air Canada, Asiana Airlines and more.

SriLankan Airlines Hub and Destinations
Katunayake, Sri Lanka is the headquarters of SriLankan Airlines. Its primary hub airport is Bandaranaike International Airport. In addition, Da Nang International Airport is its secondary hub airport. Moreover, the airline connects the passengers to many destinations. Currently, its global network is across 51 countries and 113 destinations. For instance India, Australia, Germany, China, Bangladesh, Japan, Nepal, Pakistan, Maldives, Singapore, United Kingdom, Thailand, Qatar and many more.
SriLankan Airlines Travel Classes
This airline only offers two travel classes – Economy Class and Business Class.
Business Class
SriLankan Airlines 's Business Class is perfect for passengers who are looking for high-end service and luxury on-board as well as on ground. Moreover, traditional SriLankan hospitality and warmth enhance this experience. This travel class comes with a lot of benefits. Firstly, priority check-in and they also get free lounge access to relax in a luxurious space before their flights. Secondly, amenity kits are given on-board so that passengers can have a cozy and relaxing journey. Next, on-board passengers also get to enjoy delicious SriLankan food along with beverages. The food is prepared with care by experienced chefs, moreover, healthy food options are also available. Lastly, for entertainment passengers can view a selection of blockbuster bollywood or hollywood movies on their personal 15.4 inch screens. Moreover, Tv shows as well as music and games are available for entertainment.
Seats on the aircraft provide maximum comfort to the passengers. In addition to this, it also provides a lot of privacy. The seats are spacious and have a lot of legroom, they can recline 180 degrees and are the best space on the craft to relax.
Economy Class
Economy Class is the most basic cabin class available on SriLankan Airlines . However, it comes with satisfying and comfortable service for the budget traveler. Moreover, once on-board passengers can satisfy their appetite as SriLankan Airlines provides delicious cuisine to passengers. On long haul flights passengers can expect a choice of up to three main courses. Furthermore, these food options come with a wide selection of hot and cold beverages as well as complimentary bar service. Lastly, for entertainment passengers can view a selection of movies, TV shows, listen to music, play games and watch magazines. There surely never be a dull moment on-board.
Seats in this cabin class differ depending on the craft. However, they have a lot of legroom, they recline making it comfortable for the passengers.
In-Flight Entertainment
SriLankan Airlines provides in-flight entertainment for the passengers, the back of the seats on the craft have TV screens on them. Therefore, passengers can view a selection of movies, TV shows, listen to music, play games and watch magazines. Passenger will surely have an entertaining journey. Lastly, Wi-fi is also available on the craft. So passengers can stay connected with their friends and family in a group. Moreover, this really enhances the flying experience.
In-Flight Food
The airline is very proud of its rich SriLankan culinary culture. Moreover, chefs take only the freshest ingredients to prepare high quality and authentic food. Moreover, wines and other spirits are available to passengers. Furthermore, these food options come with a wide selection of hot and cold beverages. Passengers can also enjoy one-of-a-kind dining experiences carefully curated by chefs.
NOTE* – Due to covid-19 safety precautions and certain limitations, the only meal available is Diabetic-friendly meals. Passengers can pre-order this meal by clicking on the link here.
Frequent Flyer Program
FlySmiLes is the name of SriLankan Airlines frequent flyer program, it is to reward loyal passengers. So essentially passengers have the opportunity to collect points and use them for special privileges, rewards and seamless travel experience. For instance, passengers get excess baggage allowance, flight redemption, duty free purchases. In addition to this, they also get additional benefits and rewards with Sri Lankan airlines partners. Moreover, Sri Lankan airlines also has a Young FlySmiLes program exclusively for its young passengers (age 2 – 18). Lastly, four tier memberships are available, they are – Classic, Gold, Blue and Platinum.
SriLankan Airlines Popular Flight Routes
SriLankan Airlines Route Map
route

What this artical helpful ?