Royal Air Maroc Flight Reservations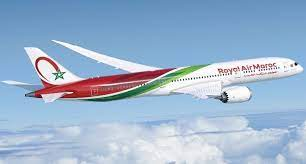 Royal Air Maroc Information
Morocco's leading Airline; was founded in 1957 by the merger of Air Atlas and Air Maroc and operated mainly out of the Mohammed V International Airport in Casablanca. The company is 95.95% owned by the Moroccan government and has minority stakes in Air France and Iberia. Air Royal Maroc is part of the Arab Air Carriers Organization.
Why Book Flight with Royal Air Maroc
Extensive Network of Destinations
One of the most significant advantages of flying with Royal Air Maroc is its extensive network of destinations. The Airline flies to over 90 destinations across the globe, including major cities in Europe, Africa, the Middle East, and North America. So, whether you plan a romantic getaway to Paris or a business trip to New York, Royal Air Maroc can get you there.
Modern Fleet of Aircraft
Royal Air Maroc has a modern aircraft fleet designed to offer passengers a comfortable and safe journey. The Airline's fleet includes the Boeing 787 Dreamliner, one of the world's most advanced and fuel-efficient planes. With spacious seats, in-flight entertainment, and Wi-Fi, you can fully relax and enjoy your flight.
Exceptional Customer Service
At Royal Air Maroc, customer satisfaction is a top priority. The Airline's friendly and professional staff are always ready to assist you with any questions or concerns. Whether you need help with your luggage or want to request a special meal, the Airline's staff are there to make your journey as smooth as possible.
Affordable Fares
Royal Air Maroc offers competitive fares that are designed to suit any budget. So whether you're looking for a budget-friendly economy class ticket or want to travel in style with business class, the Airline has something for everyone. Plus, with regular promotions and discounts, you can save even more on your next trip.
Airlines Hub and Destinations
| | |
| --- | --- |
| Royal Air Maroc Hub | Destinations Served |
| Casablanca (CMN) | Paris (CDG), Madrid (MAD), New York (JFK), Montreal (YUL), Dubai (DXB), Istanbul (IST), Dakar (DKR), Cairo (CAI), Accra (ACC), Lagos (LOS), Conakry (CKY), Abidjan (ABJ), Tunis (TUN), Barcelona (BCN), Brussels (BRU), Geneva (GVA), Amsterdam (AMS), Lisbon (LIS), Miami (MIA), Rio de Janeiro (GIG), Sao Paulo (GRU), and more. |
The main hub airport is Mohammed V International Airport.
NOTE- Apart from this, there are more destinations as well.
Cabin Classes
Planning a trip with the leading company of the Moroccan kingdom also offers you the possibility of discovering two different travel spaces:
Economy class
https://www.royalairmaroc.com/ae-en/long-haul-economy
The RAM offers ergonomic seats through its "Economy" cabin offering the modern comfort expected by passengers boarding medium and long-haul flights. However, only on long-haul flights pillows and blankets are available. Nevertheless, there is enough leg space. Moreover, the seats are made of leather.
Business Class
https://www.royalairmaroc.com/us-en/long-haul-business
Flying aboard Royal Air Maroc's new Premium cabin minimizes the stress and constraints of air travel. A pillow with a blanket is given on each seat. A passenger is eligible for a toiletry accessory kit.
Before boarding, passengers booking the Business fare benefit from priority access to security control.
Booking Your Royal Air Maroc Reservation
Choosing Your Dates
Choose your trip dates as the first step in making a reservation with Royal Air Maroc. Remember that the peak travel period runs from mid-December to mid-April, and costs may rise.
Selecting Your Flights
After you've decided on your travel dates, it's time to book your flights. Royal Air Maroc provides a wide range of travel choices, including nonstop flights from several Royal Air Maroc cities to both international and domestic destinations.
Choosing Your Seat
You can select your seat when making your reservation with Royal Air Maroc. Make sure to choose your preferred seat when booking your Royal Air Maroc flight if you have one, such as an aisle or window seat.
How to access Royal Air Maroc Manage Booking
Royal Air Maroc offers an easy-to-use Manage Booking service that allows you to make changes to your booking quickly and conveniently. For example, you can modify your flight details, such as your seat selection, meal preference, and flight schedule, through the Manage Booking section on the Airline's website or mobile app.

Flight Status
In "Manage my booking," passengers can go through the option of "Flight Status, where the passenger can check their flight status. Apart from the flight status, passengers can also update themselves on delays and cancellations.
Change or Cancel a Flight
Here are some methods that passengers can use to change or cancel their Royal Air Maroc flight:
Over the phone:
Another option is to call Royal Air Maroc's customer service hotline. You can speak to a representative who can assist you with changing or canceling your flight.
Website:
One of the easiest and most convenient ways to change or cancel your flight is to do it online. You can visit the Royal Air Maroc website, log in to your account, and make the necessary changes or cancellations.
Airport desk:
If you're already at the airport and need to change or cancel your flight, you can visit the Royal Air Maroc ticket counter or customer service desk.
Select Seats
Passengers on Royal Air Maroc can pick their favorite seats during the booking process or through the Airline's Manage Booking service. Passengers can select their seats depending on personal taste and comfort, such as a window seat, an aisle seat, or a seat with more legroom.
Upgrade Your Seat
Passengers on Royal Air Maroc can upgrade their seats to a higher class of service, such as Business or First Class, for increased comfort and luxury throughout their journey.
Add Special Requests
Royal Air Maroc realizes that specific customers may have particular demands during their journey, such as dietary restrictions or medical concerns. Therefore, special requests can be added during the booking process or through the Airline's Manage Booking service.
Add Baggage
If you need to bring more baggage than your allowed baggage allowance, you can do so by paying an excess baggage fee. The fees vary depending on your destination and the extra luggage you must bring.
Tips for Using Royal Air Maroc Manage Booking
If you are planning to use Royal Air Maroc to manage booking, here are some tips to keep in mind:
Check the Deadline for Making Changes
Royal Air Maroc has a deadline for making changes to your itinerary. Be sure to check this deadline before attempting to make any changes to your booking.
Keep Your Confirmation Number Handy
You will need your confirmation number to access Royal Air Maroc managed booking. So keep this number handy in case you need to make any changes.
Check Your Flight Status Regularly
Even if you have already checked your flight status through Royal Air Maroc, and managed to book, be sure to check it regularly, as flight schedules can change anytime.
Inflight entertainment
The entertainment on board a Royal Air Maroc flight depends on the duration of the flight and the class we have chosen at the time of booking. With these parameters, we have the following options:
On Royal Air Maroc medium-haul flights
On Economy class flights: Moroccan newspapers, RAM Magazine and videos, real-time information about the route, etc... on the collective video screens. If you want something more, we fear you must bring your entertainment or use your flight to strike up a pleasant conversation with your fellow queues.
On Business class flights: A wide selection of Moroccan newspapers and magazines, RAM Magazine, short films, videos, real-time information about the route, etc., on the pooled screens. If you want something more, we fear you must bring your entertainment or use your flight to strike up a pleasant conversation with your fellow queues.
On Royal Air Maroc long-haul flights
On Economy class flights: On the individual screens in the headboard of the front seat, we can see a wide range of possibilities through Video on Demand (VOD) that includes, as in Business class, movies, music, and information in real-time, our route. And, of course, the RAM Magazine that we will find in the seat pocket!
On Business class flights: We will have the same as tourist class passengers but with many more options to make the trip a very positive experience.
In-flight food
All Royal Air Maroc flights with a duration equal to or greater than 2 hours and 30 minutes include a free food and drink service on board, which varies depending on the route and class of our plane ticket, which can be a Lunch or dinner with an appetizer, a hot dish to choose between two suggestions and, later, a selection of fruit, sweets, and cheeses.
And if you have a special diet, look at Royal Air Maroc's special menus and choose the one that best suits your needs. But be careful; you must do it online or through the mobile application up to 48 hours before the flight departs.
Frequent Flyer Program
Royal Air Maroc operates a frequent flyer program, the Safar Flyer program, designed to reward passengers for flying with Royal Air Maroc flights and partners. Miles with Safar Flyer program can be converted into premium plane tickets, upgrades to business class, excess baggage, and change costs. Miles with Safar Flyer schedule can be collected/used with Iberia, Etihad, and Qatar airlines.
Safar Flyer Benefits
The International VIP Lounge at the Casablanca Mohammed V Casablanca-Nouaceur Airport (CMN) is permitted to passengers with a Business Class ticket or Safar Flyer Gold, Ambassador, or Silver Loyalty Card. Gold or Silver cardholders can also use the priority check-in desks.
Collect Safar Flyer Points
When booking Royal Air Maroc through Alternative Airlines, you can collect air miles or frequent flyer points. Select Safar Flyer as your chosen frequent flyer program and quote your membership number when making your reservation.
Customer Reviews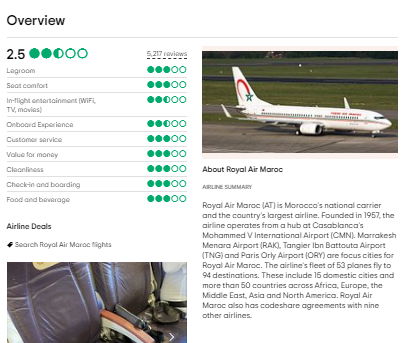 Customer Service
https://www.royalairmaroc.com/ca-en/information/contact-us
Phone number
1 (800) 344-6726
Email Address
Royal Air Maroc Popular Flight Routes
Royal Air Maroc Route Map
Route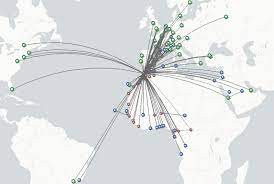 What this artical helpful ?
Royal Air Maroc FAQ's
The Frequent Flyer Program of Royal Air Maroc is a loyalty program that rewards its members with a range of benefits, including free flights, lounge access, priority services, and more.
No, it's free to join the program.