Jetstar Flight Reservations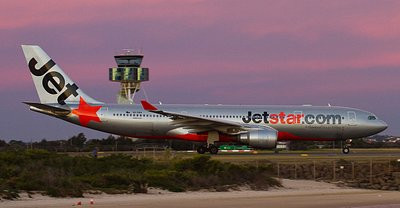 IATA : JQ
ICAO : JST
CallSign : JETSTAR
Founded : 2003
Key people : Gareth Evans
Country : Australia
Office Address : PO Box 4713, Melbourne, Victoria
City : Melbourne
State : Victoria,
Zip Code : 03001
Phone number : 011 61 3 9645 5999
Official Website :

http://www.jetstar.com/au/

Covid :

Covid 19 Updates
Jetstar Overview
Jetstar, which also operates as Jetstar Airways Pty Ltd, was founded in 2003 and it is a low-cost Australian airline. Moreover, this airline is owned by Qantas as a subsidiary. In addition to this, the airline is part of the two brand strategy of Qantas – having the premium service market for Qantas Airways and the low-cost market for Jetstar. flies to both domestic and international destinations. In addition to this, the current fleet of the airline consists of a mixed fleet of the Boeing 787 Dreamliner and Airbus A320. Furthermore, the airline has codeshare agreements with Emirates, Japan Airlines, LATAM Chile, Qantas, Jin Air, American Airlines, Finnair, Jeju Air and LOT Polish Airlines.

Jetstar Hub and Destinations
Jetstar has its hub airport as Melbourne Airport, also known as Tullamarine Airport. Moreover, the airline operates an extensive domestic network and also operates flights to international destinations from its base at Melbourne Airport. Furthermore, some of the domestic destinations include Gold Coast, Sydney, Brisbane, Perth, Darwin, Adelaide, Sunshine Coast, Melbourne, Crains and Newcastle. In addition to this, some of the international destinations include Bangkok, Honolulu, Kuala Lumpur, Nadi, Singapore, Auckland, Ho Chi Minh City, Jakarta, Manila, Phuket and Tokyo.
Jetstar Travel Class
This airline only offers two cabin classes on-board, they are Economy Class, and Business Class.
Economy Class
Economy cabin gives passengers amazing affordability on Jetstar. It also comes with satisfying and comfortable service for the traveler. Moreover, passengers can purchase food and beverages on-board. Therefore they don't have a hungry flight. Furthermore passengers can also enjoy the in-flight entertainment program. This will not only enhance their flying experience but it will also make the time fly by. Furthermore, passengers can choose their seat and find a spot on the craft they are comfortable with. Lastly, seats in economy cabin class are comfy leather and offer good legroom.
Passengers can purchase a bunch of extras with their economy fare. There are two starter bundles, Plus and Max.
Business Class (Cedar Class)
Jetstar's Business Class is perfect for passengers who are looking for high-end service, and extra ease while traveling. Firstly, passengers get priority service at the airport. Moreover, on-board passengers get to relax with a glass of wine. In addition to this, passengers can enjoy and dine on delicious premium meals. Furthermore, in-flight entertainment and quality headphones will enhance the flying experience. On-board passengers are also provided with a comfort pack for a cozy journey. Lastly, seats on the aircraft provide maximum comfort to the passengers. They recline back further and also have wider space.
In-Flight Entertainment
Jetstar not only provides passengers with an in-flight magazine, but it also provides entertainment systems on board. Moreover, the airline happens to be the first to provide its passengers iPads for use as entertainment. Therefore passengers can stream a wide variety of movies, TV shows, music, games, magazines that are pre-loaded. This is provided for free in the Business class cabin. However, Economy class passengers have to pay a fee to access it. Furthermore, some aircrafts also have entertainment screens on the back of the seat.
In-Flight Food
Jetstar provides a variety of in-flight meals. From wine and cheese to a kid's snack, all is available on flight. However, the menu depends on the flight duration, destination and type of aircraft. Moreover, the starter fares do not include food but passengers can still pre-purchase meals or buy food on-board on select flights. In addition to this, most of the bundles include food as well as drinks. Passengers might get in-flight vouchers or a meal deal. Furthermore, some snacks and food often available include nuts, crisps, pasta, rice dishes. soup, croissants, sandwiches, pizza and more. Lastly, for business class passengers three course meals alongside snacks are available. Menu for the same can be accessed on Jetstar's website.
Passengers can also access drinks from the in-flight menu. These drinks include both hot and cold drinks. Moreover, alcoholic drinks for instance beer and wine are available on some flights. Business class passengers are served complimentary drinks, both alcoholic and non-alcoholic.
Frequent Flyer Program
Jetstar provides passengers a great selection of frequent flyer programs, which is to award loyal passengers. Moreover, passengers can earn miles as they travel with the airline or its partners. So essentially further the passengers travel, they get to earn more miles and enjoy membership upgrades. In addition to this, some of the programs the airline allows include Qantas Frequent flyer program, Emirates Skywards, JAL Mileage Bank and Vietnam Airlines.
Jetstar Popular Flight Routes
Jetstar Route Map
route

What this artical helpful ?
Jetstar FAQ's
The airline offers passenger domestic flights as well as international flights.
Melbourne Airport is the base of Jetstar.
Yes, you can book Jetstar tickets online through the official website.