Viva Air Colombia Flight Reservations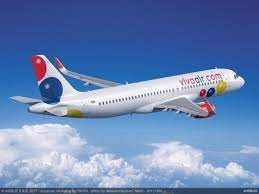 Viva Air Colombia Overview
Earlier, Viva Air Colombia was VivaColombia which was launched in 2012. Later, in 2018 Viva Colombia rebranded to Viva Air Colombia. Now, it is one of the low-cost airlines which ply domestic flights in Colombia. It also flies in US destinations as well as in Peru. You will find an airport hub of this airline in Bogota (BOG), Santa Marta (SMR), as well as in Medellin (MDE). It flies overall more than ten places. However, Irelandia Aviation is responsible for all low-cost airlines throughout the world. Irelandia Aviation is the owner of Viva Air Colombia.
---
Viva Alliance Airlines and codeshare programs, fleet
Viva Airlines has a codeshare agreement with VivaAerobus. Initially, it was founded in September 2009 and it commenced operations in May 2012.
Fleet
If you observe, then you will get that the airline fleet comprises of near about 20 airbuses (A320-200), 35 airbuses (A320neo) as of January 2020. Its fleet size is 22 aircraft.
| | | |
| --- | --- | --- |
| Aircraft In Fleet | Orders | Passenger |
| Airbus A320-200 | 18 | 188 |
| Airbus A320neo | 4 | 186 |
---
Viva airline destinations and hub airports
Destination city
Here you will get the list of destination cities of the following airline. It has overall around 14 destinations where it provides its services.
Santiago
Bucaramanga
Apartado
Barranquilla
Cartagena
Cucuta
Leticia
Monteria
Pereira
Riohacha
San Andrés
Guayaquil
Lima (international destinations)
Miami (international destinations)
Hub Airports
Bogotá
Medellin
Santa Marta
---
Viva Airline booking in the class of services
It has one cabin class termed as economy class. So, Viva Airline offers value for money with various facilities. This will also provide you the most comfortable service beyond your thought. You can safely travel from A to B cities.
Economy
There are three different fares you will find in the economy class of viva columbia airline. You can purchase any of these three cabin and each cabin will have different cost. Price and benefits will differ according to the selection of fares. You will get various facilities and these facilities will differ according to price. The more you will spend the more you will get advantages. If you are thinking about the facilities or benefits then you can see below. So you can check here which facilities your are going to get after purchasing different kinds of cabin:-
A la Carta
Random seat will be Allocated
bag (10 kg)
Combo+
choice varies like central and backzone for Seat selection
bag (10 kg)
wight of Checked bag (20 kg)
Combo++
for Free of cost airport check-in
exclusion of flight change fee
baggage (10 kg)
choice of Seat selection
on Priority boarding
Carry-on baggage (12 kg)
Checked baggage (20 kg)
However, as you know that different airlines have different facilities. Therefore, some would be luxurious and some can be cheap best. It depends on you which facilities you want and also on which you will get your own choice. Moreover, in this airline, the flight attendants offer you food and drink which you can purchase to make your journey happiest with healthiest.
Generally, in this, you will get seats in a 3 X 3 matrix formation. You will not have any problem because it has a standard amount of seat pitch and width which is for the Airbus A330 aircraft.
---
In-flight Entertainment
If you think it has in-flight entertainment so it is not like that. It has not installed in-flight entertainment in its flights. As we know that it is a low-cost airline so it can be the reason. Moreover, for entertainment, passengers can bring their onboard device. It is allowed in such airlines. So you can entertain yourself from your device. If you want to entertain then take the entertaining device with you.
See some facilities which it provides or not.
WI-FI
However, you will not get the facilities of Wi-Fi on any Viva Colombia airlines. It does not provide a wi-fi facility to its passengers, no matter whether or which route you are traveling. Wi-fi facilities would be the same in both domestic and international airlines. So do not depend on airlines wi-fi facility.
---
In-flight food menu and meal or beverages
It provides such facilities and moreover, you can purchase your favorite snacks here. You can also get food and drink by purchasing that from the flight attendants of airlines. For instance, a variety of snacks and drinks you will find there and you have to choose whichever you want to take.
Viva Air Colombia Popular Flight Routes
José María Córdova International Airport
(MDE)
Medellín
El Dorado International Airport
(BOG)
Bogotá
José María Córdova International Airport
(MDE)
Medellín
Gustavo Rojas Pinilla International Airport
(ADZ)
San Andrés
José María Córdova International Airport
(MDE)
Medellín
Ernesto Cortissoz International Airport
(BAQ)
Barranquilla
Viva Air Colombia Route Map
Where does Viva Air Colombia fly? Viva Air Colombia flies to and from many places in Columbia. You have the chances of Viva Air Colombia route near you!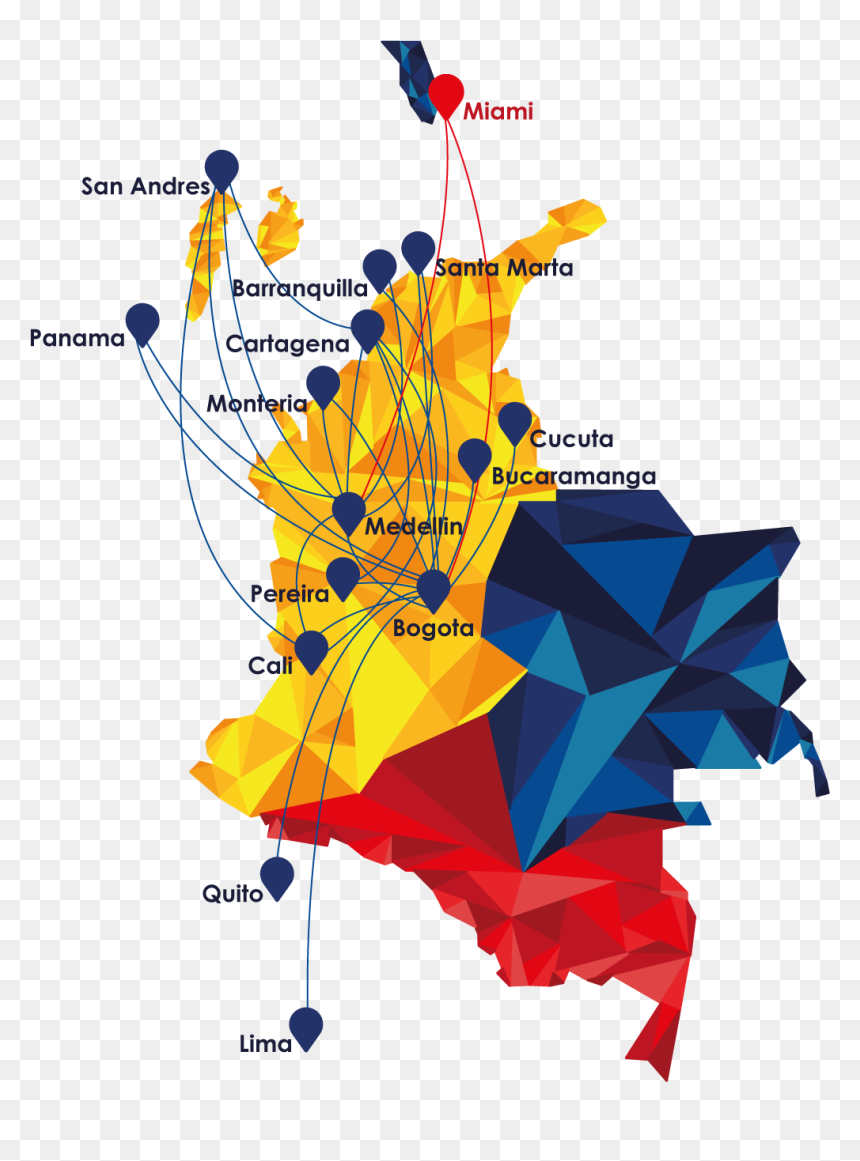 What this artical helpful ?