VietJet Air Flight Reservations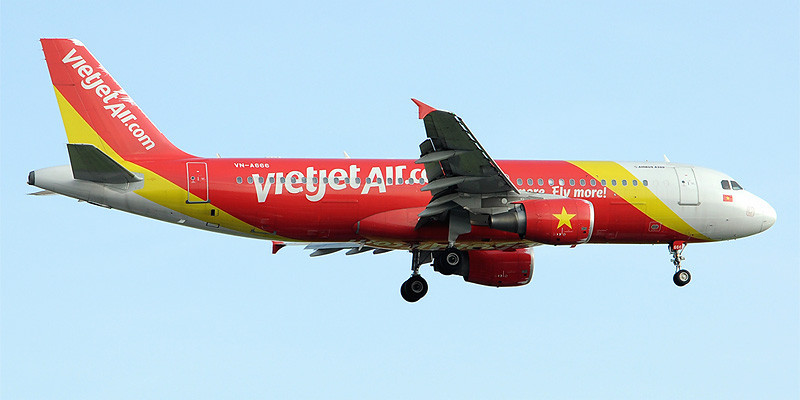 IATA : VJ
ICAO : VJC
CallSign : VIETJETAIR
Founded : 2007
Key people : Nguyen Thi Phuong Thao, Nguyen Thanh Ha
Country : Vietnam
Office Address : 2nd Floo, HDBank Building, 32 Tran Hung Dao Street, Hoan Kiem District
City : Hanoi
Zip Code : 110001
Phone number : +84 1900 1886
Official Website :

http://www.vietjetair.com/

Covid :

Covid 19 Updates
VietJet Air Reservations & Overview
VietJet Air is a Vietnamese, low-cost carrier that was founded in 2007. Most importantly, the airline happens to be the first new-age airline that is privately owned in Vietnam. Its main aim is to provide reliable scheduled flights to passengers. It also has a subsidiary airline called Thai VietJet Air. Moreover, VietJet Air was shortlisted in the "Top 5 new route launch" by Budgies & Travel Awards in London. Furthermore the airline has many highly trained staff, who aim to provide the passengers with a wonderful flying experience. Lastly, the airline has a fleet of 70 aircrafts and travels to both international and domestic destinations.

VietJet Air Hub and Destinations
VietJet Air has its hub airport as Noi Bai International Airport (HAN). As of now, the carrier flies to around 15 cities domestically. Moreover, the airline also flies to 47 places in Asia and around 25 international destinations. For instance, some of these destinations include Yangon, Thanh Hoa, Taipei, Siem Reap, Seoul, Pleiku, Nha Trang, Hangzhou, Haikou, Hanoi, Denpasar, Can Tho, Batam, Vinh, Ningbo, Da Nang, Chengdu, Qui Nhon, Bangkok, Ho Chi Minh City, Chu Lai, Tianjin, Dong Hoi, Buon Ma Thuot, Da Lat, Hai Phong, Hue, Kunming, Phu Quoc, and Singapore.
VietJet Air Booking
This airline only offers three travel fares – Skyboss, Deluxe and Eco.
SkyBoss
VietJet Air's Skyboss fare is for passengers who are looking for high-end travel. This fare type comes with a lot of benefits. Firstly, passengers get extra baggage allowance, this includes both Checked and Carry-on Baggage. Moreover, passengers also benefit from services like priority boarding, priority seat-selection, priority baggage service, and priority security check. Secondly, they also get free lounge access to relax in a luxurious space before their flights. Thirdly, they have private car transportation to the craft. Lastly, and most importantly, passengers can change the flight date or route.
Once on board, VietJet Air provides complimentary food and beverages to the passengers. On top of this, complimentary SkyBoss flight care as well amenity kit is provided.
Deluxe
This fare type allows passengers some of the benefits like free checked and carry-on baggage. Moreover, they can also enjoy priority check-in and seat selection. In addition, the passengers get complimentary Deluxe Flight care. Lastly, they can also change the route and date of their flight.
Eco
This is the more basic fare type available on VietJet Air. However, it comes with satisfying service. Passengers do not have free checked-in baggage but the fare does include carry-on baggage. Moreover, if passengers want to, they can also make upgrades.
In-Flight Entertainment
VietJet Air provides magazines for in-flight entertainment of the passengers. However, passengers can view media on their devices. They just need to download the media before the flight as Wi-Fi isn't available on-board.
In-Flight Food
VietJet Air serves food and beverages on-board. For passengers with Skyboss tickets the food and beverages on-board are complimentary. However, this is not true for passengers with other fare types. Moreover, The other passengers have access to the in-flight food menu, so they can order what they want.
Frequent Flyer Program
VietJet Air does not have this loyalty program at the moment. However the airline is working on starting an accumulated point program soon.
VietJet Air Popular Flight Routes
VietJet Air Route Map
route

What this artical helpful ?