Ryanair Flight Reservations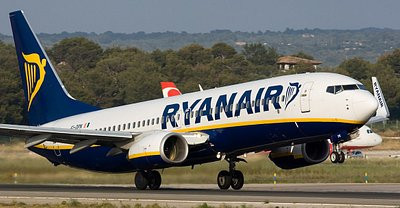 IATA : FR
ICAO : RYR
CallSign : RYANAIR
Founded : 1949
Key people : David Bonderman (Non-Executive Chairman), Michael O'Leary (Group Chief Executive Officer), Edward Wilson (Chief Executive Officer Ryanair DAC)
Country : Ireland
Office Address : Ryanair Head Office, Airside Business Park
City : Swords
Zip Code : K67 Y427
Phone number : 00 353 1520 444 004
Official Website :

https://www.ryanair.com/

Covid :

Covid 19 Updates
Ryanair Information
Ryanair was founded in 1984 and it is an Irish airline. Moreover, this airline is an ultra low-cost airline. In addition to this, the airline is a large part of Ryanair Holdings family of airlines. Moreover, in 2016 the airline carried more international passengers and few more scheduled flights than any other airline of European budget. Lastly, the airline is aiming towards reaching lower fares. At the moment Ryanair has around 300 Boeing 737 aircraft, and to meet its aim the airline has orders for 380 new Boeing 737 aircrafts.
Why Book Flight with Ryanair
Low Fares - One of the main reasons people choose to fly with Ryanair is the low fares. Ryanair is known for offering some of the cheapest flights in Europe, making it an excellent option for budget-conscious travelers.
Extensive Route Network - Ryanair has an extensive route network, with flights to over 200 destinations across Europe, the Middle East, and North Africa.
Customer Service - Ryanair has made significant improvements to their customer service in recent years, with a focus on ensuring that passengers have a positive experience.
On-time Performance - Ryanair has an exceptional performance record, so you can count on your flight departing and arriving on time.
Innovative Technology - Ryanair is dedicated to providing its customers with cutting-edge technology that improves their travel experience.
Ryanair Hub and Destinations
| HUB AIRPORT | POPULAR DESTINATIONS |
| --- | --- |
| Dublin Airport (DUB) | London Stansted, Madrid, Barcelona, Rome, Paris Beauvais |
| London Stansted Airport (STN) | Dublin, Barcelona, Lisbon, Berlin, Budapest |
| Milan Bergamo Airport (BGY) | London Stansted, Barcelona, Madrid, Athens, Berlin |
| Brussels Charleroi Airport (CRL) | Barcelona, Madrid, Rome, Porto, Budapest |
| Warsaw Modlin Airport (WMI) | London Stansted, Dublin, Edinburgh, Rome, Stockholm |
| Berlin Schönefeld Airport (SXF) | Barcelona, Madrid, Lisbon, Milan, Athens |
| Alicante-Elche Airport (ALC) | London Stansted, Dublin, Brussels Charleroi, Manchester, Frankfurt Hahn |
| Malaga-Costa del Sol Airport (AGP) | London Stansted, Dublin, Manchester, Berlin, Brussels Charleroi |
| Rome Ciampino Airport (CIA) | London Stansted, Barcelona, Madrid, Brussels Charleroi, Lisbon |
NOTE- Apart from this, there are more destinations as well.
Ryanair Cabin Classes
This airline only offers two cabin classes on-board, they are Economy class and Business class.
Economy Class
Economy Class is the most basic cabin class available on Ryanair . However, it comes with satisfying and comfortable service for the budget traveler. Moreover, passengers can add extra service like baggage, etc. Lastly, the seats in this cabin class will surely help the passengers feel fresh and energetic.
Business Class
This is perfect for passengers who are looking for high-end service. This travel class comes with a lot of benefits and extras. Firstly, passengers get priority service at the airport. Moreover, they can also enjoy extra baggage. Next, passengers also get to experience priority boarding and get to disembark first. Lastly, seats on the aircraft provide maximum comfort to the passengers. In addition to this, it also comes with extra legroom and the middle seat is left empty for privacy of the passenger.
Booking Your Ryanair Reservation
Choosing Your Dates
The first step in booking your Ryanair reservation is to choose your travel dates. Keep in mind that the high season for travel to the Ireland is from mid-December to mid-April, and prices may be higher during this time.
Selecting Your Flights
Once you've chosen your travel dates, it's time to select your flights. Ryanair offers a variety of flight options, including non-stop flights from many Ireland. cities to International and domestic. You can choose your Ryanair flight ticket from the economy, extra comfort, or first-class seats, depending on your budget and travel preferences.
Choosing Your Seat
When booking your Ryanair reservation, you'll have the option to choose your seat. If you have a specific seat preference, such as a window seat or an aisle seat, be sure to select it when booking your Ryanair flight.
How to access Ryanair Manage Booking
Ryanair flights manage booking is an online platform that allows passengers to view and modify their travel itinerary. This feature is available to all Ryanair passengers who have a confirmed reservation with the airline. By accessing Ryanair manage booking, passengers can make changes to their flights, select seats, add special requests, and much more.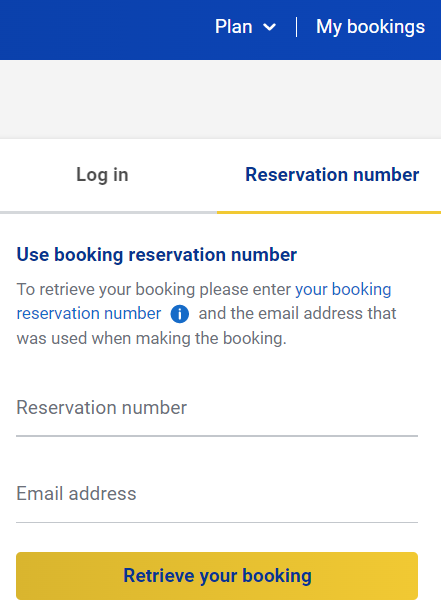 Flight Status
In "Manage my booking," passengers can go through the option of "Flight Status, where the passenger can check their flight status. Apart from the flight status, passengers can also update themselves on delays and cancellations.
Change or Cancel a Flight
Here are some methods that passengers can use to change or cancel their Ryanair flight:
Contact the Airline:
One of the most common ways to change or cancel a flight is to contact the airline directly.
Website:
Another way to change or cancel a flight is through the airline's website.
Booking site:
If you booked your flight through a third-party booking site, such as Expedia or Kayak, you may need to make changes or cancel your flight through that site.
Select Seats
Passengers on Ryanair can pick their favorite seats during the booking process or through the Airline's Manage Booking service. Passengers can select their seats depending on personal taste and comfort, such as a window seat, an aisle seat, or a seat with more legroom.
Upgrade Your Seat
Passengers on Ryanair can upgrade their seats to a higher class of service, such as Business or First Class, for increased comfort and luxury throughout their journey.
Add Special Requests
Ryanair realizes that specific customers may have particular demands during their journey, such as dietary restrictions or medical concerns. Therefore, special requests can be added during the booking process or through the Airline's Manage Booking service.
Add Baggage
If you need to bring more baggage than your allowed baggage allowance, you can do so by paying an excess baggage fee. The fees vary depending on your destination and the extra luggage you must bring.
Tips for Using Ryanair Manage Booking
If you are planning to use Ryanair to manage booking, here are some tips to keep in mind:
1. Check the Deadline for Making Changes
Ryanair has a deadline for making changes to your itinerary. Be sure to check this deadline before attempting to make any changes to your booking.
2. Keep Your Confirmation Number Handy
You will need your confirmation number to access Ryanair' manage booking. Keep this number handy in case you need to make any changes.
3. Check Your Flight Status Regularly
Even if you have already checked your flight status through Ryanair manage booking, be sure to check it regularly, as flight schedules can change at any time.
In-Flight Entertainment
Ryanair does not have a seat back entertainment system on flights. However, the airline provides passengers with in-flight magazine for entertainment.
For More Information please visit https://www.ryanair.com/gb/en/plan-trip/travel-extras/inflight/inflightentertainment
In-Flight Food
Ryanair strives to provide savoury and delicious snacks on-board. Moreover, the food on board can be purchased and the menu of the same is in the in-flight magazine. Some of the dishes on the in-flight menu include Chicken tikka masala curry, lasagna, etc. In addition to this, light snacks like Paninis, Croque Monsieur, Sandwiches, Burritos, crisps, chocolate, croissants, etc. are also available. Furthermore, passengers can pre-order food at least 48 hours before the flight. However, this service is available on selected flights. The meal options available are standard adult meal, vegetarian meal, fresh breakfast, kids meal, cheese board and afternoon tea. Lastly, the airline also provides a wide range of alcoholic and non-alcoholic drinks like soda, wine, beer, etc.
Special meals to passengers that cater to special dietary requirements.
For More Information please visit https://www.ryanair.com/tr/en/plan-trip/travel-extras/inflight-menu
Frequent Flyer Program
Ryanair Choice is the frequent flyer program that Ryanair planned to launch, which is to award loyal passengers. Moreover, passengers cannot earn miles but they can purchase an annual membership for €199 fee. Furthermore, passengers can benefit from free seats, and fast-track priority boarding for frequent fliers, etc.
Customer Reviews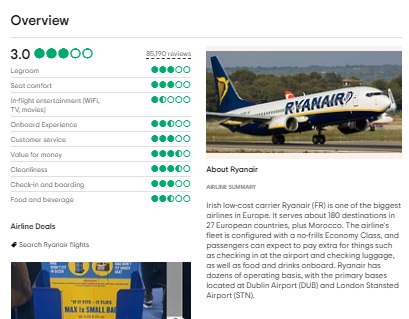 Customer Service
Phone Number
Ryanair General Sales and Service: 44 1279-35-8395
Ryanair Flight Reservations: 44 1279-35-8395
Ryanair Customer Support for Passengers with Disabilities: 44 1279-35-8395
Email Address
Ryanair Customer Support Email: https://ryanair.com
Live Chat
Ryanair also offers a live chat feature on their website, allowing you to connect with a customer service representative in real-time.
Ryanair Live Chat: https://ryanair.com
Ryanair Popular Flight Routes
Ryanair Route Map
route

What this artical helpful ?
Ryanair FAQ's
The airline offers passenger flights around European countries, Middle East and Africa.