Kuwait Airways Flight Reservations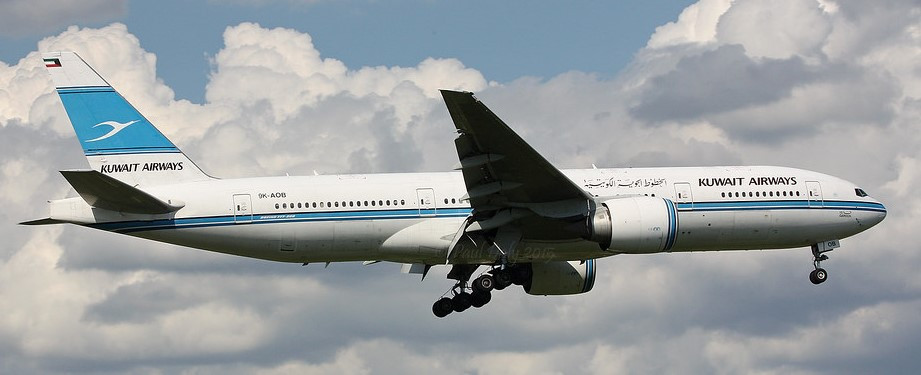 Kuwait Airways Information
Kuwait Airways have its head office on the grounds of Kuwait International Airport. They also operate scheduled International Services through the Middle East to the Indian subcontinent, Southeast Asia and North America. In 1953, Kuwait National Airways was shaped by a group of businessmen from Kuwait. It commenced all operations on the 16th of March, 1954. As of October '09, the government of Kuwait wholly owned Kuwait Airways.
Why Book Flight with Kuwait Airways
Affordable Rates - The reasonable prices offered by Kuwait Airways are one of the factors contributing to its popularity with passengers. The airline provides reasonable rates without sacrificing the level of service. If you travel on a tight budget, buying your ticket with Kuwait Airways might result in considerable financial savings.
Simple Booking Procedure - It is simple and convenient to book a flight with Kuwait Airways. You may book your flight online or via the airline's mobile app. The booking procedure is simple; you can finalize your reservation in minutes.
On-Time Service - Kuwait Airways has a reputation for its on-time performance. The airline strives to ensure that its flights depart and arrive on time so that you can reach your destination without delay. Kuwait Airways has a robust system to monitor its flights and make adjustments to ensure they operate on schedule.
Environmental accountability - Kuwait Airways is dedicated to environmental stewardship. As a result, the airline has implemented several initiatives to minimize its carbon footprint and encourages sustainable practices. For example, Kuwait Airways has introduced a fuel-efficient aircraft fleet and trash reduction and recycling initiatives.
Safe and protected - Kuwait Airways prioritizes the safety and security of its passengers. The airline has an extensive safety management system to guarantee that its flights are safe and secure. In addition, Kuwait Airways adheres to all international safety norms and requirements.
Kuwait Airways Destinations and Hub Airports
| Destination | Country | Airport |
| --- | --- | --- |
| Abu Dhabi | UAE | Abu Dhabi International Airport |
| Alexandria | Egypt | Borg El Arab Airport |
| Amman | Jordan | Queen Alia International Airport |
| Bahrain | Bahrain | Bahrain International Airport |
| Bangkok | Thailand | Suvarnabhumi Airport |
| Beirut | Lebanon | Beirut-Rafic Hariri International Airport |
| Cairo | Egypt | Cairo International Airport |
| Chennai | India | Chennai International Airport |
| Colombo | Sri Lanka | Bandaranaike International Airport |
| Dammam | Saudi Arabia | King Fahd International Airport |
| Delhi | India | Indira Gandhi International Airport |
| Dhaka | Bangladesh | Shahjalal International Airport |
| Dubai | UAE | Dubai International Airport |
| Frankfurt | Germany | Frankfurt Airport |
| Istanbul | Turkey | Istanbul Airport |
| Jakarta | Indonesia | Soekarno-Hatta International Airport |
| Karachi | Pakistan | Jinnah International Airport |
| Kochi | India | Cochin International Airport |
| Kuala Lumpur | Malaysia | Kuala Lumpur International Airport |
| Kuwait City | Kuwait | Kuwait International Airport (Hub) |
| Lahore | Pakistan | Allama Iqbal International Airport |
| London | UK | London Heathrow Airport |
| Manila | Philippines | Ninoy Aquino International Airport |
| Mumbai | India | Chhatrapati Shivaji Maharaj International Airport |
| Muscat | Oman | Muscat International Airport |
| New York | USA | John F. Kennedy International Airport |
| Paris | France | Charles de Gaulle Airport |
NOTE- Apart from this, there are more destinations as well.
Cabin Classes
Book Kuwait Airways Reservations and enjoy four classes of seats-
Economy class
The Economy class offers comfortable seating with a wide range of facilities for the budget traveler. In addition, it includes entertainment options that come up with updated films and music. The entertainment system is placed in the rear portion of each seat. A pillow, as well as a blanket, is provided to passengers. Both meals and beverages are complementary in the economy class. Extra chairs, if needed, can be requested at an additional cost.
Business-class
In Business class, you can relax in the business lounge. While onboard, you can get complimentary amenities like a blanket, a headset for reading movies, and sleeping blinds. You can get a meal of your choice. You can upgrade your economy ticket to a business class ticket. Complimentary services like meals and beverages and entertainment services like movies and best-quality music are available to the passengers on board.
The Royal class and First-class
First-class passengers can enjoy all the amenities, such as the airport Lounge, excellent meals, beverages, and blankets. As a result, you can relax and fully recliners with Kuwait Airways. In addition, the enclosed suits and complete reclinable seats are available to enjoy your privacy. Furthermore, premium meals, beverages, and blankets are open to the onboard passengers. The passengers traveling in First class also get Limousine Services at the London Airport. This is a unique service given by Kuwait Airways that you can choose at the time of Kuwait Airways Reservations so you can travel effectively.
Booking Your Kuwait Airways Reservation
Choosing Your Dates
The first step in reserving a Kuwait Airways flight is to choose your trip dates. Remember that the peak season for travel to Kuwait runs from mid-December to mid-April, and rates may be higher during this period.
Selecting Your Flights
After you've decided on your travel dates, it's time to book your flights. Kuwait Airways provides a wide range of travel choices, including nonstop flights from several Kuwaiti cities to both international and domestic destinations.
Choosing Your Seat
You will be able to select your seat when making your Kuwait Airways reservation. If you have a preference for a certain seat, such as a window or an aisle seat, make sure to specify it when booking your Kuwaiti travel.
How to access Kuwait Airways Manage Booking
Kuwait Airways offers an easy-to-use Manage Booking service that allows you to make changes to your booking quickly and conveniently. For example, you can modify your flight details, such as your seat selection, meal preference, and flight schedule, through the Manage Booking section on the airline's website or mobile app.

Flight Status
Whether flying with Kuwait Airways or not, you may quickly check your flight status. You may check your flight status using the airline's website, mobile app, or by phoning customer care.
Change Flight/Cancel Flight
Here are some methods that passengers can use to change or cancel their Kuwait Airways flight:
Online:
Using the airline's online Manage Booking tool is one of the easiest and fastest methods to change your Kuwait Airways trip. The online method is straightforward and may be done in simple steps.
Airport Counter:
You can alter your flight in person by going to the Kuwait Airways airport counter. The airline's customer care representatives will help you change your flight and supply you with the essential information.
Phone:
Call Kuwait Airways' customer support staff to alter your flight. The customer care staff is accessible 24 hours a day, seven days a week, and can help you change your trip. When you call, have your booking reference number and flight information handy.
Select Seats
Passengers on Kuwait Airways can pick their favorite seats during the booking process or through the airline's Manage Booking service. Passengers can select their seats depending on personal taste and comfort, such as a window seat, an aisle seat, or a seat with more legroom.
Upgrade Your Seat
Passengers on Kuwait Airways can upgrade their seats to a higher class of service, such as Business or First Class, for increased comfort and luxury throughout their journey.
Add Special Requests
Kuwait Airways realizes that specific customers may have particular demands during their journey, such as dietary restrictions or medical concerns. Therefore, special requests can be added during the booking process or through the airline's Manage Booking service.
Add Baggage
If you need to bring more baggage than your allowed baggage allowance, you can do so by paying an excess baggage fee. The fees vary depending on your destination and the extra luggage you must bring.
Tips for Using Kuwait Manage Booking
While traveling, there are many things a passenger should keep in mind.
Check the Deadline for Making Changes
There is a deadline for making adjustments to your schedule with Kuwait Airways. Before making any modifications to your reservation, double-check the deadline.
Keep Your Confirmation Number in Hand
To access Kuwait Airways manage booking, you will need your confirmation number. Keep this number ready in case any modifications are required.
Check Your Flight Status Regularly
Even if you have previously checked your flight status using Kuwait Airways manage booking, be sure to do so on a frequent basis because flight schedules might alter at any time.
In-Flight Entertainment and Wifi
The passengers traveling with Kuwait Airways reservations can enjoy watching Bollywood and Hollywood movies. In addition, all the latest collection of movies in different languages is available for passengers who book Kuwait Airways flights. They can also listen to songs to enjoy their journey. Furthermore, the passengers can enjoy in-flight shopping services from where they can buy toys, accessories, and other beauty products. Besides complimentary music and entertainment services, Kuwait Airways tries to provide passengers with a fantastic travel experience.
In-Flight Food
Kuwait Airways offer a standard menu for passengers. Moreover, the passengers who book Kuwait Airways flights are provided food based on their requirements and religious grounds for medical reasons. They also offer baby meals, child meals, diabetic meals, and low-calorie meals. In addition, they have a wide variety of culinary delights from which the passengers can choose and enjoy their meals. They also take care of all the requirements of the passengers with all the options for meals. The passengers enjoy a lovely dinner while they are traveling.
Frequent Flyer Program
Kuwait Airways operates a frequent flyer program known as the Oasis Club. In addition, it rewards regular passengers with award tickets. Above all, there are three types of memberships where passengers can enjoy several benefits.
They are Oasis Blue, Oasis Silver, and Oasis Gold. You can choose anyone during Kuwait Airways Reservations for your journey.
For instance, the Oasis gold members can enjoy preferential seating, an Elite mileage bonus, dedicated check-in, services like lounge access, and extra luggage.
For more information, please visit https://oasisclub.kuwaitairways.com/en/Pages/home.aspx
Customer Reviews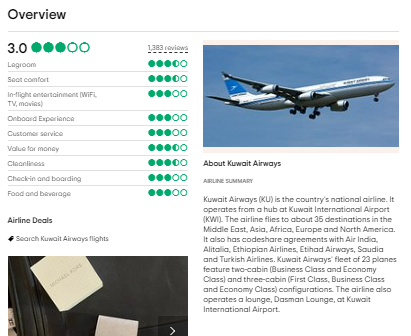 Customer Service
WhatsApp service
+965 22200171
Phone Number
171 (Only for local calls)
+965 24345555 ext 171 (For International calls, 24/7)
Live Chat
Kuwaiti also offers a live chat feature on its website, allowing you to connect with a customer service representative in real time.
Kuwait Airways Live Chat: https://www.kuwaitairways.com/
Email Address
Kuwait Airways Popular Flight Routes
Kuwait Airways Route Map
Kuwait Airways route details.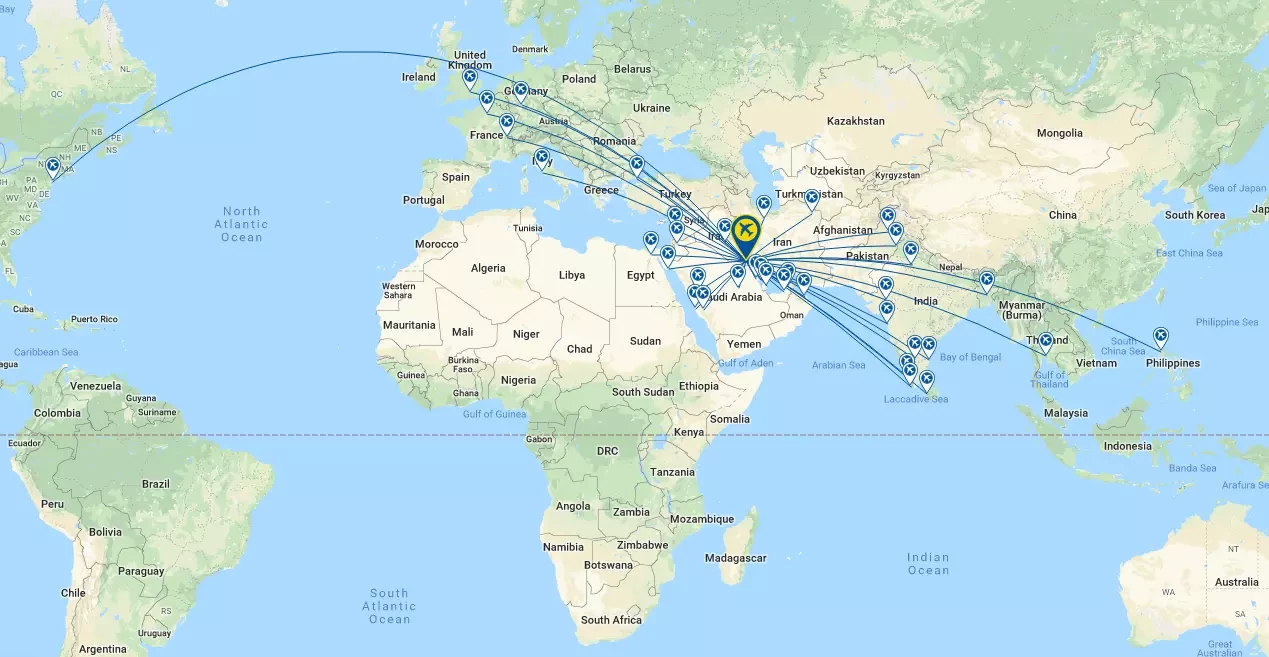 What this artical helpful ?
Kuwait Airways FAQ's
Of course, you can upgrade your Kuwait Airways flight ticket depending on the offers. You can always contact the Kuwait Airways customer service in order to get instant help and get to know the charges.
You can check the flight status on the website of Kuwait Airways. Moreover, you can click on the "manage my booking" tab and navigate to flight status. Finally, you can choose to search the route of flight number or Airport easily.