Bamboo Airways Flight Reservations

IATA : QH
ICAO : BAV
CallSign : BAMBOO
Founded : 31 May 2017; 5 years ago
Key people : Nguyen Ngoc Trong (Chairman),Nguyen Manh Quan (CEO)
Country : Vietnam
Office Address : : 22nd floor, Bamboo Airways Tower, 265 Cau Giay street, Dich Vong Ward, Cau Giay District, Hanoi Capital, Vietnam.
City : Ho Chi Minh City
State : Cầu Giấy District, Hanoi.,
Zip Code : 100478
Phone number : (84) 19001166
Official Website :

https://www.bambooairways.com/us-en/
Bamboo Airways Information
The first privately owned airline in Vietnam, Bamboo Airways, was founded in 2017 to offer services with an international focus.
Bamboo Airways set out on its voyage to bridge possible landmasses and spread the positive ideals of Vietnamese people and culture around the world. In addition to expanding to important hubs in the Asia-Pacific, Europe, etc., we have built a vast domestic network connecting 21–22 airports in Vietnam, helping to establish Vietnam as an aviation hub for Southeast Asia and Asia in general.
Why Book Flight with Air Algerie
Competitive Prices: Bamboo Airways offers competitive prices for domestic and international flights, making it an affordable option for travelers.
Modern Fleet: Bamboo Airways has a modern fleet of aircraft, including Boeing 787-9 Dreamliners and Airbus A320s, ensuring a comfortable and safe travel experience.
Multiple Destinations: Bamboo Airways operates flights to numerous domestic and international destinations, giving travelers a wide range of options.
Excellent Service: Bamboo Airways is known for providing exceptional service to its passengers, with friendly and helpful staff and a commitment to customer satisfaction.
Convenient Booking: Bamboo Airways makes booking flights easy and convenient with online booking options and a user-friendly website, making it easy for travelers to plan their trips.
Bamboo Airways Hub and Destinations
| Hub City | Noi Bai International Airport (HAN) |
| --- | --- |
| Domestic Destinations | Ho Chi Minh City (SGN), Da Nang (DAD), Nha Trang (CXR), Can Tho (VCA), Hai Phong (HPH), Vinh (VII), Hue (HUI), Quy Nhon (UIH), Phu Quoc (PQC), Buon Ma Thuot (BMV), Pleiku (PXU), Dong Hoi (VDH), Rach Gia (VKG), Thanh Hoa (THD), Dien Bien (DIN), Con Dao (VCS), Tuy Hoa (TBB) |
| International Destinations | Taipei (TPE), Kaohsiung (KHH), Seoul-Incheon (ICN), Incheon-Seoul (ICN), Busan (PUS), Daegu (TAE), Jeju (CJU), Tokyo-Narita (NRT), Tokyo-Haneda (HND), Osaka-Kansai (KIX), Nagoya (NGO), Fukuoka (FUK), Macau (MFM), Hong Kong (HKG), Singapore (SIN), Bangkok (BKK), Phnom Penh (PNH), Siem Reap (REP), Vientiane (VTE), Luang Prabang (LPQ), Yangon (RGN), Seoul-Gimpo (GMP) |
Cabin Classes
Bamboo Economy

Bamboo Premium

Bamboo Business
Each class has two fares: Flex and Smart, except Bamboo Economy, which has additional Saver and Saver Max.
Booking Your Bamboo Airways Reservation
Choosing Your Dates
Choose your trip dates as the first step in making a reservation with Bamboo Airways. Remember that the peak travel period to Vietnam runs from mid-December to mid-April and that costs may rise.
Selecting Your Flights
It's time to choose your flights after deciding on your travel dates. Bamboo Airways offers non-stop flights from numerous places in Vietnam to internal and international destinations. Depending on your budget and travel preferences, you can select the economy, enhanced comfort, or first-class seats on your Bamboo airline ticket.
Choosing Your Seat
You can select your seat when making your reservation with Bamboo Airways. Make sure to choose your preferred seat when booking your Bamboo flight if you have one, such as an aisle or window seat.
How to access Bamboo Airways Manage Booking.
Through an online platform called Bamboo Flights Manage Booking, travelers can view and edit their travel plans. All Bamboo passengers with confirmed reservations on the airline are eligible for this feature. Passengers can use Bamboo manage booking to alter their flight information, choose seats, submit special requests, and do much more. For more information, click on (reservation/modify)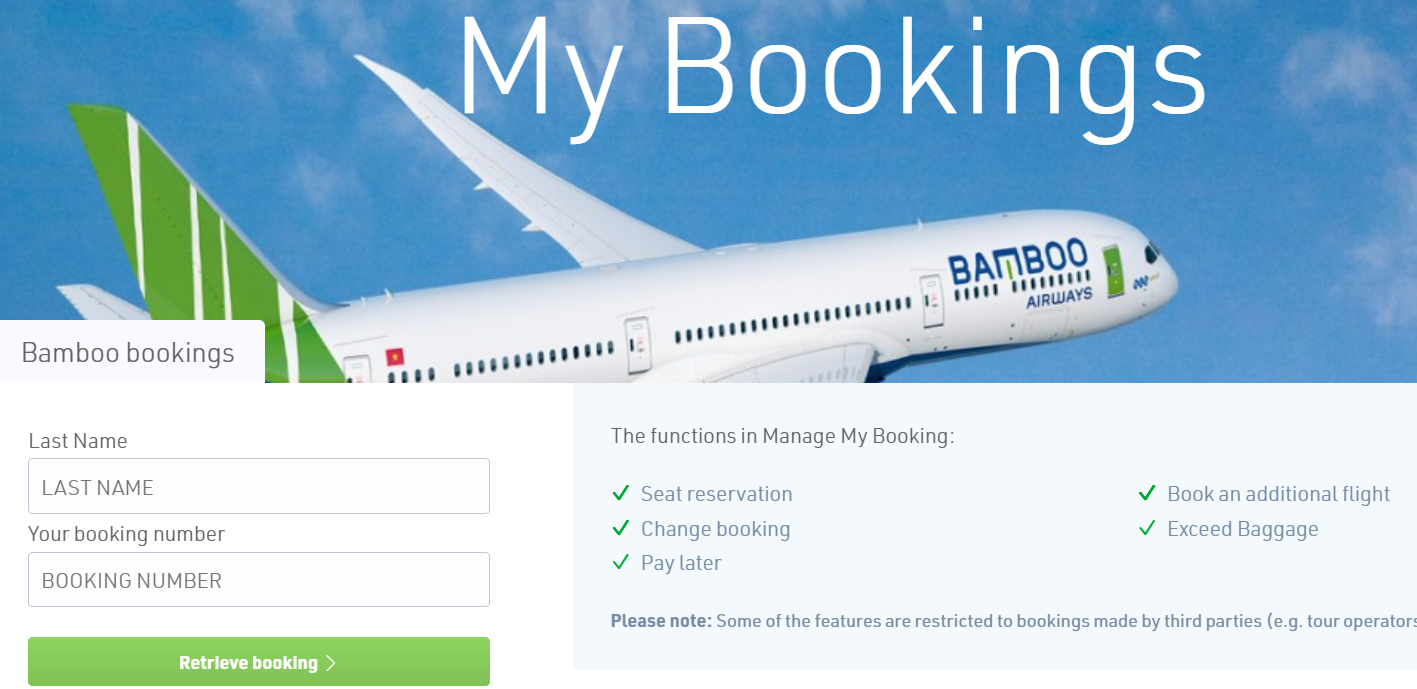 Flight Status
In "Manage my booking," passengers can go through the option of "Flight Status, where the passenger can check their flight status. Apart from the flight status, passengers can also update themselves on delays and cancellations.
Change or Cancel a Flight
Through Bamboo Airways manage booking, you can change your Bamboo flight, such as changing the date or time. If they qualify, passengers can cancel their flight and request a refund.
Over the phone:
Call the Bamboo Airways customer service department to request a change or cancellation. Their website and booking confirmation both list the phone number.
Website:
You can amend or cancel your flight by logging into your Bamboo Airways account on their website. To make any adjustments, go to the "Manage Booking" area.
Mobile app:
You can change or cancel your flight using the Bamboo Airways mobile app if you have one. Enter your account credentials and go to the "Manage Booking" section.
Airport desk:
If you are already at the airport, you can go to the Bamboo Airways check-in counter or customer service desk to request a change or cancellation.
Upgrade Your Seat
Additionally, travelers can upgrade their seats on Bamboo Manage booking to a higher class, from Bamboo business class to Bamboo economy.
Add Special Requests
Additionally, travelers can add special requests to their Bamboo flight reservation, such as requesting a special meal, wheelchair assistance, or additional luggage.
Add Baggage
If a passenger wants to bring more baggage than you are allowed baggage allowance, it can be done by paying extra charges accordingly. The charges may depend on the extra luggage the passenger is carrying.
Tips for Using Bamboo Airways Manage Booking
Check the Deadline for Making Changes
You have a deadline with Bamboo Airways to make modifications to your schedule. Before attempting to modify your booking, be sure to double-check this deadline.
Keep Your Confirmation Number in hand.
You will need your confirmation number to access Bamboo Airways' manage booking. Keep this number in hand in case you need to make any changes.
Check Your Flight Status Regularly
Even if you have previously checked the status of your flight using Bamboo Airways Manage Booking, be careful to do so frequently because flight schedules are subject to change.
In-Flight Entertainment and Wifi
Thanks to Bamboo Sky, an onboard entertainment system, passengers can connect directly to Bamboo Airways' entertainment collection via personal devices, including laptops, tablets, and cell phones. With a simple connection, travelers may enjoy more than 100 thrilling movies, TV shows, video games, and their favorite music during the flight without an internet connection. For more details, click on (information/on-board-services/in-flight-service/)
Please take note that at this time, domestic routes in Vietnam are not covered by the service; only international ways are.
Frequent Flyer Program
Bamboo Airways would like to introduce our unique reward program, Bamboo Club, to improve service to our valued customers and show our gratitude for your support.
Emerald, Gold, Diamond, and First are the four lucrative membership tiers Bamboo Club offers. Each card is made with your travel style in mind. Join us to receive exclusive discounts on Bamboo Airways services. (about-bamboo-club/)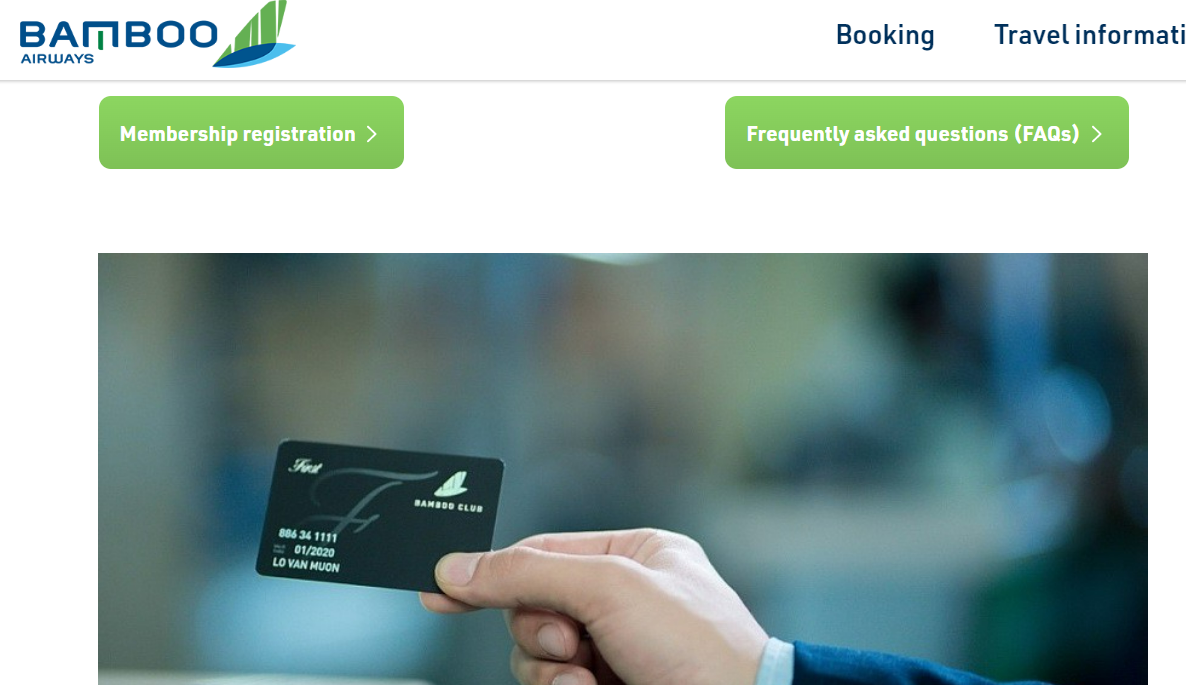 Customer Reviews
(Customer Review( TripAdvisor)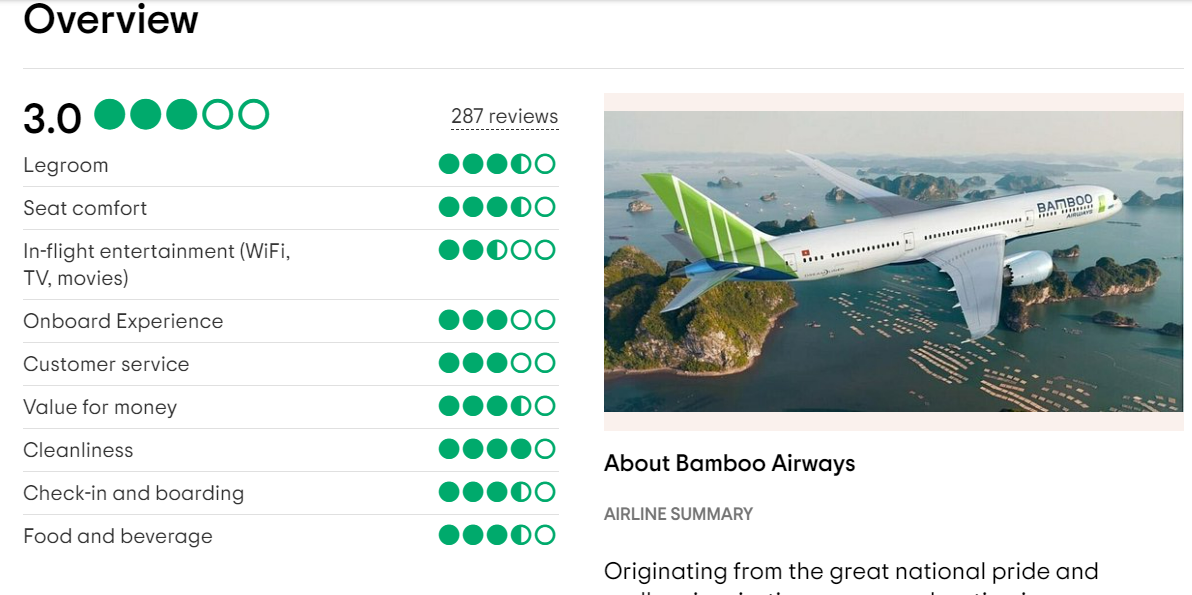 Customer Service
Email account
Bamboo Airways Call Center number:
(84) 19001166
For a refund, You can email to
Bamboo Airways Popular Flight Routes
Bamboo Airways Route Map
Route Details

What this artical helpful ?
Bamboo Airways FAQ's
Yes, Bamboo Airways has a loyalty program called Bamboo Club, which rewards frequent flyers with benefits such as priority check-in and boarding, extra baggage allowance, and lounge access.
Yes, Bamboo Airways has a strong safety record and adheres to international safety standards and regulations.
You can book a flight with Bamboo Airways through their website, mobile app, or through a travel agency or online booking site.