American Airlines Flight Reservations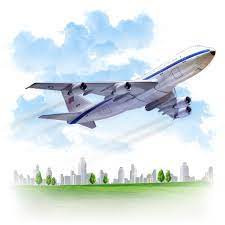 IATA : AA
ICAO : AAL
CallSign : AMERICAN
Founded : April 15, 1926 (earliest predecessor airline as American Airways, Inc.)
Key people : Doug Parker (Chairman & CEO) | Robert Isom (President) | Stephen Johnson (Executive Vice President, Corporate Affairs) | Derek Kerr (Executive Vice President and CFO)
Country : United States
Office Address : 1 Skyview Drive Fort Worth, TX 76155
City : Fort Worth
State : TX,
Zip Code : 76155
Phone number : +1-800-433-7300
Official Website :

https://www.aa.com/

Covid :

Covid 19 Updates

Twitter :

https://twitter.com/AmericanAir

Facebook :

https://facebook.com/AmericanAirlines
American Airlines Information
American Airlines was authorized in 1926 in Chicago, Illinois, of the U.S. The airline was established with the fusion of two different organizations-Roberson Aircraft Corporation and Colonial Air Transport. Later in ty got fused again into Aviation airlines. In the year 1929, it was renamed American airlines. In 2011, American airlines got md with U.S Airways by keeping the same name. This led both airlines to develop into the largest airlines in the united states.
In 2020, American airlines got the most significant commercial airline per fleet size. It consists of 874 aircraft combined with Boeing and Airbus. They are the largest operator of A3320 series aircraft, A319, and A321 variants. Also, American Airlines is the second-largest operator for variants like 737-800.
Why Book Flight with American Airlines
There are several reasons why you may want to book a flight with American Airlines:
Wide network: American Airlines has a vast network of domestic and international destinations. With over 6,800 daily flights to more than 365 destinations in 61 countries, American Airlines can take you wherever you need.
Loyalty program: American Airlines offers a loyalty program called AAdvantage, which allows members to earn miles for flights and other purchases. These miles can be redeemed for flights, upgrades, car rentals, and other rewards.
In-flight services: American Airlines provides various in-flight services, including wifi access, entertainment, and food and beverage options. The airline offers complimentary snacks and non-alcoholic beverages on all flights and meals on longer flights.
Customer service: American Airlines is committed to providing excellent customer service to its passengers. The airline has a dedicated customer service team available 24/7 to assist passengers with their needs and queries.
Safety record: American Airlines has a strong safety record and is committed to ensuring the safety and well-being of its passengers. The airline has implemented various safety measures, including enhanced cleaning protocols and mandatory face coverings for all passengers and crew members.
American Airlines Destinations and Hub Airports
American airlines combined a network of 6,800 flights on don a daily basis350 destinations in 50-plus countries. In addition, the airlines serve 95 domestic and 95 international destinations on five continents. American Airlines' largest hub airport is in Dallas/Fort Worth(DFW), where you can book your American Airlines Reservations anytime. American with American Eagle runs out of other nine hub airports at:
Charlotte,
Chicago-O'hare,
Dallas/Fort Worth,
Los Angeles,
Miami,
New York-JFK,
New York-LaGuardia,
Philadelphia,
Phoenix-Sky Harbor,
Washington-National.
Cabin Classes
Economy class
American Airlines main cabin is the ba primary lowest economy in all regional and mainline aircraft. The seat range in this economy class is 30-32 inches of pinch and 17-18.5 inches in width. Whether you have booked American Airlines Reservations or planning to booreserveur seat in economy class, get it without any doubt and enjoy the legroom as "More Room Throughout Coach".." he basprimaryonomy is present in the main cabin and has restrictions. In May 2017, airlines made changes by adding seats to Boeing 737 MAX jetliners.
Main cabin extra
American Airlines ma, in extra cabin ha,s more than 50 seats. The seats are allotted in many mainline and American Eagle regional aircraft fleets. The main cabin additional (economy plus product) has complimentary alcoholic beverages and is extra different than thein cahouseThEven after launching their new premium economy, their lines still hold onto the main cabhousetra. Therefore, at thWhening your American Airlines Reservations, you can choose one of the best options that suit you for your trip.
Premium economy
American Airlines announced its premium economy cabin on December 9, 2015. Premium economy was allotted afterward for airlines like Boeing 787-9s, Boeing 777-200s, Boeing 787-8s, and Airbus A332-220s. American premium class comes up with wider seats, complimentary two checked bags, drinks, magnify food menu, and prior boarding.
Flagship Business
The premium cabin is the American Airlines Flagship Business class. You can choose during American Airlines Reservations on a specific flight. Flagship Business offers fully lie-flat seats. It is present in all Airbus A330-200s, Boeing 777-200ERs, Boeing 787-8s, and Boeing 787-9s.
Flagship First
American Airlines Flagship First is the International first class. First-class is present in airlines Boeing 777-300ERS. This class has seats in a 1-2-1 reserve herringbone configuration and fully lie-flat. Flagship First Class has complimentary options like great food, a beverage menu, and more amenities with lounge access.
American Airlines Manage Booking
American Airlines Manage Booking offers a range of features that allow you to modify your reservation according to your needs, such as Modifying your itinerary, Selecting your preferred seat, Requesting special assistance, Adding extra baggage, Upgrading your heart, and Updating your contact information. You can access this feature on the American Airlines website or mobile app by entering your booking reference and last name. In addition, passengers can customize their travel plans with various tools that American Airlines manages booking offers. You can manage bookings for American Airlines in several ways, including the following:
Flight Status
Additionally, travelers may choose their seats in advance, with American Airlines managing to book. Therefore, people who want to sit with their travel companions or have specific seating preferences may find this function helpful.
Change Flight/Cancel Flight
To cancel your American Airlines flight, you can do so through the following methods:
American Airlines Website:
Passengers can change or cancel their flight booking online by visiting the American Airlines website and logging in to their account. From there, they can navigate to the "Manage Reservations" section, select the booking they wish to change or cancel and follow the prompts.
Phone:
Passengers can change or cancel their flight booking by calling American Airlines' customer service hotline. The customer service representative will guide the passenger through the process and make any necessary changes or cancellations.
Airport:
Passengers can visit any American Airlines ticket counter at the airport to make changes or cancellations to their flight booking. An American Airlines representative will assist the passenger with the process and make any necessary changes or cancellations.
Select Seats
Another helpful feature of American Airlines Manage Booking is the ability to select your seats. This is especially important if you have a specific seat preference or want to ensure that you sit with your travel companion. Go to your itinerary and select the "Select Seats" option to choose your seats. You'll then be able to see a seating map of the aircraft and choose your preferred seats. Note that some hearts may come with an additional fee.
Upgrade Your Seat
Upgrading your seat can provide added comfort and convenience during your flight with American Airlines. Whether you're looking for more space, better amenities, or a premium travel experience, the airline offers a range of upgrade options to meet your needs.
Add Special Requests
American Airlines offers several types of special requests for their flights, including:
Dietary Requirements: If you have any special dietary requirements, you can request a special meal on your flight. This includes options such as vegetarian, gluten-free, and kosher meals.
Medical Assistance: If you require medical assistance during your flight, you can request special assistance. This includes options such as wheelchair assistance and oxygen supply.
Special Needs: If you have any special needs, such as traveling with a service animal or requiring special seating, you can request a special. Assistance.
Add Baggage
If you need to bring more baggage than your allowed baggage allowance, you can do so by paying an excess baggage fee. The fees vary depending on your destination and the extra luggage you must bring.
In-Flight Entertainment and wifi
| In-flight entertainment | Wifi |
| --- | --- |
| Hundreds of movies, TV shows, and music options are available on personal seatback screens in most cabins. | Wifi is available on most flights for a fee. |
| Live TV is available on select flights. | Two wifi options are available: |
| On-demand movies, TV shows, and music streaming are available on personal devices with the American Airlines app. | 1) wifi Basic: Provides access to email and messaging apps and limited web browsing for a lower fee. |
| In-flight magazines and newspapers are available on seatback pockets or in the American Airlines app. | 2) wifi Plus: Provides full internet access, including streaming capabilities, for a higher fee. |
| Noise-canceling headphones are available in premium cabins. | Wifi is free for AAdvantage Executive Platinum, Platinum Pro, and Platinum members, as well as customers traveling in First or Business Class. |
In-Flight Food Services
Here are some details about American Airlines' in-flight food services:
Complimentary snacks: On all flights, American Airlines offers complimentary snacks such as pretzels, cookies, and nuts, as well as non-alcoholic beverages.

Meals: American Airlines offers meal options on longer flights in all cabins. The same meal offerings may vary depending on the route and cabin class. First and Business Class Passengers are typically offered a more comprehensive range of gourmet dining options.

Special meals: American Airlines offers unique meal options for passengers with specific dietary requirements or preferences. These may include vegetarian, kosher, or gluten-free meals, among others. Passengers can request special meals when booking or by contacting American Airlines customer service.

Food for purchase: American Airlines offers additional food and beverage options on some flights. These may include sandwiches, salads, and alcoholic beverages, among others.
Frequent-flyer program
American Airlines Frequent Flyer program is AAdvantage and was introduced on May 1, 1981. In 2011, AAdvantage had 67 million members, and t remained the most extensive frequent flyer program that year. The airlines have an AAdvantage co-brand credit card to add additional services to American Airlines Reservations online. The card offers benefits and is issued by CitiCards subsidiary of Citigroup, Barclaycard in the United States, and many more. American airlines program miles allow members to redeem tickets, discounts, free car rentals, merchandise, hotel stay, and other services and products. Moreover, AAdvantage's most active members are given more premium advantages like prior boarding, separate check-in, and many free upgrades.
American Airlines Customer Reviews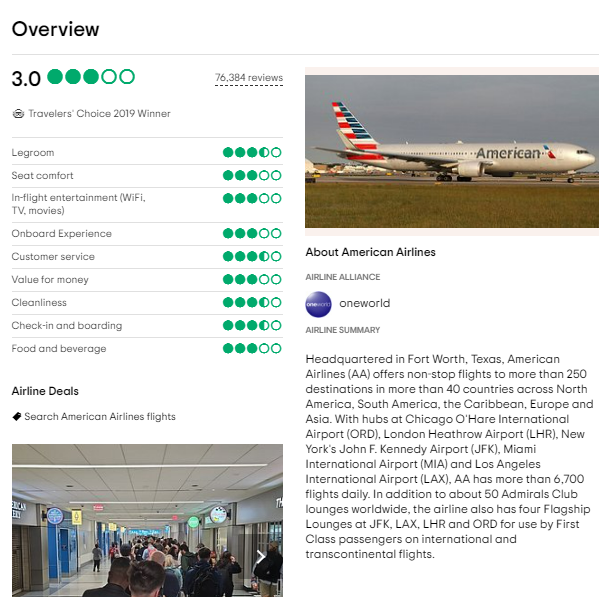 Customer Services
Phone Number:
For general customer service and flight inquiries within the United States, you can call 800-433-7300.

If you're calling from outside the United States, you can find the appropriate phone number for your country or region on American Airlines' website under the "Contact Us" section.
American Airlines Popular Flight Routes
American Airlines Route Map
No route details.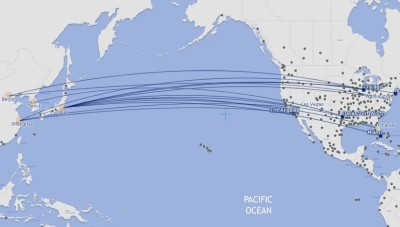 What this artical helpful ?
American Airlines FAQ's
You can travel or buy American Airlines Reservations tickets on Tuesday, Wednesday, and Thursday for United states flights. However, you can travel on weekdays for international flights but not usually.
You can call American Airlines customer care service by dialing 1-800-433-7300.