Air Malta Flight Reservations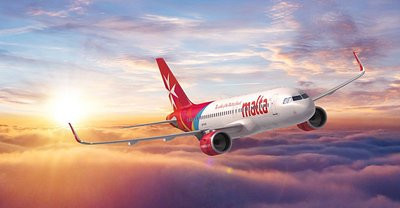 IATA : KM
ICAO : AMC
CallSign : AIR MALTA
Founded : 1973
Key people : Vacant (CEO), David Curmi (Chairman)
Country : Malta
Office Address : Level 2 Skyparks Business Centre, Malta International Airport
City : Luqa, Island of Malta
Zip Code : 04000
Phone number : 00 356 2166 2211
Official Website :

http://www.airmalta.com/

Covid :

Covid 19 Updates
Air Malta Information
On April 1st, 1974, the airline began operations as the national carrier of Malta with two wet-leased aircraft and seven scheduled routes across Europe. The airline presently travels to over 35 scheduled destinations in Europe, North Africa, and the Eastern Mediterranean using a fleet of 7 Airbus A320 aircraft. Throughout its history, the airline has successfully flown more than 56 million people to and from Malta, up from just 52,000 passengers in its first year to 2 million passengers annually.
Air Malta is the only airline operating out of Malta that transports both stretcher cases with patients needing urgent medical care overseas and incubators for newborn infants. The national airline also often communicates with health authorities to transport medications and other necessary medical supplies to and from Malta. In some instances, this requires modifying flight operations.
Why Book Flight with Air Malta
Air Malta has several unique qualities that set it apart from other airlines:
National Airline: As the national airline of Malta, Air Malta is deeply connected to the culture and history of the country. This connection is reflected in the airline's branding and marketing and its focus on providing passengers with a warm and welcoming experience.
Convenient Routes: Air Malta offers a range of convenient routes to destinations across Europe, North Africa, and the Middle East. With direct flights to major cities like London, Paris, and Amsterdam, Air Malta provides a convenient option for business and leisure travelers.
Business Class Service: Air Malta's Business Class offers a range of amenities, including extra legroom, priority boarding, and a selection of inflight meals and beverages. This makes it a popular choice for business travelers who want to work or relax during their flight.
Flypass Frequent Flyer Program: Air Malta's Flypass program allows passengers to earn and redeem points for flights, upgrades, and other rewards. This provides an added incentive for frequent travelers to choose Air Malta for their flights.
Friendly Service: Air Malta is known for its friendly service and welcoming atmosphere. From the check-in desk to the cabin crew, Air Malta staff strive to make passengers feel comfortable and well-cared for during their journey.
Air Malta Destinations and Hub Airports
Here is a table outlining Air Malta's hub and destinations:
| Hub | Malta International Airport (MLA) |
| --- | --- |
| Destinations | Amsterdam, Athens, Barcelona, Berlin, Brussels, Budapest, Catania, Frankfurt, Geneva, Lisbon, London, Madrid, Manchester, Moscow, Munich, Paris, Prague, Rome, Tel Aviv, Tunis, Vienna, Zurich |
Cabin Classes
Air Malta offers two travel classes: Economy Class and Business Class. Here are the details of each type:
Economy Class: Air Malta's Economy Class provides passengers with a comfortable and affordable travel experience. Seats are designed with adjustable headrests and ample legroom for a comfortable journey. In addition, passengers can enjoy complimentary snacks and beverages on all flights, with the option to purchase additional meals or snacks on longer flights.

Business Class: Air Malta's Business Class offers passengers a more luxurious and personalized travel experience. Seats are designed with extra legroom, adjustable headrests, and additional amenities such as power outlets and USB ports. Business Class passengers can also enjoy a range of complimentary inflight meals and beverages, as well as priority boarding and baggage handling.
Air Malta Manage Booking
Air Malta Manage Booking offers a range of features that allow you to modify your reservation according to your needs, such as Modifying your itinerary, Selecting your preferred seat, Requesting special assistance, Adding extra baggage, Upgrading your heart, and Updating your contact information. You can access this feature on the Air Malta website or mobile app by entering your booking reference and last name. In addition, passengers can customize their travel plans with various tools that Air Malta manages booking offers. You can manage bookings for Air Malta in several ways, including the following:
Flight Status
Additionally, travelers may choose their seats in advance, with Air Malta managing to book. People who want to sit with their travel companions or have specific seating preferences may find this function helpful.
Change Flight/Cancel Flight
To cancel your cayman airways flight, you can do so through the following methods:
Air Malta Website:
You can cancel your flight by logging into your Cayman Airways account on the website, navigating to the "Manage My Booking" section, and selecting the option to cancel your booking.
Visit the Airport:
If you cannot change or cancel your flight online or through customer service, you can visit the airport and speak to a customer service representative in person.
Customer Service:
You can contact the Cayman Airways customer service team to speak with someone directly. They are available 24/7 and can assist you with canceling your flight over the phone.
Select Seats
Another helpful feature of Air Malta Manage Booking is the ability to select your seats. This is especially important if you have a specific seat preference or want to ensure that you sit with your travel companion. Go to your itinerary and select the "Select Seats" option to choose your seats. You'll then be able to see a seating map of the aircraft and choose your preferred seats. Note that some hearts may come with an additional fee.
Upgrade Your Seat
Upgrading your seat can provide added comfort and convenience during your flight with Air Malta. Whether you're looking for more space, better amenities, or a premium travel experience, the airline offers a range of upgrade options to meet your needs.
Add Special Requests
Air Malta offers several types of special requests for their flights, including:
Dietary Requirements: If you have any special dietary requirements, you can request a special meal on your flight. This includes options such as vegetarian, gluten-free, and kosher meals.
Medical Assistance: If you require medical assistance during your flight, you can request special assistance. This includes options such as wheelchair assistance and oxygen supply.
Special Needs: If you have any special needs, such as traveling with a service animal or requiring special seating, you can request a special. Assistance.
Add Baggage
If you need to bring more baggage than your allowed baggage allowance, you can do so by paying an excess baggage fee. The fees vary depending on your destination and the extra luggage you must bring.
In-Flight Entertainment
Air Malta offers a range of In-Flight Entertainment (IFE) options to make your journey more enjoyable. Passengers can choose from various movies, TV shows, music, games, and reading materials. The IFE system is available on most Air Malta flights and is compatible with most smartphones, tablets, and laptops.
To access the IFE system, passengers must connect to the Wi-Fi network and download the Air Malta app beforehand. Once onboard, open the app and select the In-Flight Entertainment option to start enjoying the available entertainment options. The IFE system is free of charge and available to all passengers.
Air Malta's movie and TV show library features the latest releases, classic movies, and popular TV series from various genres. Music lovers can enjoy a range of music genres, including pop, rock, jazz, classical, and world music. Passengers can also choose from various games, including puzzles, strategy games, and arcade games. The IFE system also offers reading materials, including e-books, newspapers, and magazines.
In-Flight Food Services
Air Malta provides a choice of in-flight dining alternatives to accommodate every passenger's preferences and dietary needs. Depending on the length and time of the trip, the airline offers a variety of hot and cold meals, snacks, and beverages.
Meals can be ordered online in advance of a flight or purchased aboard. Air Malta offers vegetarian, gluten-free, and halal meal options for various dietary needs. For guests who want more plentiful dining options, the airline also provides a variety of premium meals.
Air Malta serves snacks and refreshments for short-haul flights, such as sandwiches, wraps, cakes, soft drinks, juices, and hot beverages. On longer flights, passengers can enjoy a hot meal, ranging from traditional Maltese dishes to international cuisine.
Passengers can also purchase additional snacks and beverages onboard, including alcoholic drinks. Air Malta offers a range of wines, beers, and spirits for passengers to choose from.
Frequent Flyer Program
Air Malta offers a frequent flyer program, Flypass, to reward its loyal customers. The program allows passengers to earn points or miles whenever they fly with Air Malta or its partner airlines. In addition, passengers can redeem their points or miles for free flights, upgrades, and other rewards.
Flypass has three tiers: Flypass, Flypass Silver, and Flypass Gold. Each level offers benefits and privileges, such as priority check-in, extra baggage allowance, and lounge access.
Passengers can earn Flypass points or miles by booking flights with Air Malta or its partner airlines, staying at partner hotels, and renting cars with partner companies. Points or miles can also be earned through credit card purchases, shopping with partner retailers, and using partner services.
Flypass points or miles are valid for three years and can be redeemed for flights, upgrades, hotel stays, car rentals, and other rewards. Passengers can also transfer their points or miles to family or friends.
To join Flypass, passengers must sign up on Air Malta's website and create an account. Once registered, passengers can earn points or miles on their flights and other partner transactions.
Codeshare Program
Air Malta's codeshare program enables customers to book tickets with affiliated airlines for more travel alternatives. In addition, codesharing enables airlines to provide flights to locations they do not directly service while giving customers a more seamless travel experience. The codeshare program for Air Malta has the following specifics:
Partner Airlines: Air Malta has codeshare agreements with several partner airlines, including Alitalia, British Airways, KLM, and Turkish Airlines.
Destinations: Through codesharing, Air Malta passengers can access a broader range of destinations across Europe, Africa, and the Middle East. This includes major cities like Paris, London, Amsterdam, and Istanbul.
Booking Process: Passengers can book codeshare flights through Air Malta's website or the partner airline's website booking; passengers will see the Air Malta flight number alongside the partner airline's flight number, indicating that it is a codeshare flight.
Baggage and Loyalty Programs: Passengers should check with the specific partner airline for information on baggage allowances and loyalty programs, as these may vary depending on the airline.
Customer Reviews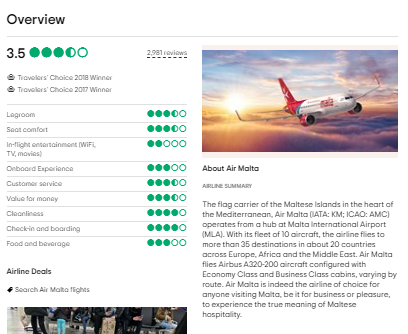 Customer Service
Air Malta is the national airline of Malta, and it provides a customer service phone number that passengers can call for assistance with their inquiries or issues. Here is the customer service phone number for Air Malta:
Phone Number
International callers: +356 21 662 211
Passengers can use these phone numbers to contact Air Malta's customer service department for various inquiries, such as booking and ticketing, flight information, baggage inquiries, and more. Air Malta's customer service department is available to assist passengers 24 hours a day, seven days a week.
Air Malta Popular Flight Routes
Air Malta Route Map
route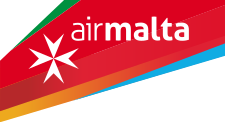 What this artical helpful ?
Air Malta FAQ's
The airline has a network spread out across Europe, North Africa and the Middle East.
Air Malta has its hub airport as Malta International Airport
Yes, you can book Air Malta tickets online through the official website.