VivaAerobús Flight Reservations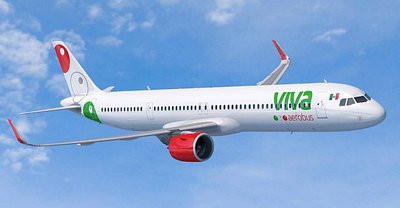 IATA : VB
ICAO : VIV
CallSign : AEROENLACES
Founded : 2006
Key people : Roberto Alcántara (Chairman), Juan Carlos Zuazua (CEO), Robert Zoller (COO), Manuel Ambriz (CCO), Alan Bird (CFO)
Country : Mexico
Office Address : Monterrey Intl Airport, Carretera Miguel Alemn Km. 24, Apodaca,
City : Apodaca
State : Nuevo Len,
Zip Code : 66600
Phone number : 00 81 82150150
Official Website :

https://www.vivaaerobus.com/

Covid :

Covid 19 Updates
VivaAerobús Overview
VivaAerobús was founded in 2006 and it happens to be a Mexican airline. Moreover, It is a low-cost airline which is owned by the Mexican bus group called IAMSA. In addition to this, the airline offers passenger flights within Mexico and across the United States.

VivaAerobús Hub and Destinations
VivaAerobús has its primary hub airport as Monterrey International Airport. In addition, the airline also has Cancún International Airport (CUN), Guadalajara International Airport (GDL) and Mexico City Airport (MEX) as its hub airport. The airline operates flights to around 40 destinations throughout the United States and Mexico. Moreover, some of the destinations that the airline flies to include Mexicali, La Paz, Monterrey, Mexico City, Cancun, Merida, Los Mochis, Acapulco, San Jose Del Cabo, Las Vegas, New York, Chicago and many more.
VivaAerobús Travel Class
This airline is invested in providing low-cost travel to passengers. Furthermore, it only offers one cabin class on-board and that is Economy class.
Economy Class
This is a basic cabin class, however, it comes with satisfying service. The cabin crew is not only trained but also very friendly. Passengers have a lot of storage space, which helps them have a comfortable journey. Moreover, complimentary snacks and beverages are available on-board. However, this depends on the duration of the flight. In addition to this, passengers can buy snacks and drinks according to their requirements. Lastly, passengers can pay an extra amount of money for extra legroom and a seat with more space.
In-Flight Entertainment
VivaAerobús only provides passengers with in-flight magazine for entertainment.
In-Flight Food
VivaAerobús strives to provide the best quality food on board. Passengers can expect complimentary snacks and beverages on-board. However, this depends on the duration of the flight. In addition to this, passengers can make their journey enjoyable by purchasing food items off the in-flight menu. Moreover, the menu offers very affordable and fresh options.
Frequent Flyer Program
As of now VivaAerobús does not have a frequent flyer program to reward loyal customers.
VivaAerobús Popular Flight Routes
VivaAerobús Route Map
route

What this artical helpful ?
VivaAerobús FAQ's
Yes, the airline permits cancellation upto 4 hours prior to the flight.
You can call on 81 82.150.150 (Monterrey)
Yes, the airline provides certain spirits and beer on-board.