Vistara Flight Reservations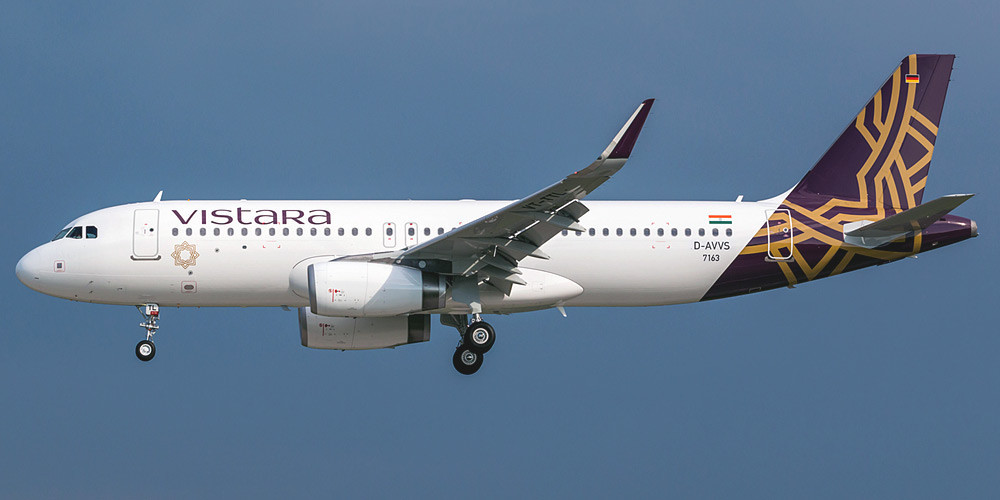 IATA : UK
ICAO : VTI
CallSign : VISTARA
Founded : 2013
Key people : Bhaskar Bhat (chairman) Leslie Thng (CEO)
Country : India
Office Address : TATA SIA Airlines Ltd., 10th Floor, One Horizon Centre, Golf Course Road, DLF Phase-V, Sector-43,
City : Gurgaon
State : Haryana,
Zip Code : 122003
Phone number : +91 9289228888
Official Website :

http://www.airvistara.com/
Vistara Airlines Reservations & Overview
Vistara was founded in 2013 by two incredible companies, Tata Sons and Singapore Airlines. It is a rapidly growing Indian carrier. The aim of this joint venture is to redefine the flying experience for Indian travelers. They wanted to provide customers a consistent, reliable and customized flying experience. The brand name 'Vistara' is derived from the Sanskrit word 'Vistaar' that signifies 'a boundless scope'. More than 300 flights per week are operated by this carrier, these are across 20 destinations in India. Airbus and Boeing craft comprise its fleet.
Vistara Hub and Destinations
Vistara has its base in Gurgaon and Indira Gandhi International Airport, Delhi, is its airport hub. As of now, the airline operated to 40 destinations with around 200 flights daily. The carrier flies to numerous places across India. For instance Mumbai, Srinagar and Jammu, Goa, Bengaluru, Varanasi, Ahmedabad, Kochi, New Delhi, Pune, Bagdogra, Chennai, Bhubaneshwar, Hyderabad, Lucknow, Kolkata, and Guwahati. The airline also operates flights to international destinations. For instance Dubai, Bangkok, Singapore, etc.
Vistara Airlines Booking class
This airline offers Economy Class, Premium Economy Class and Business Class on-board.
Economy class
Even in this class, three fares are available. These include Economy Lite, Standard and Flexi. Economy class passengers can enjoy complimentary hot drinks on-board, they also get to enjoy standard allowance for carry-on baggage. Moreover, Vistara provides economy standard passengers a complimentary hot meal. They can also enjoy upgrades by using vouchers or Club Vistara points they have collected. Lastly, for Economy Flexi some added benefits are available. This includes hot meal on-board, priority check-in, priority boarding, and priority baggage. They can also access the lounge by paying an extra charge and change their flight for free up to 72 hours before departure.
Premium Economy Class
This cabin class also has three settings available, these include Economy Lite, Standard and Flexi. Passengers in this cabin class can enjoy services like priority handling, lounge access (extra charge), and also standard allowance for carry-on baggage. Moreover, on-board passengers can also enjoy complimentary drinks and also hot meals. Free change of flight up to 48 hours before the departure of the flight is also available to Flexi passengers. Furthermore, Standard, Lite and Flexi passengers are given different Vistara direct benefits. Lastly, the seating for this class is towards the front side, they are very spacious and comfortable.
Business Class
This cabin is the top-tier class available on Vistara. Similar to the other two cabin classes, this cabin class also offers three seatings available, these include Business Value, Standard and Flexi. Passengers can also enjoy lounge access free of charge. And in addition to this they also get direct Viastara benefits. Passengers can also benefit from free check-in baggage, additional carry-on baggage, and seat selection in advance. Moreover, once on board passengers can savour gourmet meals and drinks. This includes mocktails and also starbucks coffee. Flexi passengers have the allowance to change flights twice, up to 24 hours prior to the scheduled departure of the flight. In addition to this, free cancellation is also available to them. Lastly, the seats are leather so they are also comfortable. They recline back 7" and also have a 40" seat pitch.
In-Flight Entertainment
Vistara provides Vistara Magazine on-board to keep passengers entertained throughout the journey. Other than that the airline is yet to provide in-flight entertainment services. However, passengers can bring their own entertainment devices. Lastly, passengers need to download any media before flight as Wifi is not available on-board.
In-Flight Food
Vistara provides the ultimate dining experience to passengers on board. Consequently, the food caters every taste and culinary requirements for each passenger, this is to ensure that they really enjoy their meal in the sky. Moreover, the service by the cabin crew complements the amazing food, over all enhancing the experience. In addition, the menus are regularly altered and come with multiple gourmet choices. Furthermore, on select international flights a wide range of beverages, both alcoholic and non-alcoholic, are served in all cabin classes. Passengers also have the option of rounding out the trip with the Starbucks coffee or a range of teas for a more relaxing journey.
Business class passengers can save a three course meal that is comparable to five-star restaurants. Passengers can also sip on A variety of beverages and end the experience with the finest desserts. Moreover, Premium economy passengers can enjoy a main dish along with vegetarian or non-vegetarian snacks, this depends on the duration of the flight. They also get to sample beverages on select flights. Furthermore, economy class passengers are also provided food that meets the requirements. economy flex and standard passengers travelling within India get complimentary hot meals. Whereas economy light passengers have the option to purchase snacks and beverages on-board. Lastly, the menu of the same can be accessed on Vistara website.
You can also get more details by clicking here.
Special meals
Special meals are also provided on-board, these cater to special dietary requirements of the passengers. Moreover, for these meals too a special gourmet approach is applied. Passengers can put special meal requests through Customer service cater 12 hours prior to the scheduled departure of the flight. Most importantly, refer before for a list of special meals:
Baby Meal (BBML) – Meal usually contains pureed food that is easily digestible, mildly seasoned, and tender.
Child Meal (CHML) – Meal usually contains food that is easily digestible, mildly seasoned, and tender.
Asian Vegetarian Meal (AVML) – Meal usually contains food that is easily digestible, mildly seasoned, and tender.
Vegetarian Vegan Meal (VVML) – Meal does not contain animal products, animal by-products, eggs or any dairy products.
Fruit Platter (FPML) – Meal prepared for passengers requiring to eat a meal containing only fruits.
Vegetarian Jain Meal (VJML) – Meal prepared according to Indian cooking style for Jain vegetarian passengers.
Vegetarian Lacto-ovo Meal (VLML) – Meal prepared for 'vegetarian' passengers which does not contain animal products or any animal by-products but may contain egg and dairy products.
Non-Vegetarian Meal (NVML) – A meal available for selection by non-vegetarian customers. .
On Vistara flights, beef, pork and their by-products are not served.
Low Salt / Low Sodium Meal (LSML)
Bland Meal (BLML) – Meal prepared for passengers suffering from stomach or intestinal problems. Meal usually contains food that is easily digestible, mildly seasoned, and tender.
Low Fat Meal (LFML) – Meal prepared for passengers with a diet low in fat
Diabetic Meal (DBML) – Meal prepared for diabetic passengers requiring a nutritionally balanced meal low in sugar.
Low Calorie Meal (LCML) – Meal prepared for passengers with restricted calorie intake.
Gluten Free Meal (GFML) – Meal prepared for passengers requiring a gluten friendly meal. Meal does not contain ingredients or food items with gluten.
Low Lactose Meal (NLML)
Frequent Flyer Program
Club Vistara is the frequent flyer program of Vistara, it is to reward loyal customers. That is to say, passengers who are part of Club Vistara can accumulate points as they buy tickets. Moreover, they can redeem the points on flights and explore Vistara's vast network. Lastly, different tiers of memberships are available to the passengers, these are as follows:
Base CV
Silver CV
Gold CV
Platinum CV
You can also click here to find out more benefits of each tier.
Vistara Popular Flight Routes
Vistara Route Map
route
What this artical helpful ?