About Scandinavian Airlines
IATA : SK
ICAO : SAS
CallSign : SCANDINAVIAN
Founded : 1 August 1946
Key people : Carsten Dilling, Chairman | Rickard Gustafson, CEO
Country : Sweden
Office Address : Frösundaviks allé 1
City : 169 70 Solna
State : Sweden,
Scandinavian Airlines overview
The short form SAS stands for Scandinavian Airlines which was founded on 1st August 1946. Per Am Norlin was the first president of SAS which offers 800 flights daily. It is an attractive airline from the rest of the airlines. It shaped its new entity on 17th September 1946 and it started its operation from this day. Between Stockholm and New York, the first international service was conducted.
You will not believe within a half-year it set a new record in which it carried the heaviest single piece of air cargo. It was across the Atlantic, from New York to Sweden (Sandvik Company) by shipping a 1400 pound electrical panel. You should know that at the time of establishment, there was the division of ownership of the airline which was between Danmark, Norge, and Sverige in which the 50% was owned by the private sector and government sector each. Its headquarters are Solna, Stockholm, and Sweden.
See the chart below to get the percentage of the division below:
SAS Danmark (28.6%) SAS Norge (28.6%), and SAS Sverige (42.8%),
---
Scandinavian alliance airlines and codeshare programs, fleet
It has codeshare agreements with the following mentioned airlines:
Swiss International Air Lines
Wideroe
Air Canada
Air China
Icelandair
Lufthansa
airBaltic
All Nippon Airways
Austrian Airlines
Ethiopian Airlines
Etihad Airways
LOT Polish Airlines
Luxair
Croatia Airlines
Singapore Airlines
South African Airways
Turkish Airlines
Aegean Airlines
EgyptAir
Asiana Airlines
Thai Airways
United Airlines
Scandinavian Airlines Fleet
Present Fleet Size: 138
| | | | |
| --- | --- | --- | --- |
| Aircraft Type | Current | Future | Historic |
| ATR 42/72 | 7 | | 17 |
| Airbus A319 | 4 | | |
| Airbus A320 | 55 | 1 | 2 |
| Airbus A321 | 9 | | |
| Airbus A330 | 9 | | |
| Airbus A350 XWB | 4 | | |
| Boeing 737 | 36 | | 86 |
| Bombardier CRJ-900 | 14 | 1 | 24 |
| Other | | | 300 |
| Total | 138 | 2 | 429 |
---
Airline destinations and hub airports
It has around 168 destinations across the world where it provides its services.
Scandinavian Airlines destinations
Bosnia and Herzegovina
Canada
China
Croatia
Denmark
Egypt
Finland
Greece
Greenland
Iceland
Italy
Kenya
Kosovo
Lebanon
Malta
Montenegro
Norway
Philippines
Portugal
Romania
Spain
Sri Lanka
Syria
Thailand
United Kingdom
United States
Uruguay
There are more destination countries. You can check the rest countries and cities on the official site of Scandinavian Airlines.
Hub Airports:
Stockholm Arlanda Airport
Oslo Airport, Gardermoen
Copenhagen Airport
---
Scandinavian Airline booking in the class of services
There are three classes of plane run by SAS which are Economy, Economy Extra and Business. All of these classes provide different services. You will have to pay different charges for different classes.
Economy
In economy class, you are not going to get free foods or drinks. You will have to buy food if you choose this specific class. It can make you upset that it has no interlinked baggage transfers. You will get here seat pitch of 32" in a 2+4+2 formation. At the time of boarding, you will find a pillow, water bottle, and an earbud on your seat. The seat will be comfortable for you if you book for economy class.
Economy Extra
It can provide you some more facilities than the above one. According to its term, we can expect that it will give us some extra facilities from economy class. It has a seat pitch of 38" and the seat formation would be 2+3+2 formation. But there will be the same meal as you get in the economy class. The economy extra of Scandinavian is considered as the world's best. If you book economy extra then you can earn more Eurobonus points. It provides fast-track security and you can carry extra luggage than the estimated one.
Business
It can be pretty good for you if you choose the business class. Its toilets (including two windows) are best if you select the business class. In this, you will see a good tap in which the tap would have a rotate right for hot and press for water. This class has standard seats and if you demand then it provides curtains too. As we know that SAS' introduced conceptual business class which is introduced as an evolution class exclusively meant for business class. In this new evolution, you will find experience in the services Delta / Austrian and Brussels, etc. The configuration of the seat is 1-2-1 along with 32 seats. SAS does not have business class cabins. If you book a business class ticket then you get SAS plus which it has.
---
In-flight entertainment
You will get AVOD which stands for Audio Video On Demand in all classes of flights. It is a pretty good system by which you can watch films on the screen. Total 14 tv channels and 20 radio channels you will get on the screen including BBC world news and there will be some films available. You can also enjoy 10 games. In some SAS flights, there will be two cameras. You can watch here the number of blockbuster movies. Travelers can easily use their electronic devices and utilize wi-fi services.
---
In-flight food menu and meal or beverages
It offers all the travelers a selection of snacks, food, and beverages onboard. On all of the SAS flights, you will get both alcoholic and non-alcoholic beverages onboard including several varieties of snacks. It also offers light meals like pizza, sandwiches, and salads. In the seat pocket, you will get a menu magazine. For Business class there will be complimentary. If you travel long then complementary should be for all such as from Asia to the US and vice-versa.
On all flights, there will be free Coffee and Tea. You can order meals for patients who have to eat only dietary foods. If the flights get canceled then your money will return automatically. You can bring your food on this flight but there should be safety. You will have to order before 24 hours of departing time of flights. On domestic flights, there is no option for special meals.
BABY MEALS
It will be provided to only those travelers who travel from/to the US and Asia. Here you will get varieties of foods of different flavors that can be consumed easily. You will have to order in advance for baby meals. It comes with some fruit and a bottle of water. It would be only for those who are infants only not for those who are occupying seats.
KIDS' MEAL (2–11 YEARS)
These facilities are also for those who travel from/to the US and Asia. You have to order on the departing time for the local flights. This Meal will be provided for the age group 2 to 11 years.
---
Frequent flyer programs
The frequent flyer program of Scandinavian Airlines is SAS EuroBonus. Even the passengers get rewards by which they can use their miles to redeem different travel vouchers. With the help of points, passengers can purchase flights and other services. If you use services from the other partners, it can also help you in increasing the overall points.
Scandinavian Airlines Popular Travel Routes
Scandinavian Airlines Route Details
route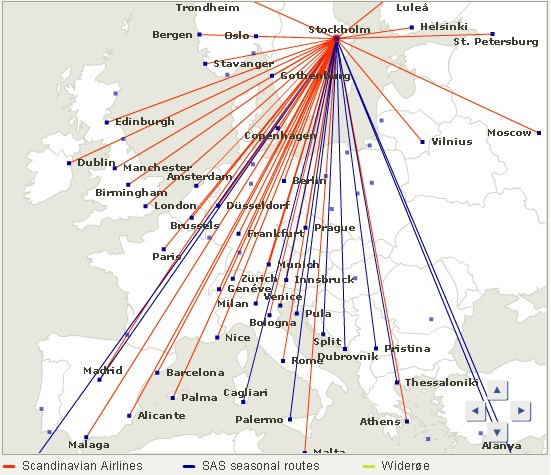 Scandinavian Airlines FAQ's