S7 Airlines Flight Reservations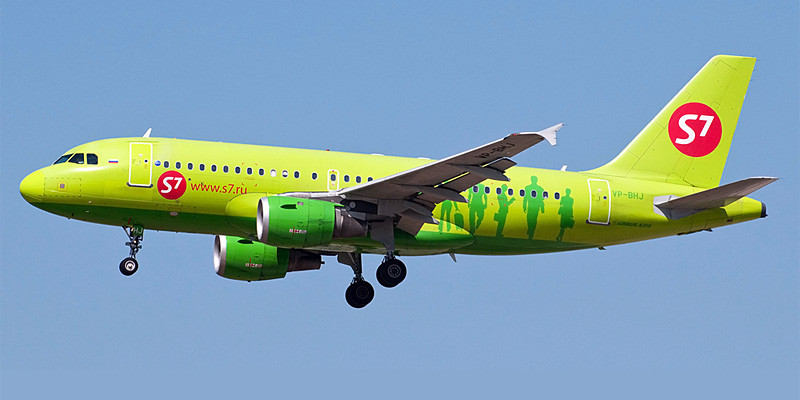 IATA : S7
ICAO : SBI
CallSign : SIBERIAN
Founded : 1957
Key people : Vadim Klebanov (General Director)
Country : Russia
Office Address : JSC S7 Airlines, Ob-4, Novosibirsk Region
City : Novosibirsk
State : Siberia,
Zip Code : 633104
Official Website :

https://www.s7.ru/en/

Covid :

Covid 19 Updates
S7 Airlines Overview
S7 Airlines was founded in 1957 as Tolmachevsky squadron, and it is a Russian airlines. Moreover, it is now legally known as JSC Siberia Airlines. In addition to this, the airline is not only the most progressive airline of Russia with a very modern fleet along with Ilyushin and Tupolevs but it is also the largest private airline in the country. The airline operated both charter and scheduled flights. Lastly, the airline is a member of the Oneworld alliance. The airlines also has codeshare agreements with a number of airlines outside Oneworld airlines. For instance, Air Moldova, Etihad Airways, El Al, Hainan Airlines, Belavia, Ukraine International Airlines, Aegean Airlines and more

S7 Airlines Hub and Destinations
S7 Airlines has its primary hub airport as Moscow Domodedovo International Airport and Novosibirsk Tolmachevo Airport. In addition to this, other main hubs of this airline are in Irkutsk and Chelyabinsk in Russia. Moreover, the airline mainly operates across Russia. However, it also connects the passengers to 4 cities in Germany – Dusseldorf, Hamburg, Frankfurt and Munich. Furthermore, it also connects passengers to some destinations across Commonwealth of Independent States, Europe, the Near East, Southeast Asia. For instance, some of the destinations that S7 Airlines flies to include Abakan, Thailand, Alicante, Almaty, Milan, Anapa, Ashgabat, Naples, Astrakhan, Athens, Baku, Bangkok, Barnaul, Beijing, Bishkek, Chisinau, Mirny, Kazan, Kiev, Shanghai, Kulob, Perm, Paphos, Osh, Oskemen, Kansai, Pavlodar, Saint Petersburg and many others.
S7 AirlinesTravel Classes
This airline only offers two travel classes – Economy Class and Premium Economy Class.
Business Class
This is a superior flight service, with greater comfort. Primarily Premium Economy class is for passengers who are demanding a high level service. At the airport passengers can also expect extra assistance. For instance, priority check-in desks and special areas to get done with security checks. Moreover, they also have access to the Business Class lounge. Most importantly, passengers also have extra baggage allowance. On board passengers can access a special food menu that is curated by top chefs. In addition to this, soft drinks and spirits, cold snacks, choices of hot dishes are available to the passengers. Lastly, on-board passengers are also given blankets and pillows for an extra cozy flight journey.
The seats on the craft are towards the front of the aircraft, they are very comfortable with 89cm pitch and also extra space. In addition to this, some aircrafts seats also have headrest and footrest.
Economy Class
Economy Class is the most basic cabin class available on S7 Airlines, for easy-going passengers. However, it comes with satisfying and comfortable service for the budget traveler. For instance, passengers can order delicious snacks along with drinks to make their journey enjoyable. Furthermore, on flights over 5 hour duration hot meals are also available. In addition, blankets are available to passengers for extra comfort. Lastly, seats in this cabin class differ depending on the craft. However, they are very comfortable with generous pitch and width.
In-Flight Entertainment
S7 Airlines provides passengers with only publications and magazines on board for entertainment.
In-Flight Food
S7 Airlines strives to provide the best quality food on board. Passengers can make their journey enjoyable by tasting and eating food items off the in-flight menu. Moreover, economy class passengers can pre-order food at least one hour before flight, a wide range of food options are given which you can view here. Furthermore, Business Class passengers need to order food at least 12 hours before the flight. In addition to this, the details about the food can be viewed here. Lastly, you can refer below to see more specific details on food and drinks available for passengers according to their route and cabin class:
| | | | |
| --- | --- | --- | --- |
| CABIN CLASS | Flight duration if one to two hours | Flight duration is up to two hours | Flight Duration is more than two hours |
| Economy Class | you can choose sandwiches, except for round-trip flights from Moscow to Belgorod, Lipetsk, Penza; from Novosibirsk to Novokuznetsk, Tomsk, Kemerovo, Barnaul. | a sandwich you will be offered cold drinks, from two to three hours – hot and cold drinks. | all hot meals and also infant meals. |
Frequent Flyer Program
S7 Airlines frequent flyer program is called S7 Priority program, it is to reward loyal passengers. So essentially every time passengers fly, they have the opportunity to collect points and redeem them on S7 Airlines as well as other associated airlines. These benefits and rewards will surely make the travel experience seamless.
S7 Airlines Popular Flight Routes
S7 Airlines Route Map
route

What this artical helpful ?