Luxair Flight Reservations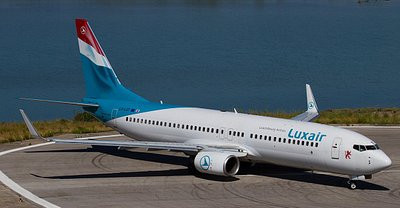 IATA : LG
ICAO : LGL
CallSign : LUXAIR
Founded : 1948
Key people : Gilles Feith (CEO)
Country : Luxembourg
Office Address : Aeroport de Luxembourg
City : Luxembourg City
Zip Code : L-2987
Phone number : 00 352 24 56 42 42
Official Website :

https://www.luxair.lu/

Covid :

Covid 19 Updates
Luxair Overview
The company was founded in 1961 and is considered as the largest freight distributor in Europe. Luxair follows the ideology of safe and clean travels. Luxair Luxembourg Airlines was awarded "Travellers Choice Regional Airline Europe" by the world's largest site offering reviews by travellers-TripAdvisor on 27th July 2020. Furthermore, the airline has codeshare agreements with Air France, Alitalia, Austrian AIrlines, Hahn Air, LOT Polish Airlines, Lufthansa, Scandinavadian Airlines, TAP Air Portugal and Turkish Airlines.
Luxair Destinations
Luxair operates out of the Luxembourg Airport, France. The airline has connections to over 35 countries. For example France, the United Kingdom, Greece, Italy, Egypt, Portugal, Spain, Denmark, etc. Moreover, some of the destinations that the airline travels to within these countries include Bordeaux, Marseille, Innsbruck, Salzberg, Vienna, Nice, Paris, Berlin, Munich, Saarbrucken, Dublin, Milan, Rome, Barcelona, Madrid, Geneva and London.
Luxair Travel Class
The airline offers Business Class and Economy Class on-board.
Business Class
The most flexible ticket Luxair has to offer, it is fully changeable or refundable free of charge. Skip the long queues with free fast lane access. Enjoy the benefit of enhanced luggage allowance; two pieces of luggage in hold(upto 32kg each/piece) + 1 golf equipment along with two pieces of hand baggage(upto 8kg each)(55 x 40 x 23 cm) + 1 small personal item. With enchanted disruption management get instant updates on your flights' status. Your journey is made easier with the relaxing moments of the business lounges.
Economy Class
This affordable option is integrated with comfort and convenience with noise reduction, seat comfort and overall cabin ergonomics. Passengers can carry one piece of luggage in hold (up to 23 kg) as well as one piece of hand baggage(upto 8kg)(55 x 40 x 23 cm) + 1 small personal item. A selection of magazines, newspapers, audios and videos are also available.
Luxair in-flight Entertainment
Luxair does not offer passengers with in-flight entertainment systems or Wi-Fi service. However, passengers can pre-download content on their personal devices and watch it throughout the flight for entertainment purposes. Moreover, passengers can access in-flight magazines for entertainment.
In-flight food
Luxair offers food to passengers on board, however, it depends on the travel class. For instance, Economy class passengers can expect a sweet or salty snack during the day. On the other hand, they can expect a light sandwich on longer flights. Moreover, Business class passengers can expect a full breakfast during the day. And during longer flights lunch, dinner and snacks are available to them. Furthermore, passengers can enjoy beverages on short flights and alcoholic drinks on longer flights. The airlines also offers special meals that cater to the particular requirements of passengers, they need to be ordered 48 hours before the flight. Following special meals are available on-board-
In Economy Class, the following special meals can be requested:
Meals for diabetics
Gluten-free meals
Lactose-free meals
In Business Class, a full range of special meals are available.
Meals for babies
Kosher meals
Vegetarian meals
Lactose free meals
Meals for diabetics
Low calorie meals
Asian vegetarian meals
Seafood meals
Fruit platter
Low-cholesterol / low-fat meals
Muslim meals
Children's meals
Gluten free meals
Vegetarian meals
Hindu meals
Luxair Frequent flyer program
Luxair is a member of the Miles & More program, which is the largest loyalty program in Europe. The airline permits members the chance of earning miles every time they travel using Luxair. Furthermore, passengers can use the miles they earn and redeem it for upgrades and benefits on the airline and other airlines associated with Luxair. Lastly, passengers can access more benefits and privileges as they build status.
Luxair Popular Flight Routes
Luxair Route Map
route

What this artical helpful ?
Luxair FAQ's
Luxair has connections to over 35 countries. For example France, the United Kingdom, Greece, Italy, Egypt, Portugal, Spain, Denmark, etc.
Luxair has its base in Luxembourg Airport.
Yes, you can book Luxair tickets online through the official website.