LOT Polish Airlines Wiki
IATA : LO
ICAO : LOT
CallSign : LOT
Founded : 1928
Key people : Rafał Milczarski
Country : Poland
Office Address : Żwirki i Wigury 1
City : Warsaw
LOT Polish Airlines Overview
LOT Polish Airlines which is legally known as Polskie Linie Lotnicze LOT S.A., was founded in 1928 and it is the flag carrier of Poland. Moreover, this airline happens to be one the most experienced airlines in Europe. Furthermore, the airline has been a member of Star Alliance since 2003. Therefore, it has codeshare agreements with various airlines. Air Astana, Air India, Luxair, Lufthansa, United Airlines, Croatia Airlines, Belavia, Singapore Airline, Air New Zealand are some of the airlines that LOT Polish Airlines shares codeshare agreement with. Lastly, the fleet of LOT Polish Airlines consists of Boeing and Embraer crafts.
LOT Polish Airlines Hub and Destinations
LOT Polish Airlines has its hub airport as Warsaw Chopin Airport. Moreover, the airline operates flights to 60 destinations. Furthermore, it operates flights across the Middle East, Asia, Europe and North America. In addition to this, some domestic destinations that the airline operated flights to include Poznań, Gdańsk, Krakow, Warsaw, Rzeszow and more. Lastly, the airline operates flights to some international destinations that includes London, Paris, New York, Venice, Kiev, Munich, Belgrade, Hamburg and more.
LOT Polish Airlines Travel Class
This airline only offers Economy Clas, Premium Economy Class and Business Class on-board.
Business Class
Business class passengers can expect world class standards that come with guaranteed comfort and privacy. Moreover, at the airport passengers are given priority service and access to lounges at the airport. They also have more baggage to travel with. Furthermore, on board passengers can expect an amazing culinary experience with the finest food. From meals to desserts to drinks, all are available on board. Passengers can also enjoy the in-flight entertainment that will definitely bring them pleasure. In addition to this, the seats are very comfortable and passengers will surely feel well rested. The seats are also equipped with USB ports and can recline back (200cm). Lastly, a set of essentials are given to passengers for a cozy experience.
Premium Economy Class
Premium class cabin provides satisfying service and flying experience. The passengers are given the option of buying access to lounges at the airport. Moreover, they are given priority service at the airport that allows them to fast track at the airport. In addition to this, passengers can enjoy extra baggage for their trip. Furthermore, the airline offers premium food and drinks on-board. They also offer in-flight entertainment for passengers' pleasure. Lastly, seats are comfortable with a 50cm width and adjustable headrests as well as footrests.
Economy Class
Economy cabin gives passengers affordability on LOT Polish Airlines. It also comes with satisfying and comfortable service for the traveler. Moreover, on long haul flights passengers can enjoy inflight entertainment. They can also enjoy meals and drinks. In addition, seats in economy cabin class are comfortable and offer good legroom. They have adjustable headrests, recline back generously and have width of 43cm. Lastly, passengers are given pillows and blankets on-board for a cozy journey.
In-Flight Entertainment
LOT Polish Airlines provides passengers a wide range of content for entertainment on long-haul flights. Not only do they offer over 100 movies but Passengers can also stream TV shows, concerts and selections of games. The airline also provides an in-flight magazine to passengers that has great content of culture and the arts. Lastly, all this contributes to an entertaining flying experience.
In-Flight Food
LOT Polish Airlines provides passengers with high quality and delicious food on-board. Economy class passengers are given a complimentary snack and beverages. Moreover, they can access the Sky bar that offers a lot of flavours and order what they want. Furthermore, this depends on the route and duration of the flight.
Premium Economy passengers have the option of trying delicious dishes and drinks on their flight. The meals provided are not only flavourful but they are also balanced. Moreover, depending on the duration of the flight a hot or cold dish is served. Furthermore passengers can choose to eat from a wide range of drinks.
Business Class passengers can experience the finest dining experience. The food served is exquisite and is made with gourmet ingredients. Furthermore, passengers are welcomed on-board with welcome drinks and a small snack. Passengers can also satisfy their taste buds with the selection of main courses and fine wine available. In addition to this, cheese and desserts are also served alone.
Special meals are also available to passengers, these meals aim to meet dietician and religious needs for the passengers. Moreover, a wide selection of special meals are offered, they are as follows:
Child meals,
Meals for babies
Diabetic meals
Low purine meals
Vegetarian – vegan meals
Low calorie meals
Gluten free meals
Low lactose meals
Frequent Flyer Program
Miles & More is the frequent flyer program of LOT Polish Airlines, which aims to award loyal passengers. Moreover, passengers can earn miles as they travel with the airline's partners. So essentially further the passengers travel, they get to earn more miles and enjoy upgrades. In addition to this, passengers can also redeem miles for flights and travel awards.
LOT Polish Airlines Popular Flight Routes
LOT Polish Airlines Route Map
route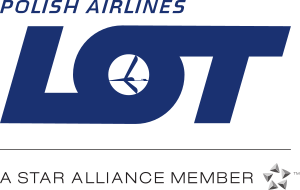 LOT Polish Airlines FAQ's