JetSmart Airlines Flight Reservations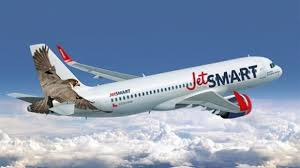 IATA : JA
ICAO : JAT
CallSign : ROCKSMART
Founded : 2017
Key people : Estuardo Ortiz Porras (founder)
Country : Chile
Office Address : Del Valle 650, Ciudad Empresarial, Santiago Chile
City : Huechuraba
State : Santiago,
Zip Code : .
Phone number : +56 2 27 31 8787
Official Website :

https://jetsmart.com/us/en/

Covid :

Covid 19 Updates
Overview of JetSmart
JetSmart Airlines SpA, is a south American's ultra low-cost carrier, styled as JetSmart. It was created by US investment fund and Co founder of LBM Fermin Ithurralde Indigo Partners. morever, they controls US airline like Frontier airline, Volaris and Hungarian airline Wizz Air of Mexico. JetSmart asked for air operation certificate on 26 January 2017, later recieved the authorization during June 2017. during the start, JetSmart was flying only domestic flight but, later they started JetSmart Argentina to initiate destinations further then country.
JetSmart headquarters is based in Santiago, Chile. The airline command operation on 25 July 2017, service from headquater- Snatiago to Calama which was possible due to CEO and founder, Estuardo Ortiz Porras.
JetSmart owns subsidiaries of JetSmart Argentina and Norweegian Air Argentina with a center at EI Palomar Airport in Buenos Aires.
Fleet Size
The airline ordered 75 more aircraft. Airbus A320neo was started delivering during October 2019 and Airbus A321neo began in 2020.
| | | | |
| --- | --- | --- | --- |
| Aircraft | In Service | Orders | Passengers |
| Airbus A320-200 | 11 | - | 186 |
| Airbus A20neo | 6 | 49 | 186 |
| Airbus A321neo | - | 14 | TBA |
| Airbus A321XLR | - | 12 | TBA |
---
JetSmart Destination and Hub Airport
JetSmart was operating 10 aircraft during 2018 time. The airline was a challenge for LATAM Chile and Sky Airline literally in every market while July and December 2017.
JetSmart has more than 10 destinations such as Chile as domestic and Argentina, brazil, Colombia, and Peru as international destination.
JetSmart Hub airport is Comodoro Arturo Merino Benitez International Airport. the base is also known as Santiago International Airport and also knowns as chike's busiest International Airport. As per the passenger traffic, it is the ninth operated airport in Latin America. Airlines like Untied Airlines, Avianca, Aeromexico, and LATAM Chile operates at this airport.
---
Book JetSmart flight in Economy class
As they are the ultra low-cost carrier, JetSmart only manage booking into economy class. the airline has further added many seats to maintain their low-cost flight ticket. even though, the economy class in their aircraft is properly with modern infrastructure and clean.
JetSmart economy seats are comfortable for international itineraries. JetSmart has price difference as the seat row you select. From row 2 to 4, known as full comfort with extra legroom. meanwhile, rows 5 to 11 are quick exit seats and from rows 15 to 32 are standard seats.
---
In-flight entertainment
JetSmart do not have any kind of inflight entertainment such as wifi, tablet screen, onboard magazine, and other entertainment stuffs. but, they offer inflight food menu that you can purchase as per your destination.
in order to keep the flight reservation low for passengers, they do not provide premium class, first class, and business class.
---
Pet policy
JetSmart allows their passengers to carry three pets with them. moreover, only small pets under 36cm x 33cm x 20cm(LxWxH) dimension are allowed. the airline will charge $40,000CLP(Chile), $2,900ARS
(Argentina), and $80 USD on international flights.
---
Frequent flyer program
There is no JetSmart frequent flyer program. but, they have different packs that offers benefits to their passengers.
PACKS OF JETSMART
There are three different packs are available that you can purchase for benefits.
First Travel Light is the basic pack with low benefits. second, comes Pack SMART, which includes almost every possible benefits like seat choose, Priority Boarding, and baggage allowance. The third is known by Pack FULL, as per name it gives full benefits with printing boarding pass at the airport.
JetSmart Airlines Popular Flight Routes
JetSmart Airlines Route Map
route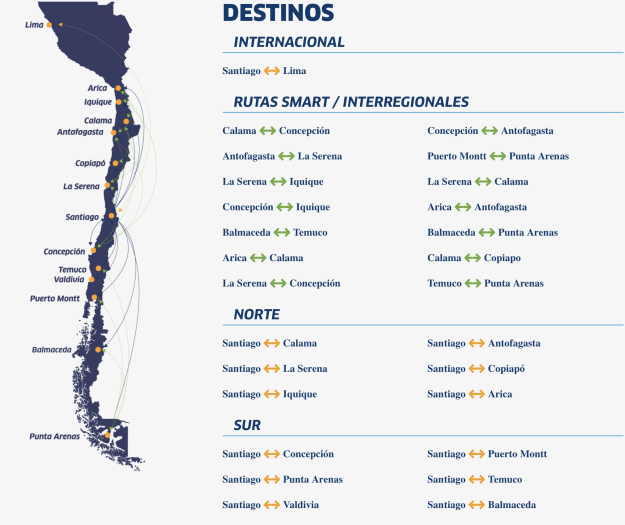 What this artical helpful ?
JetSmart Airlines FAQ's
Yes, you can buy flight tickets through contact center. but, they will charge a fee of $12,000CLP/$19 USD per passenger.
JetSmart Airlines SPA-Chile customer care number: 600 600 1311.
JetSmart Argentina customer care number: 11 2206 7799.