IndiGo Flight Reservations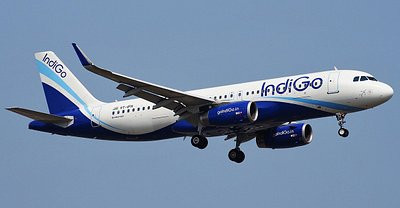 IATA : 6E
ICAO : IGO
CallSign : IFLY
Founded : 2005
Key people : Rakesh Gangwal (co-founder), Rahul Bhatia (co-founder)
Country : India
Office Address : Tower C Global Business Park, Mehrauli-Gurgaon Road
City : Gurugram (Gurgaon)
Zip Code : 122 002
Phone number : 099103 83838
Official Website :

https://www.goindigo.in/

Covid :

Covid 19 Updates
IndiGo Overview
IndiGo was founded in 2005 and it is the largest airline in India. Moreover, this airline has 59.24% domestic market share as of 2020. It also happens to be the largest individual Asian low-cost carrier when it comes to passengers carried and the size of the jet fleet. In addition to this, the airline has a fleet of around 270 aircraft. Furthermore, the airline has codeshare agreements with Turkish Airlines and Qatar Airways. Lastly, the airline has been featured in articles being labelled as the cheapest and best value airline in the world.
IndiGo Hub and Destinations
IndiGo has its hub airport as Indira Gandhi International Airport, India. Moreover, the airline operates flights to 63 domestic destinations and 24 international destinations. Furthermore, some domestic destinations that the airline operates flights to include Mumbai, Hyderabad, Delhi, Kochi, Bangalore, Ahmedabad, Amritsar, Goa, Pune, Jaipur, and more. Lastly, some of the international destinations that the airline travels to include Hong Kong, Muscat, Doha, Riyadh, Bangkok, Dubai, Abu Dhabi and more.
IndiGo Travel Class
This airline offers Economy class so as to reach its goal of being a low-cost carrier. However, different fares are available which allow passengers to avail additional benefit.
Economy Class
Economy cabin gives passengers the best value and comes with comfortable service. In addition, the flight crew is highly trained and very friendly. Moreover, the passengers can enjoy snacks, beverages, etc. at a small fee. Alcohol is also available but just on international flights and needs to be purchased. In addition to this, different beverages to choose from are available to the passengers. Furthermore, the seats are very comfortable and have good legroom space. Lastly, the seats are set out in a 3 x 3 configuration and have soft cushioning as well as headrests.
Economy 'Saver' – this fare allows passengers to enjoy lowest price tickets and is the ideal choice for passengers with a fixed itinerary.
Economy 'Flexi' – this fare allows passengers to avail additional benefits like free date change and cancellation, meal is also included in the ticket
In-Flight Entertainment
IndiGo does not provide passengers with entertainment services on-board. However, passengers are welcome to pre-download content on their personal devices to keep themselves entertained throughout the flight.
In-Flight Food
IndiGo does not provide passengers complimentary food onboard to keep the fares low. However, passengers can pre-book meals at the time of booking or by contacting IndiGo before the flight. Moreover, passengers can also buy food on-board. Furthermore, both vegetarian and non-vegetarian meals as well as snacks like noodles, crisps, sandwiches, cookies, etc. are available. Lastly, passengers can purchase non-alcoholic drinks on board and international flights passengers can purchase soft as well as alcoholic drinks.
Frequent Flyer Program
IndiGo currently does not have a frequent flyer program, however it has a reward programme called 6E rewards. Moreover, passengers get a chance to earn points when they fly with IndiGo or use 6E credit card to shop, dine, etc. Furthermore, one 6E point is equal to one Indian Rupee (INR), and passengers can redeem points on flight tickets.
IndiGo Popular Flight Routes
IndiGo Route Map
route
What this artical helpful ?
IndiGo FAQ's
The airline operates flights to 63 domestic destinations and 24 international destinations.
IndiGo has its hub airport as Indira Gandhi International Airport in India.
Yes, you can book IndiGo tickets online through the official website.