Eurowings Flight Reservations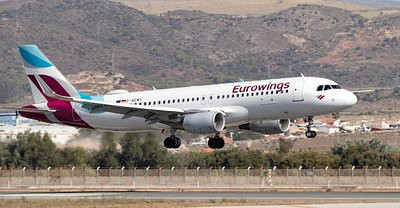 IATA : EW
ICAO : EWG
CallSign : EUROWINGS
Founded : 1990
Key people : F. W. Weitholz (Chairman), Jens Bischof (CEO)
Country : Germany
Office Address : Grossenbaumerweg 6
City : Düsseldorf
State : North Rhine-Westphalia,
Zip Code : 40472
Phone number : 00 49 180 6 320320
Official Website :

http://eurowings.com/

Covid :

Covid 19 Updates
Eurowings Overview
Eurowings was founded in 1990 and it happens to be a german airline. Moreover, It is a low-cost airline which is part of the Lufthansa group, which happens to be the largest aviation group. In addition to this, the airline offers passengers flights within Europe and other long-haul destinations. It also integrated the route network of Germanwings', the airline's successful partner, in 2015. Furthermore, the current fleet of Eurowings consist of 139 aircrafts.

Eurowings Hub and Destinations
Eurowings has its primary hub airport as Frankfort airport. In addition, this airline's headquarter is in Dusseldorf. The airline operates flights to around 210 destinations in over 60 countries, this also makes it the 3rd largest point-to-point carrier in Europe. Moreover, the airline flies to destinations in Barcelona, Hamburg, Edinburgh, Amsterdam, Jersey, Bucharest, Geneva, Berlin, Brussels, Birmingham, Gothenburg and many more. In addition to this, some intercontinental destinations that the airline flies to include Dubia, Phuket, Delhi, Bangkok, Thailand, Puerto Plata, and more.
Eurowings Class fares
This airline only offers three classes of fares, they are: Basic fare, Smart fare and BIZclass fare. These are highered on both long-haul and short-haul flights.
Basic Fare
The BASIC fare is for easy-going passengers on a budget, essentially passengers only pay for the flight. However, it comes with satisfying and comfortable service that can be added to the booking according to the needs of the passenger. Furthermore, passengers can also enjoy savoury snacks and some drinks on board. Lastly, the seats are very comfortable. They are equipped with an HD monitor and also a USB port.
Passengers can also book a flight with extra legroom for just €90.
Smart Fare
The SMART fare is suitable for business travelers and also passengers looking for a leisurely experience.The fare includes a number for services and passengers can tailor the services according to their needs. Some services for instance include airport check-in service, priority boarding, free flight change, and more. In addition, passengers get extra baggage. Furthermore, passengers can also enjoy savoury snacks and some drinks on board. Lastly, the airline permits passengers to book the seat they prefer.
BIZclass Fare
The BIZclass fare is a premium fare that is suitable for passengers who are looking for maximum comfort. This service is available on short-haul and also long-haul flights. Passengers can enjoy services like priority check-in, extra baggage, security fast lane and more. In addition to this, passengers can enjoy the lounge at the airport and change their flight for free. Furthermore, exceptional dining experience is available. Lastly, the seats are very comfortable with unparalleled seat pitch and legroom. The seats lean back so that passengers can relax. And the adjacent seat is left unoccupied for greater comfort and privacy of the passenger.
In-Flight Entertainment
Eurowings provides the best entertainment system to passengers, it is called Wings Entertainment. Passengers can easily download the app for the same on their digital device like phone, tablet or notebook. Moreover through this service passengers can access a wide selection of movies, popular classics, songs and personalize their cabin experience.
Wi-fi is also available on board, so passengers can connect to their friends and family on the ground. Moreover, different wi-fi packages are available to accommodate different requirements. The three packages available are as follows-
Chat – € 2.90 / € 3.90 (access to messages for the entire duration of flight)
Connect 30 / Connect 60 – € 3.90 € / € 6.90 (internet access for 30-60 minutes with 1.5Mbps speed)
Connect Premium – € 7.90 / € 9.90 (internet access for the entire duration of flight and access to on-board entertainment)
In-Flight Food
Eurowings strives to provide the best quality food on board. Passengers can make their journey enjoyable by tasting and eating food items off the in-flight menu. Moreover, the menu offers very affordable and fresh options. Be it savoury snacks, a fancy drink, something sweet or even a meal. The selection of food available to passengers is wide. In addition to this, the food is accompanied by cold and hot drinks for enjoyment. Passengers who purchase a BASIC or SMART face can order off the menu, this way they can put together their own meal. Whereas, Passengers who purchase a BIZclass tariff can enjoy one free meal on the flight.
Frequent Flyer Program
Eurowings frequent flyer program is calledMiles & More, it is to reward loyal passengers. So essentially every time passengers fly by using a cartian fare type they have the opportunity to collect miles and redeem them on Eurowings. These benefits and rewards will surely make the travel experience seamless.
Eurowings Popular Flight Routes
Eurowings Route Map
route

What this artical helpful ?
Eurowings FAQ's
This depends on passengers ticket fare and duration of the flight.
Yes, you can claim a refund.
No this is not necessary.