Book Ethiopian Air Flight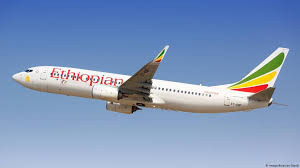 Ethiopian Airlines Overview
Ethiopian airlines or Ethiopian Air lines is the flag carrier of Ethiopia. It is the largest Airline with the gigantic fleet size of 129 aircrafts. The airline flies over 125 destinations all over the world. EAL has grown in 74 years as it was founded on 21st December 1945. After that on 8th April 1946 the company commenced it's first operation.
Being a huge Airline with such a great size, they have their own hubs. Addis Ababa Bole is the first and primary hub. In 2011, the airline joined Star alliance and after that they offer more exciting offers on flights reservations.
The airline is run by board chairman Abadula Gemeda and CEO Tewolde Gebremariam.
---
Ethiopian alliance airlines and codeshare programs
Ethiopian is a part of the Star Alliance family. This alliance shares a great profitable bond for both Airlines and passengers. This type of partnership is also available in the codeshare program of Ethiopian airlines.
Airlines share's their profits by providing their services to other airlines passengers, and passengers get the best services at cheaper price in this program. Listed below are codeshare partners of Ethiopian airlines.
Air Canada
Air India
El Al
Kuwait Airways
Lufthansa
Egypt Air
Austrian airlines
All Nippon Airways
Oman Air
Malaysia Airlines
RwandAir
Singapore Airlines
TAP Air Portugal
Turkish Airlines
Kuwait Airways
United airlines
---
Ethiopian Airline destinations and hub airports
Ethiopian Airlines covers the globe by flying over more than 125 Destinations. Passengers can reach all five continents with Ethiopian airlines at cheaper rates or from the luxurious class. Listed below are few of the destinations of Ethiopian Airlines.
Angola
Austria
Belgium
Benin
Canada
Chad
Cyprus
Egypt
Entrea
Ethiopia
France
Germany
Greece
Hong Kong
India
Kenya
Kuwait
Lebanon
Japan
Niger
Oman
Sweden
Yemen
Zimbabwe
Ethiopian Airlines has its main or primary hub at Addis Ababa Bole International Airport and secondary hub at Lomé-Tokoin International Airport. The airline run its headquarters at Bole International Airport,Addis Ababa.
---
Ethiopian Airline booking in the class of services
Economy Class
The airline offers various facilities in economy class. As soon as you board the airplane, you are provided with light snacks or hot meals depending on your choice. This comes with several beverages such as soft drinks or liquor and wine. All those travelling through Ethopian airline gets the privilege to enjoy the Ethopian cuisine irrespective of the route.
Passengers are enabled to enjoy onboard music, movies and different shows. The seats in this class are extremely comfortable and won't make you tired.
Premium Economy Class
The airline has not yet commenced this service.
Business Class
Passengers are offered an individual TV accompanied by a noise eliminating headphones. They are also offered free Wi-Fi onboard. Passengers are provided with an amenity kit. On a short flights, passengers are offered chilled canapés and hot food, however, it also depends of the flight times.
The seats provided in this class are very comforting and can be reclined to an entirely flat bed. You are provided with large space and ample amount of legroom.
First Class
The airline has not yet commenced this service.
---
In-Flight Entertainment and Meal
Ethiopian airline is one of the well recognised and oldest Airlines. The reason that they have survived the market load is because of the type of services they have provided to date. In this modern time, Ethiopian flights are well equipped with highly advanced in-flight entertainment systems.
Passengers can find their personal TV screen in front of them which have a quality headset with noise cancellation technology. Numerous online books to read and products to shop while flying high. Ethiopian airlines serve it's best in the skies.
Meals
The meals are finely prepared from the best chefs known in the world. Other than that they have a variety of food options. As they provide all types of special dietary meals to religinal meals on board with complimentary snacks and drinks.
---
Frequent Flyer programs
Ethiopian airlines has introduced their loyalty program as Sheba Miles. The status of the passengers decides it's progress and then he or she will be promoted to upper tiers. The mileage program has three more types
This blue membership has no expiry date. Passengers can earn more miles upto 3000 a year and enjoy more benefits.
Ethiopian Air Popular Flight Routes
Ethiopian Air Route Map
route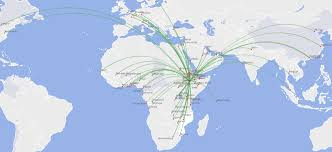 What this artical helpful ?
Ethiopian Air FAQ's
Children from age five to eleven are travelling alone will get the unaccompanied minor service.
Yes children travelling alone who choose the unaccompanied minor service have to pay adult fare.
Pregnant ladies do not need to present any medical clearance until 28 weeks of delivery.