EasyJet Flight Reservations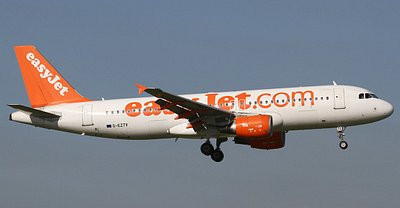 IATA : EC
ICAO : EJU
CallSign : ALPINE
Founded : 1995
Key people : John Barton
Country : England
Office Address : Hangar 89, London Luton Airport
City : Luton
Zip Code : LU2 9PF
Phone number : 0330 365 5000
Official Website :

https://www.easyjet.com/

Covid :

Covid 19 Updates
EasyJet Information
EasyJet was founded in 1995 and is a low-cost carrier in Britain. Moreover, this airline happens to be a global carrier with over 1000 routes in 30 countries. Furthermore, the airline has the following subsidiaries – EasyJet UK, EasyJet Europe, and EasyJet Switzerland. In addition, the airline happens to be the second largest airline in Europe by the number of passengers. In addition, the airline is one of the cheapest airlines and working towards being more carbon efficient. 
EasyJet is a well-known airline that offers affordable flights to various destinations worldwide. So whether you're traveling for business or leisure, EasyJet makes it easy and convenient to book your next flight with a fleet of over 330 aircraft.
Why Book Flight with EasyJet
Low fares: EasyJet is known for its low foods, making it an excellent option for budget-conscious travelers. By cutting down on unnecessary expenses, such as free meals and drinks, EasyJet can offer some of the lowest fares in the industry.

Convenient routes: With over 1,000 ways to choose from, EasyJet makes it easy to travel to your desired destination. Whether you're looking to travel within your own country or to a new international destination, EasyJet offers a range of routes.

Quality service: Despite low fares, EasyJet doesn't compromise on quality or service. EasyJet aims to make your flight experience as pleasant as possible, from comfortable seats to friendly staff.

Online booking: Booking a flight with EasyJet is quick and easy, thanks to their online booking system. You can choose your desired route, dates, and seat preferences all from the comfort of your own home.

Flexible booking options: EasyJet offers various booking options to suit your needs. Whether you're looking for a one-way or return ticket, you can choose the best option.
EasyJet Destinations and Hub Airports
| Destination | Country | Hub Airport |
| --- | --- | --- |
| Amsterdam | Netherlands | Amsterdam Airport Schiphol |
| Barcelona | Spain | Barcelona–El Prat Airport |
| Berlin | Germany | Berlin Brandenburg Airport |
| Edinburgh | United Kingdom | Edinburgh Airport |
| Faro | Portugal | Faro Airport |
| Geneva | Switzerland | Geneva Airport |
| Lisbon | Portugal | Lisbon Portela Airport |
| London | United Kingdom | London Gatwick Airport, London Luton Airport |
| Madrid | Spain | Adolfo Suárez Madrid–Barajas Airport |
| Manchester | United Kingdom | Manchester Airport |
| Milan | Italy | Milan Malpensa Airport |
| Paris | France | Charles de Gaulle Airport, Orly Airport |
| Rome | Italy | Leonardo da Vinci–Fiumicino Airport |
Cabin Class
EasyJet offers a single cabin class on all its flights, called the "Economy" class. This means all passengers are seated in the same cabin with the same level of service and amenities.
While there is no business or first-class option on EasyJet flights, the airline offers a range of services and amenities to ensure your flight is comfortable and stress-free. These include:
Online check-in: You can check in for your flight online up to 30 days before your departure date. This saves you time and ensures a hassle-free check-in process at the airport.
Seat selection: You can select your preferred seat when booking your flight or during online check-in. This allows you to choose a seat that suits your needs, whether you prefer a window or aisle seat.
In-flight food and drinks: EasyJet offers a range of snacks and drinks on board their flights. You can purchase these items during your flight using cash or card.
Baggage allowance: EasyJet has a generous baggage allowance policy, allowing you to bring one cabin bag and one personal item on board. If you need to check in a bag, you can purchase this service when booking your flight or during online check-in.
EasyJet Plus: This is a membership program that offers a range of benefits, including priority boarding, dedicated bag drop desks, and fast-track security.
EasyJet Manage Booking
EasyJet Manage Booking offers a range of features that allow you to modify your reservation according to your needs, such as Modifying your itinerary, Selecting your preferred seat, Requesting special assistance, Adding extra baggage, Upgrading your heart, and Updating your contact information. You can access this feature on the EasyJet website or mobile app by entering your booking reference and last name. In addition, passengers can customize their travel plans with various tools EasyJet manages booking offers. You can manage bookings for EasyJet in several ways, including the following:
Flight Status
Additionally, travelers may choose their seats in advance, with EasyJet managing to book. Therefore, people who want to sit with their travel companions or have specific seating preferences may find this function helpful.
Change Flight/Cancel Flight
To cancel your EasyJet flight, you can do so through the following methods:
EasyJet Website:
If you booked your flight online, you can make changes or cancel your booking through the EasyJet website. Log in to your account, navigate your booking, and select the "Change Flight" or "Cancel Flight" option.
Mobile App:
If you have the EasyJet mobile app, you can also make changes or cancel your flight through the app. Log in to your account, navigate your booking, and select the appropriate option.
Airport:
You can speak to an EasyJet representative if you're already at the airport and need to make changes or cancel your flight. They can assist you with your request and provide any necessary information.
Select Seats
Another helpful feature of EasyJet Manage Booking is the ability to select your seats. This is especially important if you have a specific seat preference or want to ensure that you sit with your travel companion. Go to your itinerary and select the "Select Seats" option to choose your seats. You'll then be able to see a seating map of the aircraft and choose your preferred seats. Note that some hearts may come with an additional fee.
Upgrade Your Seat
Upgrading your seat can provide added comfort and convenience during your flight with EasyJet. Whether you're looking for more space, better amenities, or a premium travel experience, the airline offers a range of upgrade options to meet your needs.
Add Special Requests
EasyJet offers several types of special requests for their flights, including:
Dietary Requirements: If you have any special dietary requirements, you can request a special meal on your flight. This includes options such as vegetarian, gluten-free, and kosher meals.
Medical Assistance: If you require medical assistance during your flight, you can request special assistance. This includes options such as wheelchair assistance and oxygen supply.
Special Needs: If you have any special needs, such as traveling with a service animal or requiring special seating, you can request a special. Assistance.
Add Baggage
If you need to bring more baggage than your allowed baggage allowance, you can do so by paying an excess baggage fee. The fees vary depending on your destination and the extra luggage you must bring.
In-Flight Entertainment and wifi
EasyJet provides in-flight magazines to passengers for entertainment. However, in-flight entertainment, such as Tv shows or movies, is not offered on short-haul flights. Moreover, passengers can connect to the wireless "Air Time" network on their devices and access many TV shows, movies, audiobooks, games, etc. In addition, Air Time is available only on select flights. This will surely keep the passengers entertained and also enhance the flying experience. 
In-Flight Food Services
EasyJet provides passengers with a Bistro Menu onboard that they can order from. Moreover, these items need to be paid for by the passengers. In addition, a wide range of snacks, meals, and drinks are available on the menu. For instance, food such as calzone, wraps, toasties, sandwiches, snack boxes, sweets, savory snacks, and confectionery are available. Lastly, passengers can also order drinks off the menu, including soft drinks, hot drinks, and alcoholic drinks.
NOTE* – The airline does not provide special meals to passengers. However, passengers can carefully purchase food from the menu that suits their needs. In addition, they can bring their food on board; it just needs to comply with the rules and import laws of the intended destination.
Frequent Flyer Program 
EasyJet's frequent flyer program is called EasyJet Plus, and it offers a range of benefits to frequent travelers who fly with the airline regularly.
The EasyJet Plus program offers several benefits, including:
Priority boarding: EasyJet Plus members are given priority boarding, allowing them to board the aircraft first and secure their preferred seat.
Fast track security: EasyJet Plus members can use the fast track security lanes at select airports, saving time and making the airport experience more convenient.
Dedicated bag drop desks: EasyJet Plus members can use dedicated bag drop desks at select airports, saving time and making the check-in process more efficient.
Free seat selection: EasyJet Plus members can select their seats for free, allowing them to choose their preferred location on the aircraft.
Additional baggage allowance: EasyJet Plus members can bring an extra cabin bag and a personal item on board, which can be helpful for longer trips or traveling with other things.
To become an EasyJet Plus member, you must pay an annual fee. The fee varies depending on your location and travel needs, so check the EasyJet website for the latest pricing information. Membership is valid for one year from the date of purchase and can be renewed each year. You can sign up for EasyJet Plus online through the EasyJet website. Simply navigate to the EasyJet Plus section of the website, select your location, and follow the instructions to purchase your membership.
EasyJet's Customer Reviews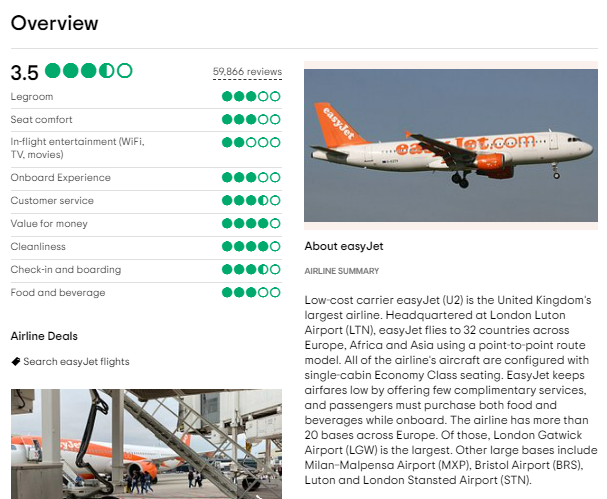 Customer Services
https://www.easyjet.com/en/help/contact
EasyJet offers a range of customer service options to assist travelers with their inquiries and concerns. Here are some of the ways you can get in touch with EasyJet customer service:
Phone Number:
Live chat:
EasyJet offers a live chat feature on their website, allowing you to get assistance from a representative in real time. This can be a convenient option if you prefer not to speak on the phone or need help outside regular business hours.
Email Address:
EasyJet Popular Flight Routes
EasyJet Route Map
route

What this artical helpful ?
EasyJet FAQ's
The airline operates flights to 1000 routes in 30 countries. Furthermore, it operates both domestic and international flights.
The airline has its hub airport as London Luton Airport
Yes, you can book EasyJet tickets online through the official website.