Book EasyJet Flight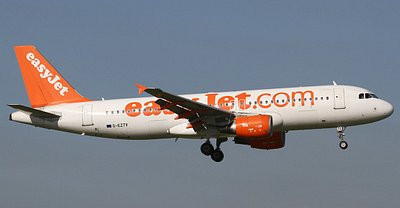 IATA : EC
ICAO : EJU
CallSign : ALPINE
Founded : 1995
Key people : John Barton
Country : England
Office Address : Hangar 89, London Luton Airport
City : Luton
Zip Code : LU2 9PF
Phone number : 0330 365 5000
Official Website :

https://www.easyjet.com/

Covid :

Covid 19 Updates
EasyJet Overview
EasyJet was founded in 1995 and it is a low-cost carrier in Britain. Moreover, this airline happens to be a multinational carrier with over 1000 routes over 30 countries. Furthermore, the airline has the following subsidiaries – EasyJet UK, EasyJet Europe, and EasyJet Switzerland. In addition, the airline happens to be the second largest airline in Europe by the number of passengers. In addition, the airline is not only one of the cheapest airlines but it is also working towards being more carbon efficient. Lastly, the fleet of EasyJet consists of over 300 Airbus aircrafts.
EasyJet Hub and Destinations
EasyJet has its hub airport as London Luton Airport, this airport also happens to be the headquarter of the airline. Moreover, the airline operates flights to 1000 routes in 30 countries. Furthermore, it operates both domestic and international flights. In addition to this, some destinations that the airline operates flights to include Milan, Manchester, Paris, London, Birmingham, Brussels, Prague, Nantes, Copenhagen, Munich, Budapest, Malta, Madrid, Barcelona and many more.
EasyJet Travel Class
This airline only offers Economy class on-board. However, passengers can buy different fares which consist of additional benefits.
Economy Class
Economy cabin, Standard fare, gives passengers the best value on EasyJet. It also comes with satisfying and comfortable service for the passenger. The standard fare includes partly free baggage, which is enough for light travellers. Moreover, passengers have the option of buying fresh healthy snacks. In addition to this, passengers can enjoy watching movies, listening to music and even play games on personal portable devices. The airline also offers in-flight magazine for entertainment. Furthermore, the seats are comfortable with 29 inches pitch and 17.5 inches width.
Flexi fare
Flexi fare allows passengers to customize their flight to get a business experience. Moreover, this fare permits passengers to change their date and flight time. In addition, they get a free 23kg checked baggage and priority service at the airport. Furthermore, passengers also get a £7 voucher that can be used at the bistro on-board for food as well as beverages.
In-Flight Entertainment
EasyJet provides in-flight magazines to passengers for entertainment. However, on short-haul flights in-flight entertainment such as Tv shows or movies are not provided. Moreover, passengers can connect to the wireless network "Air Time" on their personal devices and access many TV shows, movies, audiobooks, games, etc. In addition, Air Time is available only on select flights. This will surely keep the passengers entertained and also enhance the flying experience.
In-Flight Food
EasyJet provides passengers a Bistro Menu on-board that they can order from. Moreover, these items need to be paid for by the passengers. On the menu a wide rage of snacks, meals, and drinks are available. For instance, food such as calzone, wraps, toasties, sandwiches, snack boxes, sweets, savoury snacks and confectionery are available. Lastly, passengers can also order drinks off the menu, these drinks include soft drinks, hot drinks and alcoholic drinks.
NOTE* – The airline does not provide special meals to passengers. However, passengers can carefully purchase food from the menu that suits their needs. In addition they can also bring their own food on-board, it just needs to comply with rules and import laws of the intended destination.
Frequent Flyer Program
EuroBonusis the frequent flyer program of EasyJet, which aims to award loyal passengers. Moreover, passengers can earn points not only when they travel but also on upgrades, hotels, and other experiences. In addition to this, passengers can redeem points to enhance their travel experience, so that consists of lounge access, hotels and upgrades. Furthermore, passengers can accumulate enough points by flying to become a Silver member. And then further upgrade their membership to Gold or Diamond, these three tiers are available under this program.
EasyJet Popular Flight Routes
EasyJet Route Map
route

What this artical helpful ?
EasyJet FAQ's
The airline operates flights to 1000 routes in 30 countries. Furthermore, it operates both domestic and international flights.
The airline has its hub airport as London Luton Airport
Yes, you can book EasyJet tickets online through the official website.