China Airlines Flight Reservations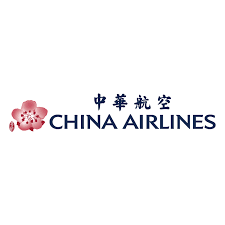 IATA : CI
ICAO : CAL
CallSign : DYNASTY
Founded : 1959
Key people : Hsieh Shih-chen (Chairman)
Country : China
Office Address : NO.1, Hangzhan S.Rd.,Dayuan Dist. Taoyuan City, Taiwan, Taipei Taiwan 33758
City : Taoyuan City
State : Dayuan Dist,
Zip Code : 33758
Phone number : 011 886 2 412 9000
Official Website :

https://www.china-airlines.com/us/en

Facebook :

https://facebook.com/chinaairlines.global
China Airlines Information
The state-owned national carrier of the Republic of China is China Airlines; its hub is at Taipei Taoyuan International Airport. In addition, two subsidiary airlines are part of China Airlines; the first is Mandarin Airlines. And second, it is called Tigerair Taiwan. Steady growth, operational safety, fulfillment of responsibilities, customer orientation, and people development are what they aim towards.
It joined the SkyTeam alliance in 2011 and now partners with major airlines worldwide—for instance, Air France, Korean Air, and Delta Air Lines. China Airlines became the first Taiwanese airline to join an alliance; this signals a new vision. This helps you cover most destinations worldwide, so book China Airlines Reservations online for easy travel.
Why Book Flight with China Airlines
China Airlines distinguishes itself from other airlines thanks to several distinctive features.
Rich cultural legacy: China Airlines, Taiwan's national airline, is proud to highlight Taiwan's diverse cultural history via its offerings in the areas of services, food, and entertainment.
The modern fleet of airplanes operated by the airline includes the Airbus A350 and Boeing 777; all outfitted with cutting-edge technology for efficiency, comfort, and safety.
Safety Commitment: China Airlines prioritizes safety and has implemented stringent safety procedures and training programs for its workers and crew.
The Skytrax World Airline Awards for Best Airline Cabin Cleanliness in 2020 and the Best Airline Staff in Asia in 2019 are just two of the accolades China Airlines has achieved for its services.
Environmentally friendly actions: The airline has taken several steps to lessen its impact on the environment, including the introduction of more fuel-efficient aircraft, the reduction of trash, and the adoption of sustainable practices.
Wide-ranging network: Travelers can choose China Airlines because of its wide-ranging network of destinations in Asia, Europe, North America, and Oceania.
Membership in the SkyTeam Alliance: China Airlines is a part of the SkyTeam Alliance, which offers customers a variety of advantages and streamlined travel to more than 1,000 locations globally.
China Airlines Destinations and Hub Airports
Here is a table showing China Airlines destinations and hub airports:
| Hub Airport | City | Country |
| --- | --- | --- |
| Taiwan Taoyuan International Airport | Taipei | Taiwan |
| Kaohsiung International Airport | Kaohsiung | Taiwan |
| Destination | Country |
| --- | --- |
| Amsterdam Airport Schiphol | Netherlands |
| Bangkok Suvarnabhumi Airport | Thailand |
| Brisbane Airport | Australia |
| Chicago O'Hare International Airport | United States |
| Denpasar Ngurah Rai International Airport | Indonesia |
| Frankfurt Airport | Germany |
| Hanoi Noi Bai International Airport | Vietnam |
| Ho Chi Minh City Tan Son Nhat International Airport | Vietnam |
| Hong Kong International Airport | Hong Kong |
| Honolulu Daniel K. Inouye International Airport | United States |
| Jakarta Soekarno-Hatta International Airport | Indonesia |
| Kuala Lumpur International Airport | Malaysia |
| London Heathrow Airport | United Kingdom |
| Los Angeles International Airport | United States |
| Madrid Barajas Airport | Spain |
| Manila Ninoy Aquino International Airport | Philippines |
| Melbourne Airport | Australia |
| New York John F. Kennedy International Airport | United States |
| Osaka Kansai International Airport | Japan |
| Paris Charles de Gaulle Airport | France |
| Penang International Airport | Malaysia |
| Perth Airport | Australia |
| Phnom Penh International Airport | Cambodia |
| Rome Leonardo da Vinci-Fiumicino Airport | Italy |
| San Francisco International Airport | United States |
| Seattle-Tacoma International Airport | United States |
| Seoul Incheon International Airport | South Korea |
| Shanghai Pudong International Airport | China |
| Singapore Changi Airport | Singapore |
| Sydney Kingsford-Smith Airport | Australia |
| Taipei Songshan Airport | Taiwan |
| Tokyo Narita International Airport | Japan |
| Vancouver International Airport | Canada |
China Airlines Cabin Classes
Air China offers Economy Class, Premium Economy, First Class, and Business Class. You can choose any class from these different classes as per your requirement. Therefore, you can select one when booking your China Airlines Reservations for your trip.
Economy Class
Economy class is the best for budget customers looking for comfort and affordability. Although this seating is one of the four classes that China Airlines booking offers, the staff will treat you like a first-class passenger. Moreover, the seats are slimline and have plenty of leg space. Lastly, passengers can use HD monitors, and video and audio systems are on each hub for entertainment. This class offers a standard economy experience with comfortable chairs, in-flight entertainment, and complimentary meals and beverages.
Premium Economy Class
The Premium Economy Class on China Airlines is mainly available on flights to and from selected Asian destinations, Europe, North America, and Oceania (Australia, New Zealand). Passengers can enjoy the personal space provided, so they can travel without worrying bout other passengers. Moreover, passengers can use the spacious meal table, USB port, and 12″ monitor when they are in the mood for entertainment or work.
Lastly, the seating has front slide reclining, a 39-inch seat pitch, and no interference front or back. You must book China Airlines Reservations online to get all these facilities in your travel.
Business Class
Business-class in China Airlines is available only for destinations in North America, Europe, Oceania, and some Asian destinations. Passengers get to travel peacefully; they have access to China Airlines Sky Lounge before the flight. This class of seating is designed ergonomically to provide maximum comfort.
In addition, the seats are equipped with 180-degree fully-flat adjustments, stylish reading lights, and personal table lamps. You will get more inflight facilities at the time of travel. Sometimes you can get offers on China Airlines Reservations during online booking.
China Airlines Manage Booking
China Airlines Manage Booking offers a range of features that allow you to modify your reservation according to your needs, such as Modifying your itinerary, Selecting your preferred seat, Requesting special assistance, Adding extra baggage, Upgrading your heart, and Updating your contact information. You can access this feature on the China Airlines website or mobile app by entering your booking reference and last name. In addition, passengers can customize their travel plans with various tools that China Airlines manages booking offers. You can manage bookings for China Airlines in several ways, including the following:
Flight Status
Additionally, travelers may choose their seats in advance, with China Airlines managing to book. People who want to sit with their travel companions or have specific seating preferences may find this function helpful.
Change Flight/Cancel Flight
To cancel your China Airlines flight, you can do so through the following methods:
China Airlines Website:
You can cancel your flight by logging into your China Airlines account on the website, navigating to the "Manage My Booking" section, and selecting the option to cancel your booking.
In Person:
If you cannot change or cancel your flight online or by phone, you can visit a China Airlines ticket office or airport counter in person. A customer service representative can assist you with your changes or cancellation.
Customer Service:
You can contact the China Airlines customer service team if you prefer to speak with someone directly. They are available 24/7 and can assist you with canceling your flight over the phone.
Select Seats
Another helpful feature of China Airlines Manage Booking is the ability to select your seats. This is especially important if you have a specific seat preference or want to ensure that you sit with your travel companion. Go to your itinerary and select the "Select Seats" option to choose your seats. You'll then be able to see a seating map of the aircraft and select your preferred seats. Note that some hearts may come with an additional fee.
Upgrade Your Seat
Upgrading your seat can provide added comfort and convenience during your flight with China Airlines. Whether you're looking for more space, better amenities, or a premium travel experience, the airline offers a range of upgrade options to meet your needs.
Add Special Requests
China Airlines offers several types of special requests for their flights, including:
Dietary Requirements: If you have any special dietary requirements, you can request a special meal on your flight. This includes options such as vegetarian, gluten-free, and kosher meals.
Medical Assistance: If you require medical assistance during your flight, you can request special assistance. This includes options such as wheelchair assistance and oxygen supply.
Special Needs: If you have any special needs, such as traveling with a service animal or requiring special seating, you can request a special. Assistance.
Add Baggage
If you need to bring more baggage than your allowed baggage allowance, you can do so by paying an excess baggage fee. The fees vary depending on your destination and the extra luggage you must bring.
In-flight entertainment and wifi
Here is a table comparing China Airlines' in-flight entertainment and wifi options:
In-flight Entertainment
Wifi
Personal seat-back screens
Wifi available for a fee
Wide selection of movies, TV shows, music, games, and more
Three pricing plans: Hourly, daily, and monthly
New releases and classic favorites
Available on select routes
Multiple language options
Connect up to two devices
Premium economy and business class offer noise-canceling headphones.
Sky Lounge access for business class passengers
In-flight food Services
Depending on the duration of the flight, hot meals for lunch, dinner, and breakfast will be provided on board. In addition, passengers with Sky Lounge access can treat themselves to snacks, drinks, and other refreshments. Business Class passengers can enjoy a hot meal menu designed especially for them. And they can also pre-order food 24 hours before the scheduled flight.
For special dietary requirements, passengers can request at the time of booking; they can also do so up until 24 hours before the flight. Some memorable meals available are Religious meals, Baby meals, Nurture meals, Vegetarian meals, etc. Passengers can also pre-order food during the time of China Airlines Reservations booking. And for more information on special meals, please visit calec.china-airlines.com/emenu_dot/main.aspx?country=us&locale=en
Alcoholic and non-alcoholic drinks will be available for passengers on board.
Frequent flyer program
Air China has Dynasty Miles, the name of its Frequent Flyer Program. Four membership tiers exist gold, emerald, paragon, and dynasty. There are a lot of benefits and incentives that passengers get from Dynasty Miles. Firstly, they can get cabin upgrades with an upgrade award. Secondly, they can redeem ticket awards with the mileage points in their account.
Thirdly, they can redeem VIP lounge access for higher quality service and rest. It is even possible for passengers to transfer their miles to their relatives or friends. Furthermore, passengers can redeem Sky Boutique products. Most importantly, they can use miles as cash when booking China Airlines Reservations via the website of China Airlines. Lastly, passengers can use mileage at check-in for excess baggage.
For information on how to earn miles, please visit www.china-airlines.com/us/en/member/airline-miles/index
For information on how to redeem miles, please visit www.china-airlines.com/us/en/member/redeem-airline-miles/index
China Airlines Alliance and Codeshare Programs
Passengers may purchase a single itinerary that includes flights operated by several airlines thanks to China Airlines codeshare program with other airlines. Benefits of codesharing include improved connection, enhanced accessibility to destinations, and smooth transfers. Among the codeshare partners of China Airlines are:
KLM
Air France
Korean Air
Malaysia Airlines
Because of these collaborations, China Airlines cants customers more travel alternatives, including non-direct flights. In addition, codeshare agreements may also offer advantages like pooled reward programs and luggage handling.
Customer Reviews
https://www.tripadvisor.com/Airline_Review-d8729049-Reviews-China-Airlines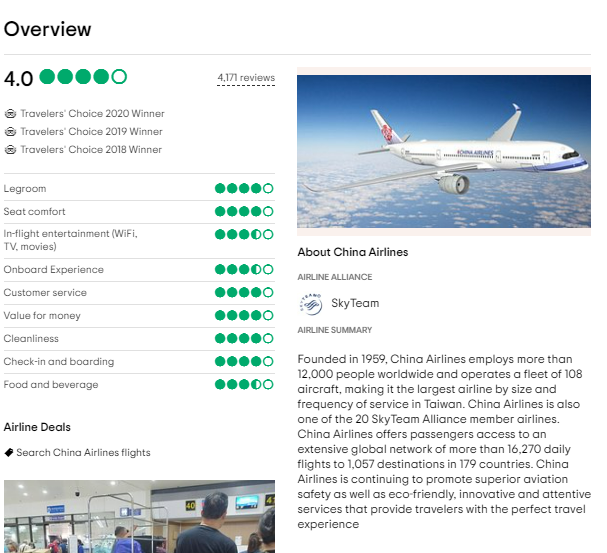 Customer Service
China Airlines has a customer service team to assist passengers with questions or concerns. In addition, the airline's customer service can be contacted through the following channels:
Phone Number:
Passengers can contact China Airlines' customer service at their local hotline. The hotline numbers vary depending on the country of origin and can be found on the airline's website.
In-person:
Passengers can visit China Airlines' airport counters or service centers to speak with a representative.
China Airlines Popular Flight Routes
China Airlines Route Map
route details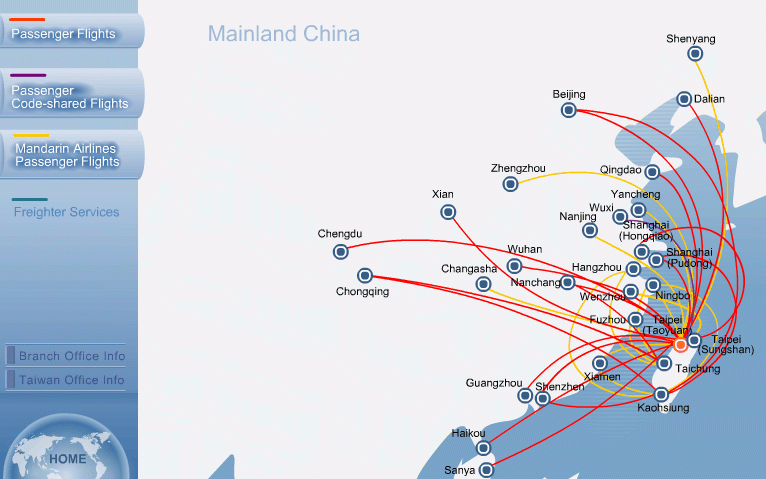 What this artical helpful ?
China Airlines FAQ's
Yes, China Airlines offers a variety of special meals for passengers with specific dietary requirements. Passengers can request special meals during the booking process or by contacting customer service.
China Airlines' loyalty program is called Dynasty Flyer. Passengers can earn and redeem miles for flights, upgrades, and other rewards. The program also offers various elite tiers with added benefits.
Yes, China Airlines offers a range of inflight amenities, such as in-flight entertainment systems with movies, TV shows, and music, complimentary meals and beverages, and blankets and pillows.