Belavia Flight Reservations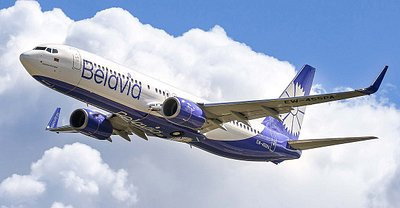 IATA : B2
ICAO : BRU
CallSign : BELARUS AVIA
Founded : 1996
Key people : Igor Nikolaevich Cherginets (Director-general)
Country : Belarus
Office Address : 14A, Nemiga Str.
City : Minsk
Zip Code : 220004
Phone number : 00 375 17 220-25-55
Official Website :

http://belavia.by/

Covid :

Covid 19 Updates
Belavia Overview
Belavia was founded in 1996 and it is also known as Belavia Belarusian Airlines. Moreover, this airline is the national airline of Belarus. In addition to this, the airline offers passenger flights majorly to Russia, Ukraine and other East European countries. It also operates flights to some destinations in Europe and Asia. Furthermore, over the years the airline has done a great job in expansion and refining its service. Lastly, in the Belarusian aviation market the airline has grabbed a leading position in passenger air transportation.

Belavia Hub and Destinations
Belavia has its hub airport as Minsk National Airport, Belavia. Moreover, the airline operates flights to around 50 destinations in Europe and Asia. The airline offers passenger flights focused majorly to Russia, Ukraine and other East European countries. Furthermore, some of the destinations that the airline flies to include Almaty, Astana, Ashgabat, Yerevan, Baku, Larnaca, Batumi, Tbilisi, Tel Aviv, Beirut, Istanbul, Vienna, Minsk, Moscow, Prague, Helsinki, Paris, Berlin, Frankfurt, Hannover,, Budapest, Rome, Tivat and more.
Belavia Travel Class
This airline only offers two cabin classes on-board, they are Economy class and Business class.
Economy Class
Economy Class is the most basic cabin class available on Belavia . However, it comes with satisfying and comfortable service for the budget traveler. Moreover, passengers can add extra service like baggage, food, drinks etc. These services are otherwise included in the price of other fare type tickets. The fare options available are – FLEX, SMART, LIGHT, PROMO. Different fare regulations can be accessed here. Lastly, the seats in this cabin class will surely help the passengers feel fresh and energetic.
Business Class
This is perfect for passengers who are looking for high-end service. This travel class comes with a lot of benefits and extras. Firstly, passengers get carry-on and checked-up baggage allowance. Moreover, they can also enjoy complimentary snacks, meals and drinks on-board. Next, passengers also get to experience VIP service at the airport. Lastly, seats on the aircraft provide maximum comfort to the passengers. In addition to this, it also comes with extra legroom and the middle seat is left empty for privacy of the passenger.
In-Flight Entertainment
Belavia does not have a seat back entertainment system on flights. However, magazines are available to passengers on flight. Passengers will surely have an entertaining journey. Moreover, this will really enhance the flying experience. Lastly, a new issue of the inflight magazine is released every month.
In-Flight Food
Belavia strives to provide savoury and delicious snacks on-board. Moreover, certain beverages are also served to passengers. In addition to this, hot meals are available for passengers on flights that have a longer duration.
Frequent Flyer Program
Belavia Leader is the frequent flyer program of Belavia, which is to award loyal passengers. Moreover, passengers can ear points when they fly with the airline. Furthermore, passengers can redeem points to benefit from various rewards.
You can get more details here.
Belavia Popular Flight Routes
Belavia Route Map
route

What this artical helpful ?
Belavia FAQ's
Belavia flies across 16 destinations in the Midsouth, Southeast and Northeast of the US.
.
The airline doesn't have a single main hub. However, Its headquarters are in Salt Lake City Utah.