Book Azul Airlines Flight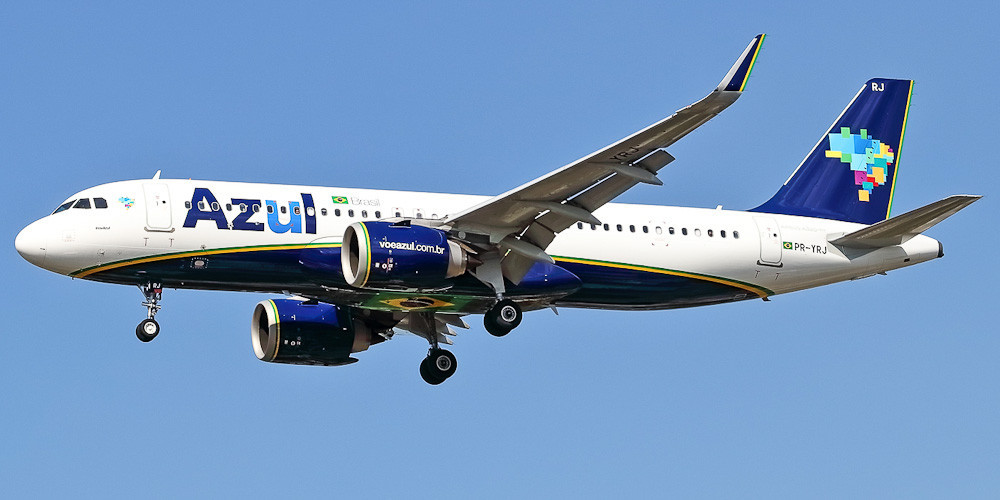 IATA : AD
ICAO : AZU
CallSign : AZUL
Founded : 2008
Key people : David Neeleman (Founder and Chairman), John Rodgerson (CEO), Alexandre Malfitani (CFO), Abhi Shah (Chief Reveneue Officer), Flávio Costa (Chief Operating Officer)
Country : Brazil
Office Address : Alameda Surubiju 2010, Alphavill Indastrrial
City : Barueri
State : São Paulo,
Zip Code : 06455-040
Phone number : +55 11 4003 3255
Official Website :

http://www.voeazul.com.br/en/home
Azul Airlines Reservations & Overview
Azul Airlines low-cost, Brazilian airline. This airline was founded in 2008, and in recent times it has been the fastest growing airline in the country. Also, the airline has the largest route network. Moreover, Azul Airlines is one of the three big airlines in Brazil. In addition to this the airline has been the winner of 3 Skytrax 2019 awards. Lastly, these awards were 'Best Airline Cabin Cleanliness in South America', 'Best Regional Airline in South America', and 'Best Airline Staff in South America'.
Azul Airlines Hub and Destinations
Viracopos International Airport, in São Paulo, is the base of Azul Airlines. The carrier started operating flights between Porto Alegre, Campinas, and also Salvador in late 2008. It kept offering scheduled flights across Argentina, Brazil as well as Caribbean. In the following year Azul Airlines regional network kept growing. In addition to all this, the airline also expanded dramatically in 2012 when the airline acquired TRIP Linhas Aéreas, which was the largest regional airline at that time. Moreover, the airline started operating international flights in 2014. For instance for domestic destinations are Fernando de Noronha, Governador Valadares, Montes Claros, Rio de Janeiro, São Paulo, Brasília, etc. Lastly, some of the international destinations include Lisbon, Orlando, Rosario, Buenos Aires, Montevideo, etc.
Azul Airlines Booking class
This airline only offers Economy Class and Business Class on-board.
Business class
This cabin class is only available on long-haul flights. The cabin crew of business class facilities is specially highly trained. They are also very friendly and attentive. Passengers can expect high service, extra comfort, privacy and space. Moreover, passengers can also enjoy, business class lounge, priority boarding, and the dedicated priority check-in desks. On board passengers will also be welcomed with a snack and drink. Meals are also provided, these can be chosen from the Business class Menu and Bar. Amenity kit with blanket, pillow as well as other accessories are given to the passengers. In addition, in-flight entertainment, TV system, along with headphones are available for passengers to enjoy. Also the seats are very comfortable as they have sufficient leg room, can recline, and are spacious. In addition to this the seats can become flat, are equipped with power outlets, and have storage compartments. Lastly, the seats are usually set out in a 1 x 2 x 1 configuration.
Economy class
Economy cabin class is the only option available on Azul Airlines scheduled flights. This cabin class can be found on long-haul flights, medial haul flights as well as short-haul flights. It is also a very comfortable and convenient option. Moreover, passengers will surely find the standard of service satisfying. On-board, international flight passengers are provided complimentary drinks and meal service. Moreover, they can also access the in-flight entertainment system fitted at the back of each seat. Domestic flight passengers, on the other hand, can order snacks and drinks from the menu on-board. On a few select flights, passengers can also enjoy and watch TV fitted at the back of each seat. Moreover, the seats are very comfortable as they have sufficient leg room and are spacious. On domestic flights the seats are usually set out in a 3 x 3 or a 2 x 2 configuration. Passengers in addition to all this can pay extra and sit in the 'Espaço Azul' seat, which is in the front row and has extra legroom space.
In-Flight Entertainment
Azul Airlines provides in-flight entertainment service on most flights. Therefore, international flight travelers can enjoy a selection of movies, TV shows, music and games through the carrier's in-flight TV setup, which is equipped at the back of each seat. In addition, domestic flight travelers can enjoy watching live TV from a selection of 48 distinct channels on SKY TV. This is also a seat-back TV screen.
In-Flight Food
Free snacks, drinks and meals are available for travelers on international weights. Business Class passengers can also enjoy an extraordinary feasting experience from the Azul Airline's Business Class menu and bar. Moreover, a range of sweet and savory snacks, hot and cold drinks, alcoholic and non-alcoholic beverages are available for domestic flight passengers. Passengers can the snacks and drinks menu here, for information in addition to this.
Frequent Flyer Program
TudoAzul is a frequent flyer program of Azul Airlines, it is to reward loyal customers. Passengers can collect points based on the airfare paid rather than the miles flown. Further, they can use these points to buy flights in the future or even upgrade the flights on Azul Airlines. TudoAzul members can also earn points on United airlines, as this is a partner of Azul Airlines. Lastly, these points can be redeemed on either carrier.
Azul Airlines Popular Flight Routes
Azul Airlines Route Map
route

What this artical helpful ?