Atlantic Airways Flight Reservations

IATA : RC
ICAO : FLI
CallSign : FAROELINE
Founded : 1987; 36 years ago
Key people : Jóhanna á Bergi (CEO)
Country : Kingdom of Denmark
Office Address : Vagar Airport FO-380 Sorvagur Faroe Islands
City : Faroe Islands
State : Faroe Islands,
Zip Code : DK-3800
Phone number : (+298) 34 10 00
Official Website :

https://www.atlanticairways.com/en

Facebook :

https://www.facebook.com/atlanticairways
Atlantic Airways Information
Atlantic Airways is the largest airline in the Faroe Islands, offering flights to and from the Faroe Islands to 22 international and Domestic destinations. So whether you're planning a romantic getaway or a family vacation, Faroeline can help you get there.
Why Book Flight with Atlantic Airways
There are several reasons why you may consider booking a flight with Atlantic Airways:
Connectivity: Atlantic Airways connects the Faroe Islands, an archipelago in the North Atlantic Ocean, with various European destinations.

Focus on the Faroe Islands: Atlantic Airways is the national flag carrier of the Faroe Islands, and as such, it has an in-depth understanding of the local culture, needs, and preferences.

Comfort and Service: Atlantic Airways aims to provide passengers with a comfortable and enjoyable journey. The airline's fleet consists of modern, well-maintained aircraft, ensuring a pleasant in-flight experience.

Scenic Views: The flights operated by Atlantic Airways often offer stunning panoramic views, especially when approaching or departing the Faroe Islands.

Commitment to Safety: Atlantic Airways strongly emphasizes safety and adheres to international safety standards.
Atlantic Airways Destinations and Hub Airports
| Hub Airport | Destinations |
| --- | --- |
| Vágar Airport (FAE) | Copenhagen, Denmark |
| | Billund, Denmark |
| | Barcelona, Spain |
| | Edinburgh, United Kingdom |
| | Bergen, Norway |
| | Reykjavik, Iceland |
| | Aalborg, Denmark |
| | Gran Canaria, Spain |
| | Palma de Mallorca, Spain |
| | Shetland Islands, United |
| | Kingdom |
| | Stavanger, Norway |
| | Tórshavn, Faroe Islands |
For more information, please visit https://www.atlanticairways.com/en/book/routes.
Cabin Class
Economy Class:
Atlantic Airways operates with a single-class configuration on its aircraft. Passengers in Economy Class can expect comfortable seating with a standard seat pitch and width. The cabin provides a cozy atmosphere for passengers to relax during their journey. Services and amenities may include complimentary snacks or beverages, in-flight entertainment, and friendly cabin crew assistance.
Booking Your Atlantic Airways Reservation
Choosing Your Dates
The first step in booking your Atlantic Airways reservation is to choose your travel dates. Remember that the high season for travel to the Faroe Islands is from mid-December to mid-April, and prices may be higher.
Selecting Your Flights
Once you've chosen your travel dates, it's time to select your flights. Atlantic Airways offers a variety of flight options, including non-stop flights from many Faroe Islands—Cities to International and domestic. Depending on your budget and travel preferences, you can choose your Faroeline flight ticket from the economy, extra comfort, or first-class seats.
Choosing Your Seat
When booking your Atlantic Airways reservation, you'll have the option to choose your seat. If you have a specific seat preference, such as a window or aisle seat, select it when booking your Faroeline flight.
How to Access Atlantic Airways Manage Booking
Atlantic Airways Flight Management booking is an online platform that allows passengers to view and modify their travel itinerary. This feature is available to all Atlantic Airways passengers with a confirmed airline reservation. By accessing Faroeline to manage to book, passengers can make changes to their flights, select seats, add special requests, and much more.
Flight Status
In "Manage my booking," passengers can go through the option of "Flight Status, where the passenger can check their flight status. Apart from the flight status, passengers can also update themselves on delays and cancellations.
Change or Cancel a Flight
Here are some methods that passengers can use to change or cancel their Atlantic Airways flight:
Over the phone:
Contact Atlantic Airways' customer service by phone. The customer service number is on the airline's website or your booking confirmation.
Website:
Visit the Atlantic Airways website and look for the "Manage Booking" or "My Trips" section.
Ticket Office:
You can visit an Atlantic Airways ticket office if you prefer in-person assistance. Speak with a representative who will guide you through changing or canceling your flight.
Select Seats
Passengers on Atlantic Airways can pick their favorite seats during the booking process or through the Airline's Manage Booking service. Passengers can select their seats depending on personal taste and comfort, such as a window seat, an aisle seat, or a seat with more legroom.
Upgrade Your Seat
Passengers on Atlantic Airways can upgrade their seats to a higher class of service, such as Business or First Class, for increased comfort and luxury throughout their journey.
Add Special Requests
Atlantic Airways realizes that specific customers may have particular demands during their journey, such as dietary restrictions or medical concerns. Therefore, special requests can be added during the booking process or through the Airline's Manage Booking service.
Add Baggage
If you need to bring more baggage than your allowed baggage allowance, you can do so by paying an excess baggage fee. The fees vary depending on your destination and the extra luggage you must bring.
Tips for Using Atlantic Airways Manage Booking
If you are planning to use Atlantic Airways to manage booking, here are some tips to keep in mind:
1. Check the Deadline for Making Changes
Atlantic Airways has a deadline for making changes to your itinerary. Be sure to check this deadline before attempting to make any changes to your booking.
2. Keep Your Confirmation Number Handy
You will need your confirmation number to access Atlantic Airways managed booking. Keep this number handy in case you need to make any changes.
3. Check Your Flight Status Regularly
Even if you have already checked your flight status through Atlantic Airways and managed to book, be sure to check it regularly, as flight schedules can change at any time.
In-flight entertainment
Passengers can connect their electronic devices (laptop, tablet, mobile) to Atlantic AirFi, which gives passengers access to various games, movies, TV shows, and the news from Faroe Island.
All passengers need to do is connect to the Atlantic AirFi network, and they'll be able to stream all types of entertainment utterly free of charge!
WIFI
Atlantic Airways doesn't have a WIFI network that can be used to connect to the internet. However, its WIFI network does allow passengers to connect to the airline's in-flight entertainment system.
In-flight food
Passengers can purchase meals, snacks, and drinks once on the flight, with meals available to pre-order on select flights.
The airline offers a range of sandwiches and wraps, which differ depending on the day of the week, as well as salted and sweet snacks and hot, cold, alcoholic, and soft drinks.
Frequent Flyer program
Atlantic Airways offers exclusive benefits and awards of the Súlubonus program provided to its customers. Súlubonus members will earn points when traveling with Atlantic Airways, which can be used to purchase bonus flights. Depending on the number of essential facts, passenger membership can be upgraded from the basic level to the GOLD or BASALT level, which both have a range of extra benefits.
Customer Reviews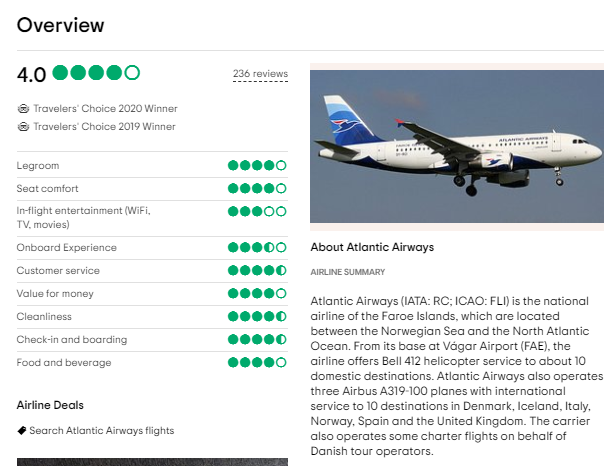 Customer Service
Phone Number
Atlantic Airways General Sales and Service: +298 34 10 00
Faroeline Flight Reservations: +298 34 10 00
Faroeline Customer Support for Passengers with Disabilities: +298 34 10 00
Email Address
Atlantic Airways Popular Flight Routes
Atlantic Airways Route Map
Route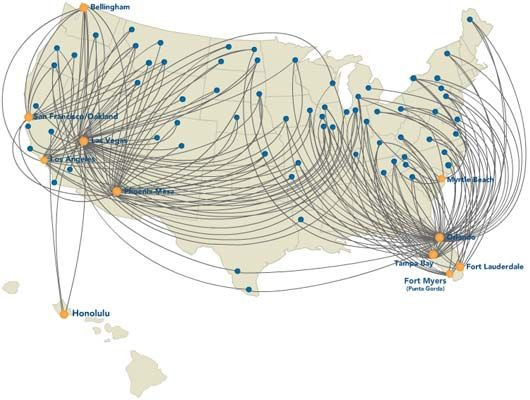 What this artical helpful ?
Atlantic Airways FAQ's
You can make a reservation with Atlantic Airways through their official website or by contacting their customer service.
Yes, you can make a reservation with Atlantic Airways through a travel agency. Many travel agencies have access to the airline's booking system and can assist you in finding and booking flights with Atlantic Airways.
When making a reservation, you will typically need to provide personal information for all passengers, including their full names, contact details, and passport information.
Yes, you can usually select your seat during the reservation process with Atlantic Airways, subject to availability.