Book Alaska Airlines Flight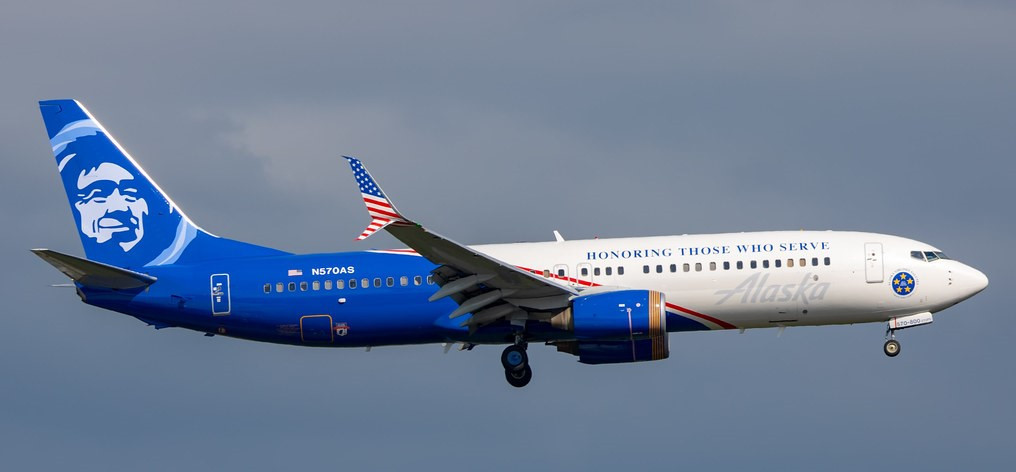 IATA : AS
ICAO : ASA
CallSign : ALASKA
Founded : 1932 (as McGee Airways)
Key people : Linious McGee (founder) | Brad Tilden (chairman & CEO) | Ben Minicucci (president)
Country : United States
Office Address : 19300 International Boulevard, Seattle, WA 98188, United States
City : Seattle
State : Washington,
Zip Code : 98188
Phone number : 1 (800) 654-5669
Official Website :

https://www.alaskaair.com/

Twitter :

https://twitter.com/AlaskaAir

Facebook :

https://facebook.com/alaskaairlines
Alaska Airlines Overview
Since its founding in 1932, Alaska Airlines has expanded to rank as the fifth-largest carrier in the country. The carrier offers service to more than 115 locations in Mexico, Canada, Costa Rica, and the United States. Alaska Airlines is dedicated to giving its customers a secure and relaxing flying experience with its current fleet of aircraft.
Alaska Airlines' Unique Qualities
Alaska Airlines takes great pride in providing the best customer care in the business. Its staff is renowned for being welcoming, accommodating, and always willing to go above and beyond to make flying pleasant and stress-free.

Alaska Mileage Plan: Members of Alaska Airlines' reward program, the Alaska Mileage Plan, receive a host of perks, such as free checked bags, priority boarding, and admission to the airline's airport lounges. Additionally, members can accrue miles by booking flights with Alaska Airlines or one of its affiliate airlines, as well as by using their credit card to make transactions.

During flights operated by Alaska Airlines, passengers have access to a personal entertainment system that enables them to watch movies, watch TV programs, and listen to music.

Committed to Sustainability: Alaska Airlines has adopted a number of sustainable practices, including the use of more fuel-efficient aircraft, recycling, and waste reduction, in order to lessen its carbon impact.

Alaska Airlines: What to Expect Before Your Flight



You can anticipate a relaxed and pleasant flight with Alaska Airlines from beginning to end. You will have access to Alaska Airlines' customer service team as soon as you book your ticket, and they will be happy to help you with any inquiries and travel arrangements.

You have two options for check-in on the day of your flight: online or at the airport. Alaska Airlines provides a range of check-in choices, including self-service kiosks at the airport and mobile check-in. After checking in, you can unwind in one of Alaska Airlines' airport lounges, which are open to both regular passengers and Alaska Mileage Plan users.
Alaska Airlines: A Look at Customer Reviews
Reading customer evaluations can be a useful tool when selecting an airline to help you make a well-informed choice. Let's look more closely at what clients have to say about their interactions with Alaska Airlines.
Customers frequently compliment Alaska Airlines' excellent customer care. Customers frequently compliment the employees on how welcoming and accommodating they are, from check-in to boarding to the in-flight experiences. One client reported that despite their flight being delayed, Alaska Airlines employees went above and beyond to keep them comfortable and informed.
Comfort and Amenities
Additionally, passengers value Alaska Airlines' comfortable and contemporary facilities. Customers frequently draw attention to personal entertainment systems and the range of choices they offer, which include movies, TV programs, and music. Customers also value the complimentary snacks and drinks served on flights.
Loyalty Program
Customers highly laud the Alaska Mileage Plan, the loyalty program offered by Alaska Airlines. The benefits, such as prioritized boarding and access to airport lounges, are valued by members. One client mentioned that their ability to upgrade to first class using miles made their trip even more pleasurable.
Safety
Customers who have flown with Alaska Airlines also mention feeling protected and secure. Numerous passengers praise the airline's dedication to safety, and some say they felt well-informed about its policies and practices.
Customers appear to generally enjoy their flights with Alaska Airlines. Alaska Airlines distinguishes itself as a top option for passengers seeking a comfortable and stress-free flying experience thanks to outstanding customer service, cutting-edge amenities, and a dedication to safety.
Alaska Airlines Mileage Plan
Alaska Airlines offers a frequent flyer program called Mileage Plan, which allows members to earn miles that can be redeemed for travel, upgrades, and other benefits.

Members can earn miles by flying with Alaska Airlines or any of its partner airlines, as well as through purchases with Alaska Airlines' travel, dining, and shopping partners. Members can also earn miles through the Alaska Airlines credit card or by purchasing miles directly from the airline.

Plan members can redeem their miles for award travel, including flights with Alaska Airlines and its partner airlines. Members can also use their miles to upgrade their seating or to purchase access to Alaska Airlines' airport lounges.

In addition, Mileage Plan members have access to other benefits, such as priority boarding, waived fees for checked bags, and the ability to earn elite status for even more benefits.

Overall, Alaska Airlines' Mileage Plan program provides a variety of ways for members to earn and redeem miles for travel and other benefits, making it a great choice for frequent travelers.
Alaska Alliance Airlines and Codeshare Program
The airlines have a codeshares program with many world's large airlines like American Airlines, British Airways, Fiji Airways, Icelandair, Japan Airlines, Korean Air, Cathay Pacific, EI AI, Finnair, LATAM C.
Alaska Airlines Destinations and Hub Airports
Alaska Airlines is a major airline that serves several destinations in the United States, Canada, Mexico, and Costa Rica. The airline has several hub airports located in Seattle, Los Angeles, San Francisco, and Anchorage.Here are some of the destinations served by Alaska Airlines:
United States: Seattle, Los Angeles, San Francisco, Portland, Anchorage, Denver, Las Vegas, Phoenix, Chicago, New York City, Boston, and more.

Canada: Vancouver, Calgary, Edmonton, Kelowna, Victoria, and more.

Mexico: Cancun, Guadalajara, Loreto, Mazatlan, Puerto Vallarta, and more.

Costa Rica: Liberia and San Jose.
In addition to these destinations, Alaska Airlines also offers flights to several other cities in the United States and international destinations through their codeshare agreements with other airlines.
Pay Online or by Phone
If you pay online, you will receive an email confirmation when your payment has been processed. If you pay by phone, call 1-800-ALASKAAIR (1-800-252-7522) and follow the prompts.
Print Your Receipt
You should print your receipt as soon as possible after booking your flight. This allows you to keep track of your reservation and any changes made to it. It also helps you avoid paying extra fees for changing your travel plans.
Travel Class of Alaska Airlines
Alaska Airlines offers several classes of service to meet the needs of different travelers. Here are the main classes of service available for booking:
Main Cabin - This is the standard economy class on Alaska Airlines flights. Passengers can enjoy comfortable seating, complimentary snacks and beverages, and in-flight entertainment.

Premium Class - This is an enhanced economy class with extra legroom, priority boarding, and a personal power outlet. Passengers in Premium Class can also enjoy complimentary beer, wine, and cocktails, as well as a complimentary snack pack.

First Class - This is the premium class of service on Alaska Airlines flights. Passengers can enjoy spacious seats, a personal entertainment system, a personal power outlet, and a complimentary meal. First Class passengers also have access to a dedicated check-in counter, priority security screening, and priority boarding. In-flight dining includes a multi-course meal with complimentary wine or beer.

First Class on regional flights - On regional flights operated by Horizon Air, Alaska Airlines offers a separate class of service called "First Class." Passengers in First Class can enjoy comfortable seating, complimentary beer, wine, and cocktails, and a complimentary snack or meal depending on the length of the flight.
Passengers can book their preferred class of service when making a reservation with Alaska Airlines. Upgrades to higher classes of service may also be available for purchase, subject to availability. Additionally, Alaska Airlines offers a frequent flyer program called Mileage Plan, which allows members to earn miles that can be redeemed for upgrades and other benefits.
In-flight Entertainment
Alaska Airlines offers a variety of in-flight entertainment options on their flights, depending on the length of the flight and the class of service.
On all Alaska Airlines flights, passengers can enjoy a selection of movies, TV shows, music, and games on the personal entertainment system located on the seatback in front of them. Passengers can choose from a range of options, including new releases and classic favorites.

On flights within the United States, passengers can also access in-flight Wi-Fi for a fee, which allows them to stream movies and TV shows on their personal devices.

On longer international flights, passengers can enjoy a wider selection of entertainment options, including a selection of movies and TV shows, games, and music. Passengers can also access in-flight Wi-Fi for a fee.

Passengers in First Class also have access to noise-canceling headphones, which enhance the in-flight entertainment experience.
Alaska Airlines Customer Service
There are a few methods to get in touch with Alaska Airlines customer service:
Phone: The customer support number for Alaska Airlines is 1-800-252-7522. You can contact whenever because the lines are available around-the-clock.

[email protected] is the email address for Alaska Airlines' customer care department. You ought to hear back from us within 24 hours.

Live contact: Alaska Airlines' website also has a live contact option. To talk with a representative, just navigate to the "Contact Us" page and select the live chat option.

To make the procedure as simple as possible when contacting customer service, be sure to have your booking reference number and any other pertinent information on hand.
Alaska Airlines has an Air Traffic Control (ATC) department for questions regarding flights in addition to its customer support division. The following methods can be used to get in touch with ATC:
Phone: Dial 206-282-7227 to reach Alaska Airlines' ATC division.

Email: The Alaska Airlines ATC department's email address is [email protected]
It's crucial to keep in mind that the ATC section is only accessible for issues pertaining to flights and emergencies. Please use the customer service contact methods mentioned above for any other questions about customer service.
Alaska Airlines Popular Flight Routes
Alaska Airlines Route Map
No route details.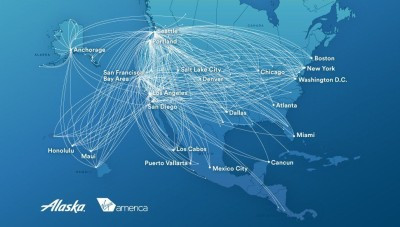 What this artical helpful ?
Alaska Airlines FAQ's
Yes, Alaska Airlines Reservations offer complimentary snacks, drinks, and Starbucks coffee.
You can enjoy free TV, which includes free huge movies, TV shows, and many more.
To reserve tickets, visit alaskaair.com/book. You can search by destination, departure date, and number of passengers. Once you find a flight that works for you, click "Book Now" to complete the booking process.
If you're looking to book a flight with Alaska Airlines, check availability and prices online. You can also call them at 1-800-ALASKAAIR (1-800-252-7522).