Book Air Panama Flight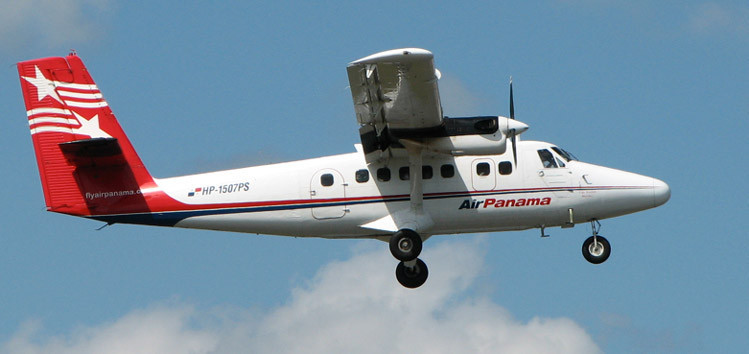 IATA : 7P
ICAO : PST
CallSign : Air Panama
Founded : 1980
Key people : George Novey (Chairman) | Eduardo Stagg (CEO & President)
Country : South America
Office Address : City Panama, Canfield Ave., Albrook, Aeropuerto Marcos A. Gelabert
City : Panama City
State : Panama,
Zip Code : 162
Phone number : +507- 316-9000
Official Website :

http://www.airpanama.com/

Twitter :

https://twitter.com/flyairpanama

Facebook :

https://facebook.com/airpanama
Do Air Panama booking and book online flight tickets to many hot destinations
---
Air Panama Reservation & Overview
Air Panama is a regional airline in Panama at Albrook "Marcos A. Gelabert" International Airport. The airline needs to surpass only Copa Airlines as it is the second-largest air carrier in the country. Air Panama was founded in 1980 as PARSA, particular services were operated by Turismo Aereo. During the startup, it was ruled by a military dictatorship government since 1968. But, later partnering with the Aeroperlas, it became the greatest company in the country. The airline's new headquarters was Albrook – Marcos A. Gelabert International Airport during January 1999. After the airline got the trademark in 2005, George Novey, chairman reviled out the PARSA's new identity of Air Panama- Fokker F-27 aircraft. moreover, they added new services into regional destinations and new aircraft in its fleet size.
---
Fleet size
Aircraft

In-Service

Passengers

Britten-Norman Islander

4

9-9

Cessna 208 Caravan

3

12-12

Fokker 50

2

50-50




46-46

Fokker 100

5

12-80-92




100-100

Piper PA-34 Seneca

1

4-4
Air Panama has a total fleet size of 18 aircraft and more 6 in order.
---
Air Panama destinations and Hub airports
The airline serves scheduled regional flights to 31 different destinations within Panama, one in Costa Rica, and the other three in Colombia. moreover, they offer 24 extra destinations as per chartered on-demand basis during the seasonal summer traveling. they have small scale domestic aircraft flights that only carry about 20 passengers. Air Panama has regular international destinations in Costa Rica and Colombia.
Air Panama hub airport is Albrook "Marcos A. Gelabert" International Airport. the airline only take flights to/from the hub airport. the airport has one small terminal building with only 230 meters of runway.
---
Economy class
Air Panama only offers economy cabin class. however, they have different types of economy class: Econo, Econo Plus, and Premium.
Economy seats
There is no Air Panama first or business class. the economy orientation is in 2×2 split by a singular aisle so, you will either get a window or aisle seat.
The Fokker 50 aircraft has economy seat has 32 inches of pitch and 17 inches of width. meanwhile Boeing 737-300, the orientation is in 3×3 split with 31 inches of pitch and 17 inches of width.
What is the difference between ECONO, ECONO PLUS, AND PREMIUM?
Econo is non-refundable and non-transferable. there are no discounts like for infants, children, and pensionado. The Econo maximum stay is till 30 days only. Econo plus provide a refund in the form of credit for future flights travel. the maximum stay is for 45 days. but, some other discounts are applied. Air Panama Premium flight ticket comes stay of 330 days. and they also provide Infant, child, and pensionado discounts.
---
Inflight Entertainment
Air Panama has a decent complimentary of snacks and drinks and further you can pre-order or purchase. they provide a meal to passengers as per the flight haul. further, you can bring your own snacks and food onboard as per your itineraries. There is no Inflight entertainment like there is no onboard wifi, personal tablet, etc.
---
Online web check-in
You can do Air Panama web check-in online from your pc. Do check-in on time and print out your boarding pass. Further, keep an eye on flight status and do the check-in on time with luggage and seat selections.
Offline check-in at the airport
Do check-in at the airport of Air Panama. the check-in time for a domestic flight is one hour and for an international flight, it is 3 hours before scheduled departure.
---
Personal item and Carry-on
Air Panama gives a baggage allowance of 4 kgs for carry-on and personal items in total. but, for David, the hand baggage allowance is 8 kgs.
Checked bags
For Domestic or Panamanian territory flight reservations, Air Panama allows 14 kgs of checked bags per passenger. For David, they allow up to 20 kgs of luggage.
Excess baggage
The airline gives a baggage allowance of two baggage of 14 kilos each. the excess baggage charge will be $3 in addition to every kg on the bag on a national flight.
---
INFANT AND CHILDREN POLICY
Traveling with an infant under 2 years will not get a personal seat. while doing international flight booking, the infant will be given a seat and that will charge a fee 75% equal to adult flight tickets.
PET POLICY
Air Panama gives allowances to carry pets for Domestic flights. but, there are many Terms and Conditions you should follow in order to carry and transport. but, they do not allow pets for international flights.
---
Frequent Flyer program
Air Panama has a Preferential Service program for its passengers.
---
Air Panama Cancellation policy and refund
There is no much of a specific policy for cancellation and requesting a refund of flight tickets. however, you can make flight changes in your flight tickets and fare with a very small fee.
You can get a refund as per your flight fare class. The economy class has non-refundable tickets. The economy plus provide a refund in the form of future travel booking. on the other hand, the Premium class has refundable tickets with discounts.
---
Air Panama Popular Flight Routes
Air Panama Route Map
No route details.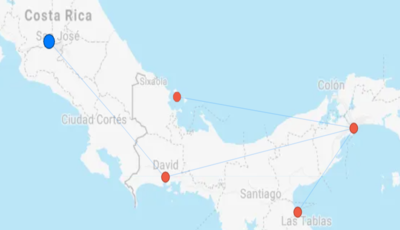 What this artical helpful ?