Air Algerie Baggage Allowance and Fee
IATA : AH
ICAO : DAH
CallSign : AIR ALGERIE
Founded : 15 March 1947
Key people : Yacine Benslimane
Country : Algeria
Office Address : Algeria
City : Algeria
State : Algerian,
Cabin Baggage
Passengers can carry one free cabin bag maximum of 10 Kg and weight (5 Kg for ATR aircraft). For more information click on -(baggage/cabin-baggage)
If the passengers are carrying a laptop, a handbag, or a camera, whose size should not exceed 35 Cm height, 55 Cm width, and 25 Cm thickness on all Air Algerie flights, except for flights operated in ATR (from 15 April 2017) for which the dimensions must not exceed 30 Cm height, 40 Cm width, and 20 Cm thickness.
Checked Baggage
On all flights and service classes, infants under two years old are allowed 10 Kg of checked baggage. The extra allowance provided to regular flyers of Air Algérie varies depending on their level. Foluggageinformation click on - (baggage/checked-baggage)
Size:
The total sum of three baggage dimensions (height plus length plus breadth) cannot be more than 158 cm.
Weight:
For handling purposes, luggage over 32 kg must be divided into many pieces that do not exceed the baggage allowance amount. "Check my baggage allowance. "If not, bags will be delivered by cargo.
Allowance and Excess baggage
Depending on your travel plan, additional costs may be charged for extra weight and pieces if your luggage weighs more than the permitted amount shown on your ticket.
For more information, click on - (baggage/allowance-and-excess-bag)
Baggage dimension:
The sum of the bag's three dimensions (length, breadth, and height) should not be greater than 158 cm for adults and children (2–11 years old).
Infants (0–2 years old): The bag or piece's total three dimensions (length + breadth + height) should not be more than 115 cm.
For Example
The airline provides a baggage calculation. For example, if the passenger wants to travel from Antalya to Algiers in economy class, this will be shown in the picture below.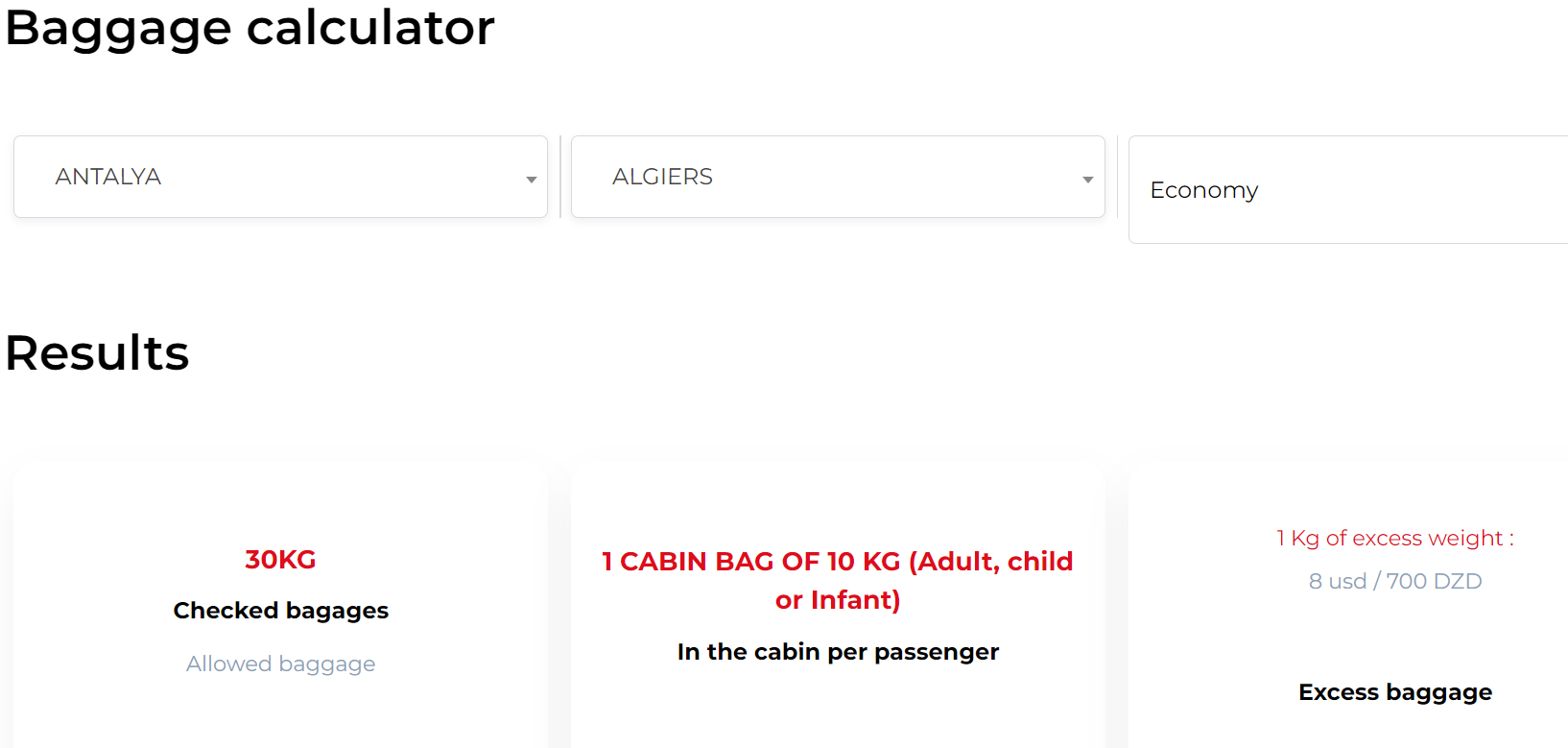 Air Algerie Baggage Policy FAQ's
Fees for excess baggage weight on Air Algérie flights are increased from 6 to 9 euros per kilogram. Air Algérie has introduced a new system of baggage weight fees ranging from 6 to 9 euros on its flights connecting Algeria and other countries, particularly French cities.
The cost of checking in a bag with Air Algerie depends on your fare class, destination, and bag weight. Please check the airline's website or contact customer service for more information.
Air Algerie prohibits certain items from being checked, such as dangerous goods, explosives, and firearms. Please refer to the airline's website or contact customer service for a list of prohibited items.