Air Algerie Flight Reservations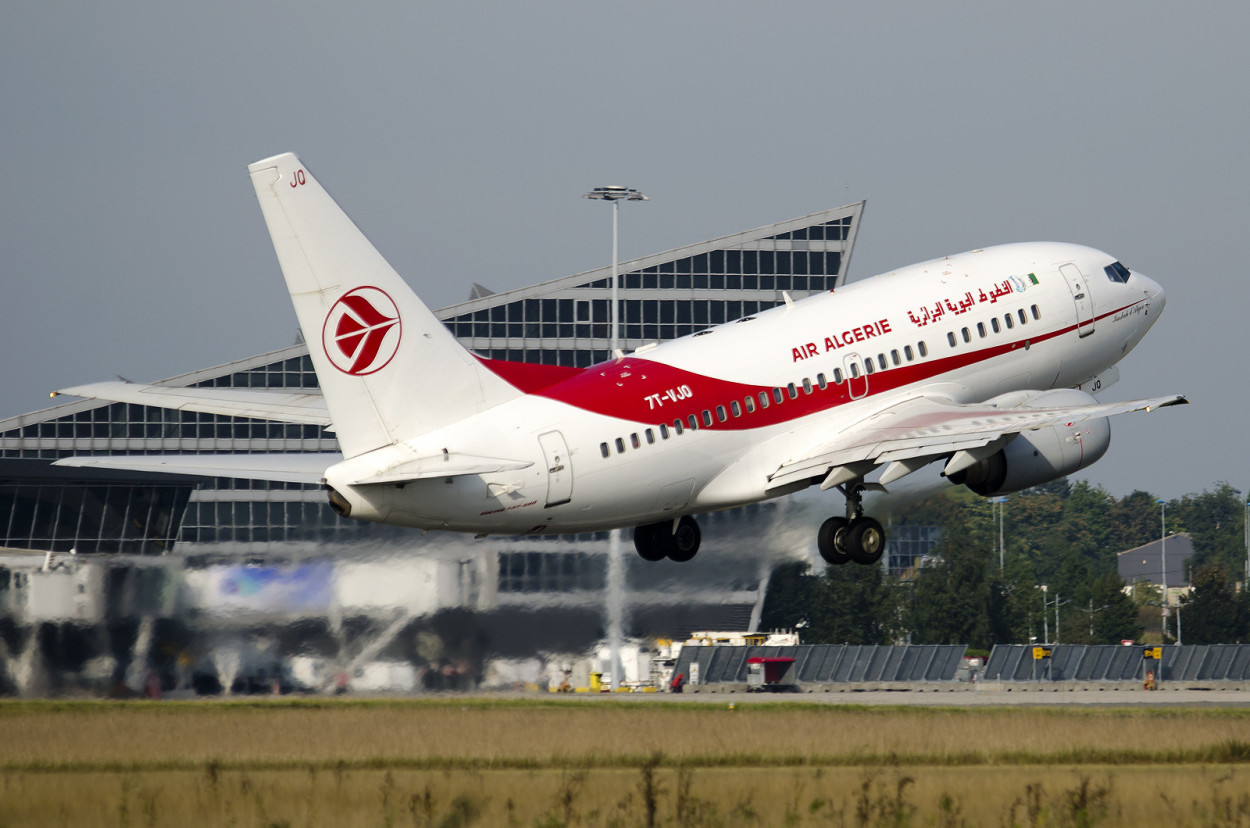 Air Algerie Information
Air Algérie is the national airline of Algeria, headquartered in Algiers, the capital city of Algeria. The airline operates domestic and international flights to destinations across Africa, Europe, Asia, and North America. Air Algérie was founded in 1947 and has grown to become one of the largest airlines in Africa. The airline operates a modern Airbus and Boeing aircraft fleet, including A330s, ATRs, and Boeing 737s.
Why Book Flight with Air Algerie
Wide range of destinations: Air Algérie offers various domestic and international flights, providing various options.
Modern fleet: The airline operates a modern fleet of Airbus and Boeing aircraft, regularly updated to ensure passenger safety and comfort.
Quality service: Air Algérie is committed to providing high-quality service to its passengers, with a focus on safety, comfort, and on-time performance.
Competitive fares: The airline offers competitive fares, making air travel more accessible and affordable.
Loyalty program: Air Algérie offers a frequent flyer program, which allows passengers to earn rewards and benefits for their travel with the airline.
Air Algerie Hub and Destinations
Hub - Algiers, Algeria
| | | |
| --- | --- | --- |
| Addis Ababa | Ethiopia | Bole International Airport |
| Abidjan | Ivory Coast | Félix-Houphouët-Boigny International Airport |
| Adrar | Algeria | Touat-Cheikh Sidi Mohamed Belkebir Airport |
| Algiers | Algeria | Houari Boumediene Airport |
| Alicante | Spain | Alicante–Elche Airport |
| Amman | Jordan | Queen Alia International Airport |
| Annaba | Algeria | Rabah Bitat Airport |
| Bamako | Mali | Bamako–Sénou International Airport |
| Barcelona | Spain | Barcelona–El Prat Airport |
| Batna | Algeria | Mostépha Ben Boulaid Airport |
NOTE- Apart from this, there are more destinations as well.
Cabin Classes
Economy Class:
Air Algérie gives a range the competitive prices which are accessible to all our passengers. Furthermore, passengers can visit the promotional offer and click "Reservation."
Business Class:
Air Algérie, "First and Business class," offers the best services, space, and comfort to ensure the passengers have a hassle-free journey.
Booking Your Air Algérie Reservation
Choosing Your Dates
Choosing the travel date for the reservation is one of the important things to do before flying. Mid-December to mid-April is the high chance that rates may increase during this period.
Selecting Your Flights
It's time to choose your flights after deciding the travel dates. From various cities in Algeria, non-stop flights to domestic and international destinations are available with Air Algérie. Depending on your budget and travel choices, you can select the Air Algerie flight ticket from the economy, comfort economy, or first-class seats.
Choosing Your Seat
While booking the Air Algérie reservation, you will get an option to choose your seat. If incase you will have a particular seat preference, for example, a window seat or an aisle seat; you can select it while booking your Air Algerie flight.
How to access Air Algerie Manage Booking
Air Algérie's Manage Booking is a service that gives passengers the authority to view and manage their flight reservations online through the website. In addition, passengers can go through the website or mobile app and change their flight.

Flight Status
In "Manage my booking," passengers can go through the option of "Flight Status, where the passenger can check their flight status. Apart from the flight status, passengers can also update themselves on delays and cancellations.
Change Flight/Cancel Flight
Here are some methods that passengers can use to change or cancel their Air Algérie flight:
Online:
Through the Air Algeria website or mobile app, Passengers can select the "Manage Booking" option and make changes to their flight reservation or cancel their flight.
Over the phone:
Passengers can call Air Algeria customer service to cancel their flights and ask for a refund if eligible.
Airport desk:
Passengers can visit the airport desk and ask the workers to cancel or change the flight.
Select Seats
Air Algérie Manage Booking also gives the option of seat selection, where the passenger can select their preferred seat accordingly, which is available.
Upgrade Your Seat
Air Algérie's Manage Booking allows passengers to upgrade their seat and cabin class. Maybe this will include some additional charges; it depends on the rules of the ticket.
Add Special Requests
Air Algérie's Manage Booking service allows the passenger to add special requests where the passenger can request wheelchairs, animals, etc.
Add Baggage
If a passenger wants to bring more baggage than you are allowed baggage allowance, it can be done by paying extra charges accordingly. The charges may depend on the extra luggage the passenger is carrying.
Tips for Using Air Algerie Manage Booking
While traveling, there are many things a passenger should keep in mind.
Check the Deadline for Making Changes
There is always a fixed time to make changes to your itinerary. So check the regular update before making any changes.
Keep Your Confirmation Number in Hand
To access Air Algerie. The passenger must have a confirmation number to access "Manage Booking.""Keep this number in hand if you need to make any changes.
Check Your Flight Status Regularly
even if you are sure about the confirmed flight, check the status regularly so you don't miss any updates related to the flight information, delays, or cancellation.
In-Flight Entertainment and Wifi
Air Algérie Inflight Entertainment, on long-haul flights, the airline has various content choices available. Furthermore, through the video-on-demand system, a great selection of new programs is renewed in various languages, which have the latest and classic Hollywood movies, French, Arabic, and Asian movies, documentaries, Kids, TV series, and video games as well.
In-Flight Food
You can book your meals from our range of meals specially made for you 48 hours before your flight.
List of Special Meals (our-services/meal-booking)
Vegetarian menu
Asian vegetarian menu
Baby menu (up to 2 years)
Children's menu (from 2 to 10 years)
low calorie
Low in protein
Low salt and no salt added
Made from natural raw vegetables
Indian menu
Gluten-free menu
Diabetes menu
Low "n cholesterol menu
Low-calorie menu
flat fruit
Frequent Flyer Program
The frequent flyer program offered by Air Algérie is "Air Algérie Plus." The passengers who are members of this frequent flyer program can earn miles for flights and other services as well; apart from this, the passenger can redeem for flights, upgrades, and other rewards. There are three membership tiers: Classic, Silver, and Gold; each tier has different additional benefits and Algérie'ss like priority check-in, lounge access, and bonus miles. Passengers who are a member of the program Members can earn miles with Air Algérie's partner airlines and other partner services, which include car rentals, hotels, and many more services.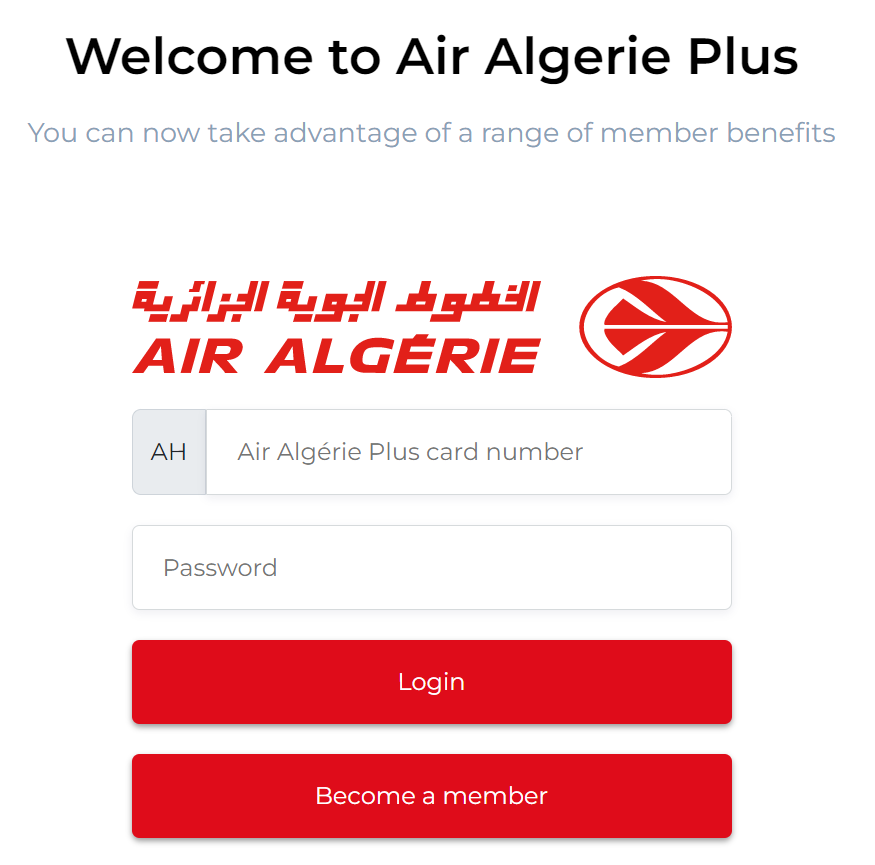 Customer Reviews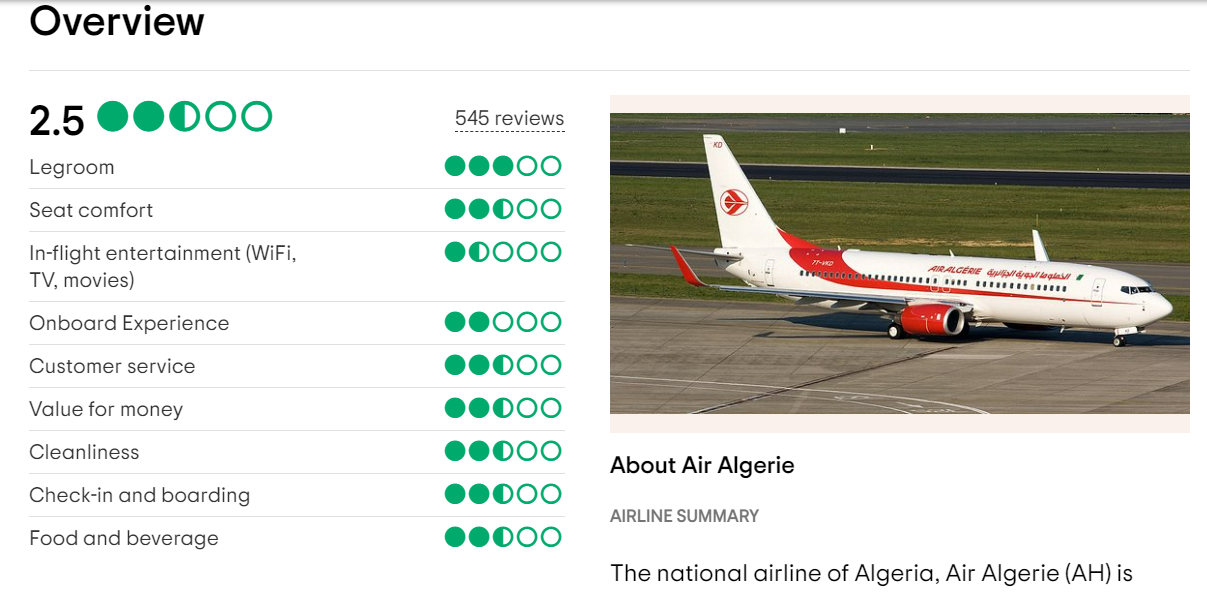 Customer Service
Contact forms
(https://airalgerie.dz/en/contact-en/)
Contact Center
Air Algérie Agencies
Air Algerie Popular Flight Routes
Air Algerie Route Map
Route Details Air Algerie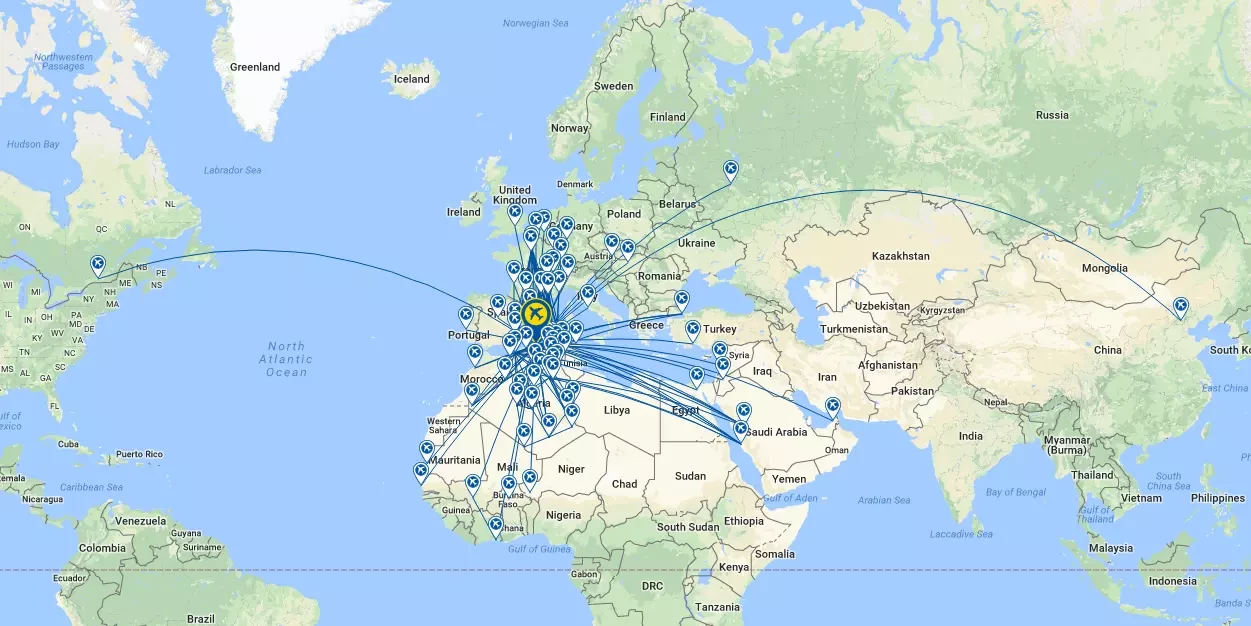 What this artical helpful ?
Air Algerie FAQ's
Travelers who have access to lounges and VIP areas benefit from free wifi.
Air Algerie, established in 1947, is the official national carrier of Algeria.