SATENA Airlines Flight Reservations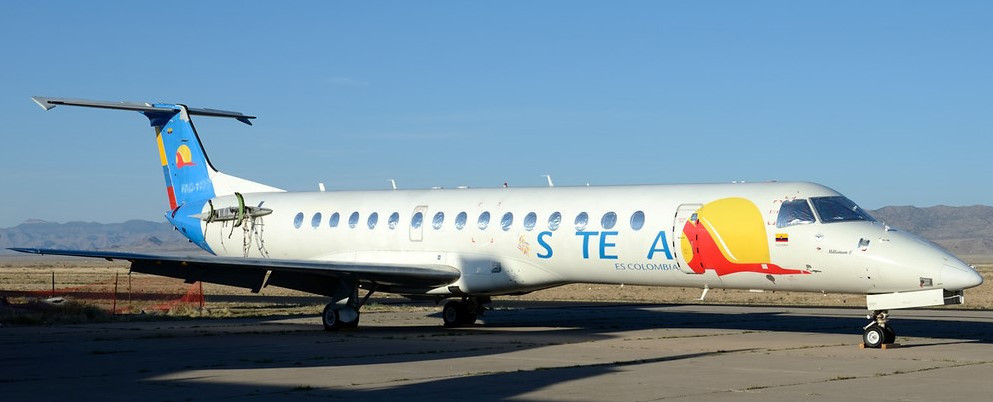 Book SATENA flight ticket to some of the hot Destinations.
SATENA Airline reservation Overview:
Servicio Aereo a Territorios Nacionales, the acronym is SATENA. In April 1962, SATENA was established by the President of the Republic, Alberto Lleras Camargo. It is an airline based in Fontibón, Bogota, and owned by the Colombian government. In order to keep the government stable, SATENA was entrusted to the Colombian Air Force. The first operation route was Leticia – Tarapacá – El Encanto – Puerto Leguízamo and Bogotá – Leticia. During 1965, the airline partnered with Bank of Bogota to provide a new service called AeroBanco, which facilities air travel to other larger areas.
---
Fleet size
SATENA airline used to operate many former aircraft. but, currently, the airline has a total of 13 aircraft in its fleet size.
---
| | | |
| --- | --- | --- |
| Aircraft | In Fleet | Passengers |
| ATR 42-500 | 4 | 46 |
| ATR 42-600 | 3 | 48 |
| Embraer ERJ 145LR | 2 | 50 |
| Embraer 170LR | 1 | 76 |
| Harbin Y-12E | 1 | 17 |
Total Fleet Size=13 aircraft.
---
SATENA airline Destinations and Hub Airport
SATENA airline flies to 38 destinations inside Colombia.
Domestic destinations include the primary hub airport at El Dorado International Airport, Bogota, and secondary hub at Olaya Herrera Airport, Medellin.
There are many flight from hub airports to Cali, Barranquilla, Bucaramanga, and Tumaco.
SATENA international destination includes one occasional charter to Mexico at Cancún International Airport, Cancun. moreover, there are two scheduled charters in Jamaica at Kingston and Montego Bay and one in Cuba.
---
SATENA airline flight booking in Economy class
SATENA airline offers only one cabin and that is economy class. Even in the standard class, you have options to add in your itineraries at an affordable price.
Economy seats
SATENA economy class seats are very much comfortable and come with the extra legroom.
---
Inflight Entertainment
You will be offered inflight snacks and drinks as per your destination. however, there is no inflight entertainment like wifi, tv, movies, or any other facilities.
---
SATENA Airlines Check-in policy:
Online Web Check-in
You can easily do online check-in by going to their web page. The online check-in time begins 24 hours prior and the deadline is before 2 hours of scheduled flight departure.
Offline Check-in at Airport
If you're carrying baggage while traveling, then you should do baggage check-in at the airport before one hour. and, if your traveling with only carry-on or without any baggage, then airport check-in time is 45 minutes prior to your departure.
---
SATENA Airlines Baggage policy
1 personal item and carry-on
SATENA airline gives allowance to one carry-on in addition to one personal item. The carry-on should be under 5kgs with dimension of 43cm x 34cm x 20cm. and the hand baggage should be within 15cm x 20cm x 10cm maximum size.
Checked baggage
If you're traveling with SATENA airline then they allow up to 15kgs in checked baggage.
Additional baggage
Further, the baggage policy regarding oversize and weight will vary as per your itinerary. However, there can be differences in the allowance and fee as per the domestic and international flights as well.
---
Frequent-flyer program
Currently, SATENA Airlines does not have any Frequent flyer program or Airline Alliance with anyone.
That is why they do not provide any special services like benefits through the Miles program, etc.
SATENA Airlines Popular Flight Routes
SATENA Airlines Route Map
SATENA takes flights to huge domestic routes in Colombia.

What this artical helpful ?
SATENA Airlines FAQ's
You have the option to ask them to book an alternative airline flight for you. Otherwise, you can check with them to get a refund or compensation for the cancellation of your flight.
Getting your flight delayed will create a mess regarding your schedule. in that case, you can ask SATENA airline to give a refund in the form of Food Vouchers or hotel stay.
If your flight is delayed by significant time or canceled without any further notice. in that case you can ask them for any refund or booking into next scheduled flight.
You can communicate with them through SATENA customer care number: +57 (1) 390 6962.
They also have the option to contact them through email: [email protected].
Most of the airlines are making flight scheduled departure or cancellation during COVID-19. You can keep an update about it on SATENA official website.
You have option to do online web check-in, mobile check-in, and at airport check-in.
It totally depends on your flight fare and type. for instance, it will be different for domestic and international flight tickets.
The cabin baggage is restricted till 5kgs but it also exceed till 7kgs as per your flight destinations.
As per the economy class, it will low just like the ticket fare.