LATAM Airlines Colombia Flight Reservations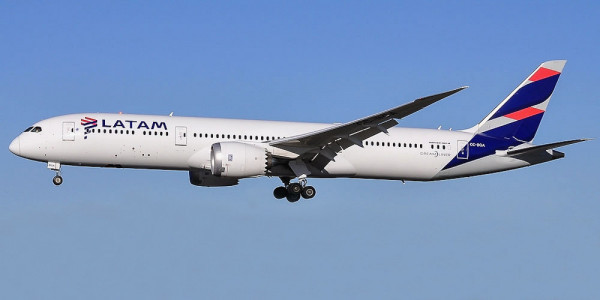 IATA : LA
ICAO : ARE
CallSign : LATAM COLOMBIA
Founded : October 2, 1980
Key people : Santiago Alvarez (CEO)
Country : Colombia
Office Address : Avenida Eldorado, Entrada 1 - Hangar Aires A. A.
City : Bogota
State : Bogota,
Zip Code : 44120
Phone number : +571 745 2020
Official Website :

https://www.latamairlines.com/co/es
LATAM Airlines Colombia Overview
LATAM Airlines Colombia was previously known by LAN Colombia, and before as Aerovías de Integración Regional S.A(AIRES).
It is a Colombian airline and the second-largest carrier in the country. On February 20, 1981, it was found and started its operation with only a few aircraft.
During 2004, the airline made 1,000 million pesos cost of investment. After that, the company transformed and changed its image with stationary.
In 2009, the airline began with trunk routes, that was the new era where they were standing out with Avianca and Copa Airlines Colombia. And, later it was done as they were incorporating Jet aircraft and with tariff scheme by providing low-cost flights.
Fleet size
| | | |
| --- | --- | --- |
| Aircraft | In Service | Passengers |
| Airbus A319-100 | 6 | 144 |
| Airbus A320-200 | 9 | 174 |
---
LATAM Colombia Destinations and Hub Airports
The list of LATAM Colombia airline destinations are:
Barranquilla
Bogotá
Bucaramanga
Cali
Cartagena
Cúcuta
Leticia
Medellín
Montería
Pereira
San Andrés Island
Santa Marta
Valledupar
Villavicencio
Yopal
The airline terminated many international destinations in Brazil, Aruba, Mexico, Peru, and the United States. Its main hub airport is based at El Dorado International Airport in Bogotá.
---
LATAM Colombia airline Booking Class
Economy class
LATAM Colombia airline offers an economy class in all their flights, as a standard option. The airline economy class seats come with decent legroom and reclinable
Economy Inflight entertainment
The food menu facilities are available is on long and short-haul flights. There is also the option of inflight entertainment like a backseat screen while long trip flight.
Premium Economy class
Premium economy seats of LATAM airline comes without a middle seat for extra legroom space.
It is available only on Airbus A319 and Airbus A320 exclusively with a separate cabin for more privacy.
NFLIGHT FACILITIES
LATAM airlines provide benefits in baggage allowance, prior check-in, and boarding. The premium economy class passengers can also access to airline's private lounge.
Business class
LATAM airline business class seats come with 23 inches wide, 76 inches in flat length. This class passengers can access to aisle directly due to 1x2x1 seat orientation. Moreover, the business class cabin seats are fully lie-bed and come with a touchpad adjustment system. If passengers desire total privacy then, they will get a personal shutter.
BUSINESS CLASS FACILITIES
You will get inflight entertainment like 15.4 inches of personal screen with lounge access as well.
You will also get a food menu, where you can place orders and get hot meals. And also, get some complimentary snacks and alcoholic/non-alcoholic drinks.
---
LATAM Colombia Check-in policy
Online check-in
The online web check-in time began 48 hours before your scheduled flight departure. You can do an online check-in of your baggage until 75 minutes before departure. And, you also have option to do LATAM Colombia mobile check-in. With the help of this, you can print out or display your boarding pass.
Offline check-in at Airport
For domestic flights, the check-in time is before 60 minutes and for international flights, it is before 75 minutes. If you're just traveling with carry-on baggage, then it will no time doing check-in at the airport.
LATAM Airlines Colombia Popular Flight Routes
LATAM Airlines Colombia Route Map
Route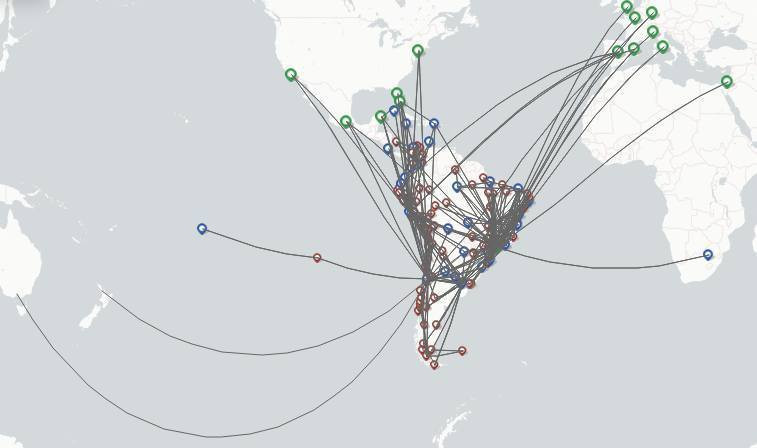 What this artical helpful ?