French Bee Airlines Flight Reservations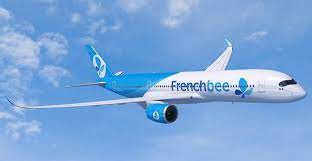 French Bee airlines (BF) overview
French bee which was named French Blue formerly is a low-cost, long-haul airline based at Paris Orly Airport was founded in March 2016.The parent organisation is situated at Groupe Dubreuil SA.The main headquarters of the airlines is at Bellevigny France. The French bee airline has a scheduled network and operates between France and worldwide destinations with a fleet of Airbus A350 aircraft.
Passengers can avail themselves of great discounts and deals on airfares if they book the tickets in advance.
---
French bee alliance airlines and codeshare programs, fleet
These airlines share a partnership alliance with Alaska airlines called interline agreement which means passengers can book two connecting flights with the two airlines with a single reservation where the filers will be issued for the full itinerary and the lugged being checked throughout the final destination.
They have a codeshare agreement with the sister airline Air Caraibes and SNCF which is the French national railway operator.
Compared to codeshare and global alliance, the interline agreement is the cheapest commitment that is helpful for customers with the airline partnership.
French bee Airlines Fleet
The French bee Airlines began operating with Airbus A330-300 on a long-haul flight on behalf of Air Caraibes from July 1st, 2016.
The French bee airlines received its first Airbus A350-900 considering the Seychelles and Mauritius as their new destination in 2018.
French bee is the only airline among the other airlines to close the Airbus A350 XWB as the only aircraft for its entire fleet as it is one of the fuel-efficient aircraft built with excellence in its class and equipped with the latest technologies.
Some of the features of this A350 XWB aircraft are
More frequently air changing for less pollution.
Less noise pollution compared to the Boeing 787.
The aircraft offers 100% Led lighting for the best comfort to the passengers where they can rest with the dim lights on.
This aircraft is eco-friendly which reduces fuel consumption and emits CO2 emissions.
The aircraft A350 offers better air quality, quieter atmosphere with comfortable seating in both economy and Premium Class.
The following shows the latest number of Aircraft in the company.
Aircraft Type In-service
1.Airbus A350-900 4
2.Airbus A330-300 -
---
Airline destinations and hub airports
The hub of French bee airlines is at Orly Airport, located 13km from the south of Paris France. It is one of the busiest airports for domestic traffic in France. French bee airlines, two domestic destinations, and 4 international destinations in four countries as of February 2021.
Destinations
THE REUNION ISLAND
PUNTA CANA
DOMINICAN REPUBLIC
TAHITI & ITS ISLANDS
FRENCH POLYNESIA
PARIS
SAN FRANCISCO
NEWYORK
The popular routes from French bee airlines are Newark-Paris(EWR-PAR)
Paris to Newark (PAR to EWR)
San Francisco to Paris (SFO to PAR)
San Francisco to Papeete (SFO to PPT)
Paris to San Francisco (PAR to SFO)
Papeete to San Francisco (PPT to SFO)
The popular destinations are Newark, Papeete, and San Francisco. Airports, where French bee airlines fly mostly, are Orly International Airport flights and Newark Liberty International Airports.
---
French bee Airlines booking in the Class of Services
One can book French bee airlines flights according to the package they want to choose and select their services and fares with total ease. To book the cheapest flights you can book on French bee airlines reservations on CheapOair and avail great discounts and deals on airfares.
Also one can save on french bee deals by using promo codes and coupons.
You can choose from three custom-made fares in French bee airlines which are Basic, Smart, and Premium where travelers can prefer their choice of fare according to them.
The French bee airlines have two classified classes of travel for the passengers along with excellent facilities. They are Economy Class and Premium Class.
---
Economy Class
The Economy Class Cabins are designed spaciously for the passenger's comfort zone with leather seats of the best quality. The seats consist of 376 seats with 32-inches of space between the seats. And 10 seats abreast-3 - 4 - 3 with 16-inch wide seats. There is an adjustable headrest with 4 positions and a seat lumbar for under knee support. The Economy Class offers a 10-inch HD touchscreen and USB port with a power outlet and audio jack compatible. The economy class offers in-flight entertainment for the passengers with extensive options and onboard WiFi options with snacks and beverages are available at the Blue Cafe. Whether you are traveling in a basic or smart economy class, the best deals in French cuisine where they are custom-made and have unlimited entertainment options with paid WiFi services with different plans for the passenger's choice.
---
Premium Class
Premium Class offers the best comfortable seats as the private cabin consists of 35 seats with 36-inches of space between seats and an 18-inch wide seat and comes with an adjustable headrest with 4 positions of the center console and a cup holder for the Comfort of the passengers. The premium Class offers the passengers in-flight entertainment such as movies, games, videos and12-inch HD touchscreen. The seats at premium Class feature a USB port, power outlet, and Audiojack compatibility. The passengers in this class are offered one complimentary checked-in luggage. Compared to Economy Class premium Class has a more generous seat pitch with a 2×3×2 configuration.
Passengers can purchase duty-free articles at The Bluetique and the Blue Cafe offers wide ranges of beverages and a La Carte Snack options to the Premium passengers.
---
In-flight entertainment
Both the Economy and Premium Class offer In-flight entertainment to its passengers at an affordable cost where passengers can enjoy their long-haul flight browsing the movies, songs, and TV shows. One can catch-up on any podcasts if you have missed them. And they also have on-board WiFi options available.
---
In-flight food menu and meal or beverages
French bee Airlines offer a huge selection of top French cuisines made by Michelin-starred chefs exclusively for the passengers as they relish the heavenly meal. Whether you are traveling in Basic or smart economy class offers the best services.
While in Premium Class a complimentary drink is offered beforehand. Juices, soft drinks, and alcohol are included in this ticket. The passengers can enjoy their meals according to their preferences where one can make reservations before ordering a meal.
IN-FLIGHT INTERNET ACCESS
French bee Airlines has covered the latest edition of Internet access with airplane mode where the WiFi is connected with iZiWifi packages are available in three plans which are available for purchase on-board. The packages consist of
The Hello plan- WhatsApp devotees and emoji addicts

The social plan- tweets and likes.

The Geek plan- emails, Internet, and more.

The Addicted plan- For the Ultra-connected.
---
Frequent flyers program
French bee Airlines doesn't have any frequent flyers program as it is largely a leisure carrier and subscribing to the mainstream airline alliance such as a star, one world won't be rewarded with extra points, lounge access, or elite status. French bee airlines is a type of budget airline.
French Bee Airlines Popular Flight Routes
French Bee Airlines Route Map
Route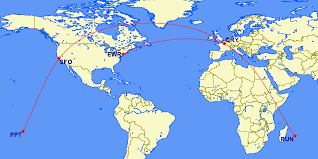 What this artical helpful ?
French Bee Airlines FAQ's
Airlines provide a special portal to check the flight status of their passengers. By entering the flight details current status can be visible easily.
Due to some technical up-gradation, there is no active mobile check-in for the airlines.
Yes, this is available all the time for the airlines. Passengers can directly reach the airport and do the check-in process in the airport itself. There is a kiosk option is also available for the passengers who wish to go for self-check-in.
After completion of the check-in, passengers can able to get their boarding passes. This check-in is open till the 60min to the flight departure.