Eurowings Airlines Flight Reservations

Eurowings Airlines Information
Eurowings Airlines is the largest airline in Germany, offering flights to and from Germany to 1 international and Domestic destinations. So whether you're planning a romantic getaway or a family vacation, Eurowings can help you get there.
Why Book Flight with Eurowings Airlines
Extensive Route Network: Eurowings Airlines operates an extensive route network, offering flights to numerous destinations across Europe and beyond.
Competitive Prices: Eurowings is known for offering competitive prices, making it an attractive option for budget-conscious travelers.
Flexible Fare Options: Eurowings offers different fare options for various passenger needs.
High-Quality Service: Despite its affordable prices, Eurowings is committed to delivering a high-quality travel experience.
Extra Services: Eurowings offers additional services to enhance the travel experience.
Eurowings Airlines Destinations and Hub Airports
| Hub Airport | Destinations |
| --- | --- |
| Düsseldorf | Amsterdam, Barcelona, Berlin, Budapest, London, Paris, Vienna |
| Cologne/Bonn | Alicante, Dublin, Faro, Madrid, Milan, Palma de Mallorca |
| Hamburg | Copenhagen, Lisbon, Oslo, Prague, Stockholm, Zurich |
| Stuttgart | Athens, Lisbon, Madrid, Rome, Vienna, Zurich |
| Berlin Tegel | Barcelona, Munich, Rome, Vienna, Warsaw |
| Munich | Frankfurt, Hamburg, Milan, Palma de Mallorca, Prague, Vienna |
For More Information, Please Visit
Eurowings Airlines Cabin Classes
Eurowings offers three fares (Basic, Smart, and BizClass) on European and long-haul flights.
Economy Class
Basic
Enjoy an affordable and low-cost flight to one of many destinations with Eurowings Economy Class. This saver fare includes only the flight and one free piece of hand luggage. In addition, extra baggage and onboard meals from the Wings Bistro are available to purchase.
Premium Economy
SMART
With Eurowings SMART fare, you can choose your preferred seating, choose from snacks and non-alcoholic hot or cold drinks, gain access to a lounge at selected airports, take one bag of up to 23kg, and you are guaranteed to take your hand luggage into the cabin.
Eurowings' SMART fare includes everything the BASIC food entails, plus more. The SMART fare is Eurowings' standard fare that contains 1 item of checked baggage, priority boarding, an additional object of hand luggage in the cabin, free airport check-in, and free seat selection for its passengers.
Business Class
BIZclass
This fare is considered a premium fare for both short and medium-haul flights. This service, operated by Eurowings, provides passengers a first-class feel, offering an entire menu to passengers who have purchased this fare.
Eurowings Business class (BizClass) allows you to take two items of luggage of up to 32kg each, two items of hand luggage, lounge access, tight security lane at selected airports, and priority check-in and boarding.
Booking Your Eurowings Airlines Reservation
Choosing Your Dates
The first step in booking your Eurowings Airlines reservation is to choose your travel dates. Remember that the high season for travel to Germany is mid-December to mid-April, and prices may be higher.
Selecting Your Flights
Once you've chosen your travel dates, it's time to select your flights. Eurowings Airlines offers a variety of flight options, including non-stop flights from many German—Cities to International and domestic. Depending on your budget and travel preferences, you can choose your Eurowings flight ticket from the economy, extra comfort, or first-class seats.
Choosing Your Seat
When booking your Eurowings Airlines reservation, you'll have the option to choose your seat. If you have a specific seat preference, such as a window or aisle seat, select it when booking your Eurowings flight.
How to Access Eurowings Manage Booking
Eurowings flights manage booking is an online platform that allows passengers to view and modify their travel itinerary. This feature is available to all Eurowings passengers with a confirmed airline reservation. By accessing Eurowings manage booking, passengers can change their flights, select seats, add special requests, and more.

Flight Status
In "Manage my booking," passengers can go through the option of "Flight Status, where the passenger can check their flight status. Apart from the flight status, passengers can also update themselves on delays and cancellations.
Change or Cancel a Flight
Here are some methods that passengers can use to change or cancel their Eurowings Airline flight:
Over the phone:
Contact Eurowings Airlines' customer service directly by calling their helpline.
Website:
Eurowings Airlines provides an online platform for managing your bookings.
In Person:
You can visit a Eurowings Airlines ticket office or customer service desk in person if you prefer face-to-face assistance.
Select Seats
Passengers on Eurowings Airline can pick their favorite seats during the booking process or through the Airline's Manage Booking service. Passengers can select their seats depending on personal taste and comfort, such as a window seat, an aisle seat, or a seat with more legroom.
Upgrade Your Seat
Passengers on Eurowings Airline can upgrade their seats to a higher class of service, such as Business or First Class, for increased comfort and luxury throughout their journey.
Add Special Requests
Eurowings Airline realizes that specific customers may have particular demands during their journey, such as dietary restrictions or medical concerns. Therefore, special requests can be added during the booking process or through the Airline's Manage Booking service.
Add Baggage
If you need to bring more baggage than your allowed baggage allowance, you can do so by paying an excess baggage fee. The fees vary depending on your destination and the extra luggage you must bring.
Tips for Using Eurowings Manage Booking
If you are planning to use Eurowings Airlines to manage booking, here are some tips to keep in mind:
1. Check the Deadline for Making Changes
Eurowings Airlines has a deadline for making changes to your itinerary. Be sure to check this deadline before attempting to make any changes to your booking.
2. Keep Your Confirmation Number Handy
You will need your confirmation number to access Eurowings Airlines' managed booking. So keep this number handy in case you need to make any changes.
3. Check Your Flight Status Regularly
Even if you have already checked your flight status through Eurowings Airlines manage to book, be sure to check it regularly, as flight schedules can change at any time.
In-flight entertainment
Eurowings Airlines offers various in-flight entertainment options to enhance the travel experience for passengers. Here are some features you can expect:
In-Flight Magazine: Eurowings provides an in-flight magazine that offers interesting articles, travel guides, lifestyle features, and destination highlights.

Onboard Wi-Fi: Eurowings offers Wi-Fi connectivity on selected flights, allowing passengers to stay connected and access the internet during their journey.

Bring Your Device: Passengers must bring their smartphones, tablets, or laptops loaded with their favorite movies, TV shows, music, or e-books.

Seatback Screens: Some Eurowings flights may be equipped with seatback screens depending on the aircraft and the specific route.

Audio Programming: Eurowings offers a range of audio programming, including music playlists, podcasts, and audiobooks.
For More Information, Please Visit Eurowings Airlines in-flight entertainment page.
In-flight food
Here are some key features of Eurowings' in-flight dining:
Buy-on-Board Service: Eurowings typically operates a buy-on-board system, where passengers can choose from various food and beverage options available during the flight.

Pre-Order Meals: Depending on the route and fare type, Eurowings may offer the option to pre-order meals for a more convenient dining experience.

Special Dietary Requirements: Eurowings strives to accommodate passengers with special dietary requirements, including options for vegetarian, vegan, gluten-free, or other specific nutritional needs.

Beverages: Eurowings provides a selection of complimentary beverages, including water, soft drinks, coffee, and tea. Alcoholic beverages such as beer, wine, and spirits are also available for purchase during the flight.

Snack and Meal Packs: Eurowings may offer a snack or meal packs that include a combination of sandwiches, snacks, and beverages.
Frequent Flyer program
Eurowings operates a frequent flyer program called Miles & More to reward regular passengers with the airline. The frequent flyer program is part of the Lufthansa Group loyalty program.
For More Information, Please Visit Eurowings Airline's frequent flyer program Page.
Customer Reviews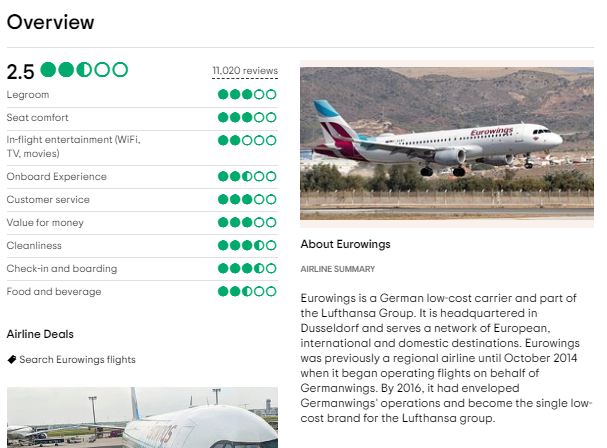 Customer Service
Phone Number
+49 (0)221 599 882 22
For More Information, Please Visit https://www.eurowings.com/us/information/about-us/company/contact.html
Eurowings Airlines Popular Flight Routes
Eurowings Airlines Route Map
Route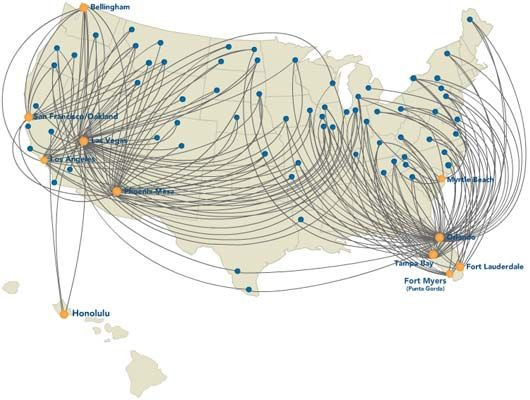 What this artical helpful ?
Eurowings Airlines FAQ's
You can make a reservation with Eurowings Airlines through various channels.
To make a reservation, you will typically need to provide your travel details, such as the desired travel dates, origin, destination, and the number of passengers.
Yes, Eurowings Airlines allows passengers to book both one-way and round-trip tickets.
Eurowings Airlines typically offers the option to select your seat during the reservation process.
Yes, Eurowings Airlines generally allows passengers to make changes to their reservations, including modifying travel dates or passenger details.