Book Condor Flight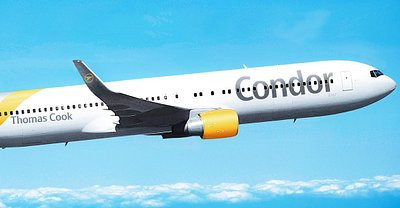 IATA : DE
ICAO : CFG
CallSign : CONDOR
Founded : 1955
Key people : Ralf Teckentrup (CEO)
Country : Germany
Office Address : Condor Platz, Frankfurt am Main
City : Frankfurt
State : Hesse,
Zip Code : 60549
Phone number : 00 49 180 6 767767
Official Website :

http://www.condor.com/eu/index.jsp

Covid :

Covid 19 Updates
Condor Overview
Condor was founded in 1955 and it is a German airline. Moreover, this airline is owned by Thomas Cook Group. Moreover, Condor is also known as Condor Deutsche Flugdienst. Moreover, the has partnerships with other airlines including Adria Airways, Bangkok Airways, Finnair, Aeroflot, El Al, Bahamasair, Germanwings and more. Lastly, the current fleet of the airline consists of Airbus A320-200, Airbus A321-200, Boeing 757-300 and also Boeing 767-300ER.

Condor Hub and Destinations
Condor has its hub airport as Frankfort Airport, Germany. Moreover, the airline operates flights to around 75 destinations all around the world. In addition to this, the long-haul destinations that the airline flies to include Anchorage, Calgary, Fairbanks, Halifax, Las Vegas, Orlando, Toronto, Vancouver, Whitehorse, Antigua, Barbados, Cancun, Cayo Coco, Grenada, Havana, Holguin, La Romana, Montego Bay, Porlamar, Puerta Plata, Punta Cana, Samaná, San José, Santo Domingo, St Lucia, Tobago, Varadero, Salvador da Bahia, Banjul, Kilimanjaro, Mahé, Marsa Alam, Mauritius, Mombasa, Sal, Zanzibar, Bangkok, Colombo, Gan, Goa, Male and Phuket. Lastly, some domestic destinations include Frankfurt, Hamburg, Munich, Düsseldorf, Hannover, etc.
Condor Travel Class
This airline only offers two cabin classes on-board, they are Economy Class, Premium Economy Class and Business Class.
Economy Class
Economy cabin is the most basic cabin class available on Condor. However, it comes with satisfying and comfortable service for the budget traveler. Moreover, passengers can enjoy food and drinks on-board. They also get to enjoy the entertainment system on-board. Lastly, the seats in this cabin class will surely help the passengers feel fresh and energetic. Around 48 hours before the flight passengers have the option of reserving an XL seat for extra leg room.
Premium Economy Class
Compared to economy class the service provided in this cabin is of higher level. Passengers can also enjoy priority check-in, priority boarding, more baggage allowance, free seat reservation, etc. Moreover, passengers can enjoy a premium food menu and a wide range drinks to enjoy the food with. Furthermore, the journey is made extra comfortable as passengers are given blankets, pillows, headsets and access to entertainment system. Lastly, seats are comfortable and more spacious. They are set out in a 3 x 3 formation. The middle seat is also left empty to provide privacy.
Business Class
This is perfect for passengers who are looking for high-end service, luxury and ease while traveling. This travel class comes with a lot of benefits and extras. Firstly, passengers get priority service at the airport. Moreover, they can also enjoy extra baggage. Next, on-board passengers get to enjoy delicious premium food and drinks. Furthermore, amenity kits and access to entertainment systems are also available. Lastly, seats on the aircraft provide maximum comfort to the passengers. They recline back fully and so they are the best space on the craft.
In-Flight Entertainment
Condor provides entertainment content for passengers on short and medium haul flights. Depending of the duration of the flight the passengers can stream TV series, documentaries, kids shows on monitors on the ceiling of the cain. Moreover, on long-haul flights passengers have a personal monitor at the back of the seat. In addition, economy passengers can watch two shows or two movies. Whereas, premium economy or business passengers can enjoy a wide range of content without cost.
In-Flight Food
Condor provides delicious meals to passengers on-board. Economy class passengers can enjoy food, however on short-haul flights the catering is not included in the fare. Moreover, they can purchase from a variety of snack and meal options. On long-haul flights passengers can enjoy complimentary hot meals and cold or hot snacks. Premium passengers can also enjoy complimentary premium meals. Furthermore, business class passengers have a variety of gourmet food options available to pick from.
Lastly, economy class passengers can upgrade and get premium menu access. This service allows them to choose from options such as kids meal, vegan meal, vegetarian meal, lactose as well as gluten-free meals. Moreover, passengers will be required to make a request for special meals at least 24 hours prior to the flight departure.
Frequent Flyer Program
Miles & More is the frequent flyer program of Condor, which is to award loyal passengers. Moreover, passengers can earn miles as they travel with the airline. In addition to this, passengers can redeem miles for free tickets and upgrades.
Condor Popular Flight Routes
Condor Route Map
route

What this artical helpful ?
Condor FAQ's
The airline offers passenger flights around 75 destinations around the world.
The airline's hub airport is Frankfurt airport, Germany.