Air Europa Flight check-in Information
IATA : UX
ICAO : AEA
CallSign : EUROPA
Founded : 1986; 35 years ago
Key people : Juan José Hidalgo, Chairman and CEO
Country : Spain
Office Address : Centro Empresarial Globalia, Apdo Correos 132, 07620 Llucmajor, Spain
City : Llucmajor
State : Mallorca,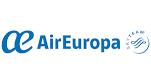 Check-in policy
The passengers having a reservation of Air Europa can enjoy the options of offline check-in at the airport. The Air Europa now is available on a mobile app also through which passengers can enjoy online web check-in and self-service kiosk though the website can be used for the same too.
---
Online web check-in
Web check-in is made available from 72 hours to 1 hour in departure time. The counter queue can be skipped by checking in online via a mobile app. Which would make your experience easy and it is handy in saving time. The boarding pass can also be printed after checking in. Once the proceedings are done you would receive a confirmation email which will take you to the page from where you can print your boarding pass.
---
Offline check-in at the airport
The counters open 3 hours before the departure time for check-in. The counters are closed 60 minutes before the flight departure time.
Passengers are advised to come 2 hours before departure to complete the check-in process. This saves from the last-minute hurry.
FAQ's
The old-school way of checking-in via going into the airport counter is known as the offline check-in process. Now a self-service kiosk is also added in the check-in process which also falls under offline check-in. The self-service kiosks are terminals laced with interactive computers. The kiosks give information about availability, menus, queuing, travel plans, and so on.
The web check-in enables passengers to check-in 24 hours before the scheduled departure time for domestic and international flights. The web check-in also lets you bypass lines at the counter. However, if you have not check-in luggage you can go straight to the security checkpoint and save yourself time. Moreover, the web check-ins let you print your boarding passes anywhere at your convenience.
Once the check-in procedure is finished, you are provided a link that leads you to a page of confirmation where you are then provided your boarding pass. Either you can print the pass from there or share it to email and print. You would have to print the pass and carry it while boarding. A few airports also have made printed boarding passes mandatory to have.