Book Air Europa Flight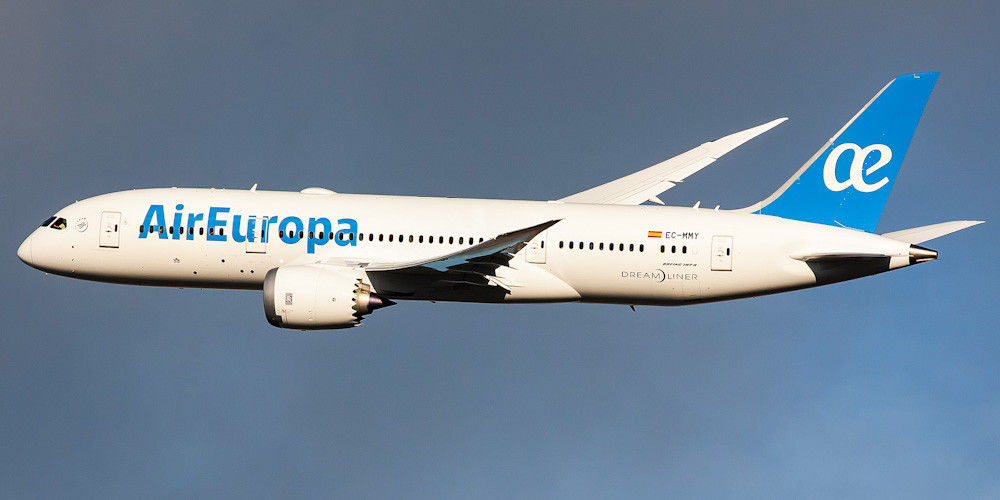 Air Europa overview
The Air Europa was founded 35 years ago in 1986 by Juan José Hidalgo. The airline was previously known as Air España SA and is registered in Spain with the same name. Now it is fully owned by a travel and tourism company Globalia Corporación Empresarial, SA. It was previously started as part of the British ILG-Air Europe Group and 75% owned by Spanish banks. Its main business was charter flights and when it started to operate national scheduled flights it became the first Spanish company to do so. Using Boeing 737-300s and Boeing 757s, it started its flights to European cities from Mediterranean resorts on holidays.
You should know that its main hub at Adolfo Suárez Madrid-Barajas Airport with Palma de Mallorca Airport and Tenerife North Airport as secondary focuses and the main headquarters of the airline is in Llucmajor, Mallorca, Spain. Being the third largest airline in Spain it flies 44 destinations in Europe, Morocco, North America, the Caribbean, South America, and Tunisia.
Airline alliance airlines and codeshare programs, fleet
Air Europa became a member of SkyTeam Alliance in 2007. Founded in the 2000s the SkyTeam alliance is one of the three major airline alliances.
Air Europa has a codeshare agreement with the following airlines:
Aeroflot, Aerolineas Argentinas, Aeromexico, Air France, Alitalia, Binter Canarias, Copa Airlines, Czech Airlines, Delta Airlines, Etihad Airways, KLM, Saudia, Sky airlines, TAROM, and Vietnam airlines.
Air Europa fleet
The Air Europa began with Boeing 737-300s and Boeing 757s.
The following table shows the latest number of aircraft in the company.
| | |
| --- | --- |
| Aircraft Name | No. |
| Boeing 737-800s | 21 |
| Boeing 787-8s | 6 |
| Boeing 787-9s | 10 |
| Airbus A330-200s | 12 |
| Airbus A330-300s | 2 |
| ATR 72-200s | 2 |
| ATR 72-500s | 2 |
| Embraer ERJ-145 | 1 |
| Embraer 195s | 4 |
Airline destinations and hub airports
Adolfo Suárez Madrid-Barajas Airport is the hub airport of Air Europa airlines. Palma de Mallorca Airport and Tenerife North Airport are secondary hubs of Air Europa Airlines.
The airline has 44 destinations all over Europe and the Americas. It's your services are operated between northern and western Europe and holiday resorts in the Canary Islands and the Balearic Islands.
Its domestic scheduled services and long-haul scheduled services to North America and South America from Madrid.
Some major destination countries include Europe, South America, North America, the Caribbean, Morocco, and Tunisia.
The following domestic destination is reached by airline:
Zaragoza
Valladolid
Valencia
Tenerife
Seville
Santiago de Compostela
Salamanca
Palma de Mallorca
Menorca
Málaga
Madrid
Las Palmas
Lanzarote La Coruña
Jerez de la Frontera
Ibiza
Granada
Bilbao
Barcelona
Badajoz
Asturias
Alicante
Air Europa booking in the class of services
The airlines provide 2 travel classes along with various excellent facilities. Both classes are provided with excellent seating facilities and In-flight entertainment and food menu.
Business-class is provided with separate cabins and convertible seats. Long-haul flights have a few more perks than short-time fights. The perks include a food menu and entertainment facilities like films and TV Series.
Economy class
The Economy class is the most affordable travel class offered by the airline. The Economy travel class provides a 31-inch inch seat pitch. The seats are cushioned and have leather headrests with adjustable wings. The class is also provided with onboard entertaining items such as newspapers, magazines, films, TV series, and music. The class offers paid meals. The professionally trained cabin crew of Air Europa is always there to make your flight comfortable.
All long-haul flights are provided with two meals, complimentary wine, and beer selection, soft drinks, coffee, or tea, and are provided with a Spanish touch food business-class.
Business-class
The business class is at its best in Air Europa. It is perfect for passengers who book Air Europa. The seats of business class are 20.5inches wide. It can be converted into a bed of 6 feet, 6 inches. The seats are provided with a mattress pad too. The cabins are provided with a large pillow, a blanket, a mattress pad, an amenity kit, and a pair of headphones. The amenity kit includes an eye mask, an earplug, a toothbrush and toothpaste, and a comb. The business class is provided with a baggage allowance of 2 bags of luggage weighing 23 kg which is also a perk of choosing the business class of Air Europa over Economy class.
The onboard entertainment of business class is provided with newspapers, magazines, films and TV series, and music. Paid Wi-Fi is also provided. The crew trained especially to make your journey easy, comfortable and enjoyable are always available.
The flight is provided with an exciting menu. The airline offers dishes with a Spanish touch. Several Beverages are served on the flight.
---
In-flight entertainment
The airline uses a streaming service on the entire B737-800 fleet and the E-195 fleet. The system enables passengers to enjoy a wide range of entertainment free of charge. The flight also offers a wide range of national/international newspapers and quite an impressive range of magazines
Short flights offer content trained for the flights while long flights are provided with movies, series, and documentaries.
---
In-flight food menu and meal or beverages
The Air Europa offers a wide range of meals and beverages. Meals include snacks, alcoholic as well as nonalcoholic drinks, cold drinks. The menu depends on the length of flights. However, long-haul flights are offered two meals with complimentary wine and beer selections. You can also place orders for exclusive meals. The airline also accepts online orders to save time for passengers and make journeys more comfortable and exciting.
---
Frequent flyer program
By booking your flights with SUMA Miles the frequent flyer of Air Europa you can redeem different vouchers by using their miles. The points can be used to get excess of different paid services and even purchasing flights. The points can also be used to enjoy services in different partner airlines of the frequent flyer. It enables the use of airport lounge facilities and other privileges.
Air Europa Popular Flight Routes
Air Europa Route Map
Route
What this artical helpful ?
Air Europa FAQ's
Yes, rescheduling your flight after the booking is possible. However, you can reschedule by visiting the website page. Go to the website of Air Europa and click on the "manage my booking" Section and proceed. If for any reason you are unable to do it yourself, you can also reach or contact customer services. Moreover, using customer services would enable you to check the booking details and provide you with the knowledge to reschedule the flight even after booking the tickets.
The voucher must be redeemed in the given specific period. The airline also has no control over overextending its validity. Once the voucher expires you cannot claim it back.
The status can be checked by visiting the website page. Moreover, visit the website page, click on the flight status tab enter the flight number or your Booking Reference number. You can also check the details of booking and flight statuses on the website by clicking the details and statuses tab on the page.