Book Air China Flight

IATA : CA
ICAO : CCA
CallSign : AIR CHINA
Founded : 1988
Key people : Cai Jianjiang (President and CEO) | Song Zhiyong (Chairman)
Country : United States
Office Address : Xidan Civil Aviation Building, No. 15 Chang'an West Street, Beijing China 100031
City : Beijing
State : Beijing,
Zip Code : 100031
Phone number : +1 (800) 882-8122
Official Website :

http://www.airchina.com/index.shtml

Twitter :

https://twitter.com/AirChinaNA

Facebook :

https://facebook.com/airchina
---
Air China Overview
Air China is a Chinese Airline. It is based in the Shunyi District of Beijing. The airline is 32 years old, that is it had begun its operation on the 1st day of July in 1988. The functions of the airline are principally based at Beijing Capital International Airport. It is the flag carrier of China.
The airline was the result of the Chinese Government's conclusion to divide the operation of the Civil Aviation Administration of China into six different airlines. Subsequent to 32 years of soaring in the skies, Air China has managed to acquire 435 aircraft in its fleet. The airline operates under the supervision of the President and CEO Cai Jianjiang. The airline employs 50,000 staff under his administration.
---
Air China Partner Airlines and Codeshare Program
Air China is a member of Star Alliance. It became part of the Star Alliance in 2007. The airline codeshares with several different airlines which has many pros for the passengers in many aspects. The following are the codeshare partners of Air China:
Air Canada, Virgin Atlantic , Air New Zealand, Hawaiian Airlines, South African Airways, Cathay Pacific, Ethiopian Airlines, All Nippon Airways, EVA Air, Finnair, Air Macau, LOT Polish Airlines, Scandinavian Airlines, SilkAir, China Express Airlines, Singapore Airlines, Swiss International Air Lines , TAP Air Portugal , Lufthansa
Turkish Airlines, WestJet
Air China Destinations & Hub Airports
With 435 aircraft in its fleet, Air China is one of those airlines that operates across six continents. It flies to around 127 domestic destinations and 73 international destinations in around 43 countries. Moreover, the airline is still expanding its fleet as well as annexing several destinations.
Air China operates to very exciting destinations. Additionally, it is expanding its operation to more destinations. Presently operated international destinations include the following:
Greece
Ethiopia
New Zealand
Iraq
India
Thailand
Spain
Serbia
Australia
Germany
Romania
Hungary
South Korea
Egypt
Russia
Sri Lanka
Denmark
Bangladesh
UAE
Japan
Switzerland
USA
Hong Kong
UK
Pakistan
Indonesia
Turkey

---
Air China booking in the Class of services
Economy Class
Passengers are provided with very comfortable seats so as to make you relaxed as well as plentiful legroom. The seats are acquired with an in-seat display for entertainment and a very pleasing cabin environment.
Feels the better comfort and a bit of Luxury at cheaper rates with Air China, passengers will have amenity kits on long haul flights. The Re-designed Class has provided more space and legroom to stretch yourself.
Business Class
Passengers are provided with complete flatbeds. These seats provide more privacy than the standard ones. The Legroom is more than sufficient in this class. In-flight entertainment systems are also provided, such as a monitor on the seat.
Passengers are also provided with an amenity kit and slippers. The configuration of the business class is 2-2-2.
First-Class
The first-class cabin of Air China comprises 12 seats with a configuration of 1-2-1. The seats in the first-class aren't fully contained but semi-private. The beds are extremely comfortable. The in-flight entertainment systems are astonishing. However, there is no Wi-Fi on board the aircraft.
---
In-Flight Entertainment
You won't get bored during the flight. Air China has taken care of it. They have provided an AVOD system that displays many movies of different genres, and hundreds of music, and a varied selection of games, that will help you to keep yourself entertained throughout the flight.
In-flight Food Menu and Beverages
Passengers are provided with an incredible meal. The meals are very healthy and are a combination of both Chinese and Western food. The menus are changed every month in order to bring a diverse variety of meals for their passengers.
---
Frequent-flyer programs
Phoenix Miles is the official flyers' reward program. This program helps their passengers to earn points in various ways including flying with them and with its codeshare partner, by booking hotel rooms, and even by renting a car.
These points can be redeemed for a free flight, cabin upgrade, hotel reservations, and even while renting a car.
Air China Popular Flight Routes
Air China Route Map
No route details.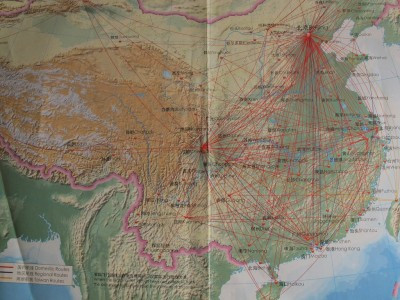 What this artical helpful ?
Air China FAQ's
The airline will inform you about any schedule changes or cancellations in your flight as soon as possible on the contact details that you provide during the reservation.
Yes, if your reservation is done through the official website you can surely make the desired changes online.